Trusting Yourself & Letting Go - Teaching English in South Korea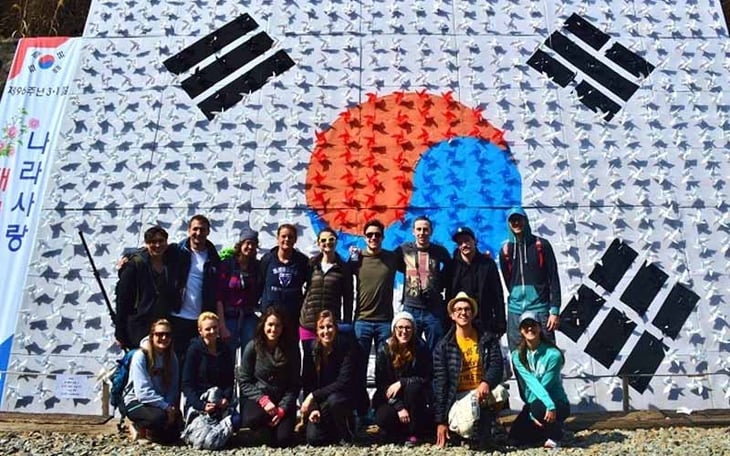 I used to wonder what it was that compelled a person to leave behind everything that was familiar and move to a strange new place. I marveled at the courage and fortitude that it must have taken for someone to pick up everything and move to a new country, especially one where they didn't know the language. But when the time came for me to make the decision on where to live, I found that the answer was much easier than I had anticipated earlier in my life.
Like many of my friends and colleagues, I found myself on my graduation day at a bit of a loss as to what I would do next. I had spent the last 18 years of my life in some form of academia, from pre-school to grad school, and now I was finished. I had chosen not to immediately pursue a D.M.A. in the fall. I was free.
But with this freedom came a simple choice - where should I go now? I had mentally gone through all of the major areas of the United States: the Pacific Northwest, Midwest, East coast, West coast, and the South. I couldn't imagine myself living in any of them. Nothing appealed to me. I was frustrated and stuck. But after some intense introspection, I came to realize that this reluctance to settle down in the States stemmed from something much deeper than a fear of commitment. My passion for cultural exchange, for travel, for meeting new people, and doing exciting new things was leaving me with second thoughts. I was not ready to settle down in a city that would become my home for the foreseeable future. I wanted to travel, to meet people from different cultures, to be the foreigner, to be immersed in something completely new and different.
Once I made the decision to leave the country, I was able to focus my energies on how to make that happen. I widened my horizons and things began to fit into their places. I knew that I was passionate about teaching music - from flute lessons to music theory.
I remembered how many of my friends left the country to teach English as a second language in Korea when I went to graduate school. I remembered enviously perusing their Facebook profiles and blog posts, shamelessly living vicariously through them. I began to consider my passion for teaching in general, not just for teaching music. I remembered how there was always something intensely satisfying about being able to help a student understand a new concept or perform a new piece on their own. It finally clicked - why not try to take my passion for teaching music and the flute and apply it to teaching English? It was my turn to book a one-way ticket and teach English as a Second Language!
However, I wasn't willing to embark on an ESL career without proper training and, after a few days of intense research, I chose to enroll in the International TEFL Academy's in-person Chicago course. I was impressed by the job search assistance they offered as well as their extensive alumni network. I knew I wanted to get the best certification I possibly could before going abroad and immersing myself in a new culture. Things would be difficult enough with the combination of a new culture, new language, new climate, and drastically new lifestyle - I didn't want to make it more difficult by beginning a new career without any previous preparation.
Choosing to get TEFL/TESOL certified by ITA was the best decision I could have made in order to make me feel more relaxed, more comfortable, and more confident about my teaching abilities.
I am now halfway through my 12-month contract with EPIK in Busan, Korea. I teach at two tiny rural elementary schools on the outskirts of town. I won't say that the entire experience has been rainbows and butterflies, but I can see why some people re-sign their contracts for extended periods of time. There's something both comfortable and exciting about this job: you are required to be at school from 8:30-4:30 every day, but you are given many public holidays off and 20 days of paid vacation to split between the summer and the winter months. It's very easy to fall into a routine and become familiar with the process of lesson planning, teaching, and evaluation that your school expects of you. The first few weeks were hard, as one would expect them to be, but after a month or two, everything once again began to fit into place. I began to understand my students; my co-teachers expectations were clear, and I had discovered my personal teaching style. The job aspect of my new life was stable and I was happy.
The flexibility that I applied to my time at school adapting to the work environment has also paid off socially. The EPIK program allows for a significant number of holidays off, and when you combine that with the typical weekends you get off and your summer and winter vacation time, it is easy to travel as much as you want! I'm flying to India for my summer vacation to trek through Ladakh; my friends are traveling to China, Indonesia, Japan, Vietnam, Thailand, and so many other places it's hard to keep track. Within Korea itself there are so many places to see and things do. For example, I had no idea that Korea was such an avid hiking and climbing country - there are beautiful hikes within Busan itself and many more if you are willing to travel, and there is a huge community of hikers, climbers, you name it. This new life abroad has been difficult, challenging, and exciting, and I'm looking forward to what will happen in the next half of my contract.
Allowing myself to succumb to my uncertainty and hesitation after graduating enabled me to begin this experience. Moving to South Korea was never a serious option for me. Teaching English abroad was something I had never even considered. But sometimes letting go of what you think you should do and trying out something that you think you might want to do can be the most fulfilling experience. I find comfort in the fact that I am flexible and adaptable enough to make a living here and I know that I can find ways to make a living anywhere else I choose.
I still don't know exactly what my plans are for the future. I haven't decided where to move or where to live. But I know that I can continue to take the time that I need to travel, to experience new cultures, to be the clueless foreigner, and to learn more about myself. Teaching English abroad has helped me realize exactly how strong I am and how far I can go if I simply relax and let myself try.
Krystle Jane Radtke has a Master's Degree in Flute Performance and is a 25-year-old native of Brainerd, Minnesota, with a passion for cultural exchange. Her life is open-ended and she is coming to terms with that one day at a time.
Want to Learn More About Teaching English Abroad & Online?
Request a free brochure or call 773-634-9900 to speak with an expert advisor about all aspects of TEFL certification and teaching English abroad or online, including the hiring process, salaries, visas, TEFL class options, job placement assistance and more.