tefl certification
International TEFL Academy Wins Top Award for International Education in 2022 for the Second Consecutive Year
ITA has won the GoAbroad People's Choice Award for Best International Educational Organization three times in the last 5 years.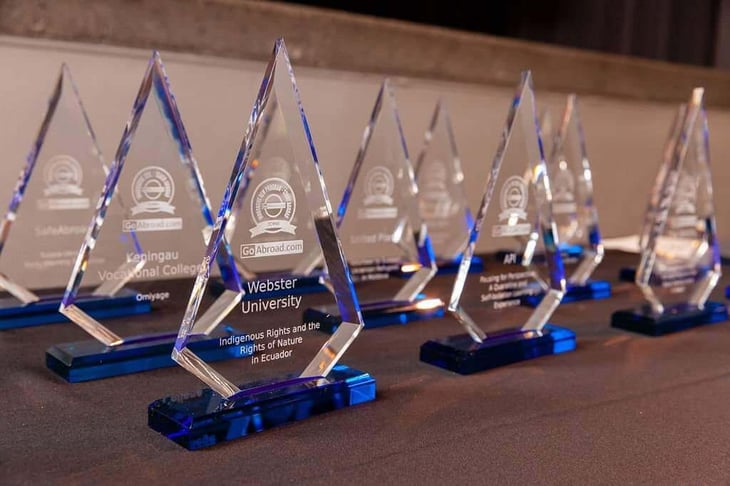 International TEFL Academy (ITA) and our staff are thrilled and proud to have won the People's Choice Award for Best International Education Organization for the second year in a row (and the third time in five years) at the presentation of GoAbroad Awards for Innovation in Meaningful Travel held on June 2, 2022, in Denver, Colorado.
This award honors the top international education organization as selected by study & work abroad professionals and students by popular vote. The top five finalists in this category were chosen by the nomination of their peers such as study abroad advisers from college universities or other international education organizations. This year, alumni could also nominate organizations. International TEFL Academy is proud to be the first TEFL certification school ever to win this prestigious award three times; ITA first won the award previously in 2018.

For nearly two decades GoAbroad.com has been a leading online resource for information on "meaningful travel," including studying abroad, volunteering abroad & teaching English abroad. GoAbroad's annual Innovation Awards were created for the purpose of "showcasing the best in innovation, originally, creativity, and exceptional ideas in international education."
Since 2010, International TEFL Academy has certified and assisted more than 40,000 people from all backgrounds to gain employment teaching English abroad in 80 countries worldwide. In recent years, thousands of ITA students have also been hired to teach English online, especially during the COVID-19 pandemic, when schools worldwide largely went virtual.


International TEFL Academy Founder & President Bruce Jones and Co-Founder John Bentley accepting the GoAbroad People's Choice Award for Best International Education Organization in 2022.
ITA offers accredited TEFL certification classes online & in 20 locations worldwide. Students receive comprehensive pre-enrollment guidance & access to thousands of articles, videos, alumni stories & other resources to learn about job markets & the process of moving abroad. All graduates receive lifetime job search guidance, including personalized assistance from ITA's Student Affairs experts, in addition to access to alumni networks of more than 40,000 graduates across the globe.


In addition to winning the People's Choice Award, ITA's Alumni Charity Giving Initiative was nominated as a finalist for the Innovation in Philanthropy Award, and ITA's Teaching English in Madrid and Barcelona visa program was nominated as a finalist for the Innovative TEFL / Teach Abroad Program, respectively.

In 2021, the ITA Charity Committee focused on developing innovative ways to drive staff participation in our company matching program­, through which all staff can have $200 of their charitable donations matched by ITA.

With these efforts - ranging from athletic challenges to a virtual Halloween Pet Parade - ITA achieved the most participation in company history with their staff matching, totaling over $8000! It also brought us together as a team, created a ton of fun and excitement, and strengthened our company culture during the challenges of COVID-19. Read more about our charity program and check out our nomination submission here.
For our Innovative Teach Abroad Program submission, ITA highlighted its partnerships with accredited academic institutions in Spain to set up exclusive student visa programs. These programs enable our students and graduates to work as paid English teachers while studying Spanish and Catalonian language and culture at institutions such as the University Del Atlantico in Madrid and the BCN Language Immersion Program Language School in Barcelona. Working as part-time teachers as well as immersing themselves in Spanish culture, the programs allow for a unique abroad experience while also helping our students gain access to the Spanish job market for teaching English. Read more about our Spain student visa program here.
In past years, ITA alumnus Jack Ross' video, "Thank you Vietnam" won the 2020 Innovative Student Video Award. In addition, ITA has received nominations for awards in TEFL Innovation (2020), Alumni Engagement (2017), Philanthropy (2016, 2021) and the STA Start the Adventure Award (2016), an honor for an individual most influential in international education, our founder and president Bruce Jones was the nominee.
International TEFL Academy would like to thank the GoAbroad Innovation Awards Academy Members for the honor of being selected as a finalist, all of those who voted for ITA in the winning of the People's Choice Award and we salute all nominations & winners. Check out a full list of 2022 GoAbroad Awards winners here.
Founded in 2010, International TEFL Academy is a world leader in TEFL certification for teaching English abroad & teaching English online. ITA offers accredited TEFL certification courses online & in 20+ locations worldwide and has received multiple awards & widespread recognition as one of the best TEFL schools in the world. ITA provides all students and graduates with lifetime job search guidance. ITA has certified more than 40,000 English teachers and our graduates are currently teaching in 80 countries worldwide.
Want to Learn More About Teaching English Abroad & Online?
Request a free brochure or call 773-634-9900 to speak with an expert advisor about all aspects of TEFL certification and teaching English abroad or online, including the hiring process, salaries, visas, TEFL class options, job placement assistance and more.