How I Traded My Corporate Career for a Life Teaching English Abroad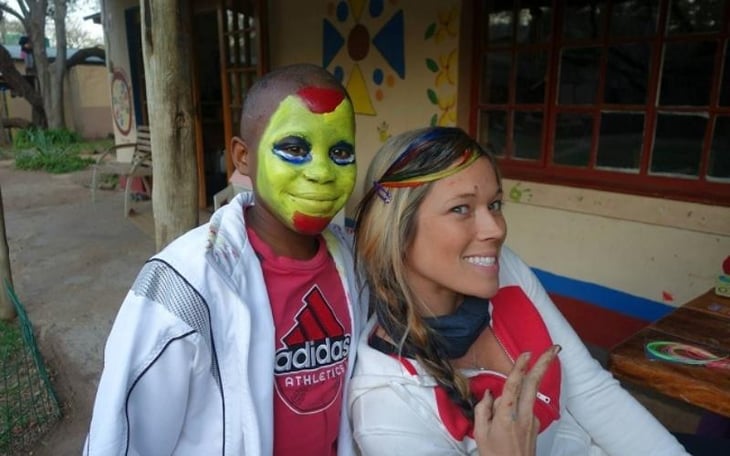 Most of us dream about leaving our jobs and traveling the world... forever. Okay, maybe not forever, but we at least dream of packing our bags and taking a nice long well-deserved vacation, and that was exactly what I planned to do when I first learned there was another massive layoff headed our way.
Corporate Life:
Working for Sony had its perks. My boss was absolutely amazing! I had an excellent salary, unlimited vacation, and for the first time in my career, I was not being micromanaged. What more could I want?! The San Diego headquarters had a gym, a basketball court, in-house Starbucks, PlayStation and meditation rooms, a restaurant overlooking most of San Diego, and a food court with so many different choices that it would take 10 minutes to decide what you wanted to eat. Our break rooms had lounge chairs and hammocks with quotes plastered along the walls of the importance of taking a break. Pretty sweet gig if you ask me.
Prior to accepting this position, I was working as a Senior Sales & Marketing Director at a retirement community. I loved working with seniors; it felt like I had 125 grandparents. My boss, on the other hand, was starting to view the residents as an apartment number and no longer as a person. When someone passed away, he would trot down to my office and ask who I had lined up to move in. There was no time to grieve. It became a cold place to work, but I cared for the residents so much that leaving wasn't an option. I remember when Sony first contacted me; I gave it little to no thought, but then I started to talk to some of the residents, and it became apparent that I needed to pursue this opportunity. I should not stay just because I cared for them. Their words seemed to mirror one another; one day, I would regret the things I never pursued, and life was too short to have regrets.
"I had never been abroad and certainly never had an opportunity like this before."
During my first week at Sony, I went to the break room to get some water and remember tiptoeing to the refrigerator because someone was sleeping in the hammock. I felt so uncomfortable; I didn't know what to make of it. In my experience, breaks were rarely taken. The funny thing is that everyone was happy and motivated to come to work each day. Believe it or not, they worked hard, and no one took advantage of the freedom they were given. It was one of the most talented and hardworking teams I have ever had the privilege to work with. I can honestly say this was the first time in many years of working in the corporate world that I felt I could breathe, but a small part of me still felt like a minion. I had so much freedom to be my own boss, and yet each morning when I waved my badge through security, a little piece of me felt trapped.
The Layoff:
The scuttlebutt around the office was toxic. Everyone had this look of fear in their eyes. No one knew which department would be cut, but I knew as the Senior Facilities Retail Engineer that we were no longer building new stores, so it was relatively safe to assume that it did not look good for me, or the team.
"Once I sat on the plane bound for Europe, it felt like a weight had been lifted off my shoulders."
When I first learned that I would be laid off along with thousands of employees around the world, it was gut-wrenching. What in the world was I going to do next? Suddenly, it hit me as everyone was in full panic mode; I had always work hard, pushed myself, and never took time off. I decided to pack my suitcase and travel a little before I jumped right back into the daily grind of corporate life. I had never been abroad and certainly never had an opportunity like this before. Everyone thought that I was nuts and irresponsible. I was told that I needed to take this seriously and start looking for a new job right away.
Instead of looking for a job, I began to research ITA, how to volunteer in Africa, and where to take a German course. Although it would seem a lot of planning went into it, I didn't give it too much thought. If I did, I would have changed my mind or talk myself out of it. Full disclosure, it took me longer to write this article, then it did to organize my travel plans. I got accepted to volunteer with Living with Big Cats in South Africa, I signed up for ITA's TEFL course in Florence and registered for an intensive German course in Hamburg. Those were the things I knew for certain I would be doing; everything else was just on a whim. I googled images of different countries and then added the ones I liked to my list. It was only supposed to be a trip for a few months to get the travel bug out of my system, so I could come back and find a job.
The Journey:
Once I sat on the plane bound for Europe, it felt like a weight had been lifted off my shoulders. Finally, all the running around, downsizing, packing and repacking was over. It was time to explore! The trip was nothing short of amazing; from holding and feeding lion cubs, walking alongside elephants to passing the TEFL course. Everything I experienced shaped the person I am today. The more I traveled, the more I wanted to see. Midway through my trip, it dawned on me that I no longer felt like a minion and what I was experiencing was all thanks to a corporate layoff. Had I not been laid off, I would have never gone on such an amazing journey.
Two months into my trip, I passed my TEFL exam. Woohoo! The day we graduated, the school administrators took us to lunch. We sat and talked about our plans and what we were going to do next. Most of us had no clue what to do. I chimed up and said, "wouldn't it be neat if I could design a website to promote ourselves professionally to become private teachers?" They loved the idea, and then we toasted to our accomplishments. I didn't give the idea too much thought after that; my main focus was traveling. I was able to explore four continents and over fifteen countries, making it one of the best experiences of my life.
The Decision:
A week before I was supposed to fly back to the states, I was sitting at the Hamburg airport about to board a flight to Ireland when I felt this ache in the pit of my stomach. I was not ready to go home.
Maybe it was the reality of going back to find a place to live and a job. At that very moment, I immediately called the airlines and canceled my return ticket. The agent asked me three times if I wanted to cancel it. She was kind enough to inform me that I would receive a credit and could use the difference to buy a return ticket when I was ready to come home. As far as I was concerned, it didn't matter where I lived; I would need to start from scratch no matter where I ended up.
"Starting a company is tough, but starting a company in another country with another language was downright insane."
I continued to travel for a few more months and finally chose to move to Hamburg, Germany, where I felt most at home. It was also a great city to be able to put my TEFL certification to good use. However, I knew that I did not want to work in a language school; I preferred to teach privately. This was when I took that small idea I had during the graduation lunch in Italy and put things in motion. It was an extremely challenging endeavor. Starting a company is tough, but starting a company in another country with another language was downright insane. Once I had the Speakeasy professional platform to find students and was actively building my student base, I wanted to help other teachers do the same. After about a year-and-a-half of assisting teachers worldwide, we launched our second company, Expat Launcher, to assist and support expats with everything needed to live and legally work in Germany. I genuinely love what we do and feel very blessed that I have been able to combine my passions for traveling, helping others and teaching into this crazy adventure.
Four years later, I look back and still can't believe that I was blinded by the beauty of travel so much so that I chose to move halfway around the world. It was only after a massive layoff from the corporate world that I began to open my eyes to the world around me. Since leaving the corporate world, I've never regretted any decisions that I have made. It never felt irresponsible to me that I wanted to take time for myself. Without being laid off or taking the ITA course, I don't think any of this would have been possible.
When an opportunity presents itself, it's best to give it your best shot.
Hailing from San Diego, Tamie had explored most of the United States but had never been abroad until age 35 when she embarked on a year of traveling, volunteering, and studying around the world. After earning her TEFL certification in Florence, Italy, & traveling through Europe, Tamie headed for Hamburg, Germany. In Hamburg, she not only taught English for 4+ years but also established her own business providing support and assistance to other English teachers with navigating the German visa process.
Want to Learn More About Teaching English Abroad & Online?
Request a free brochure or call 773-634-9900 to speak with an expert advisor about all aspects of TEFL certification and teaching English abroad or online, including the hiring process, salaries, visas, TEFL class options, job placement assistance and more.