tefl certification
How I Finally Got a Job Teaching English in Switzerland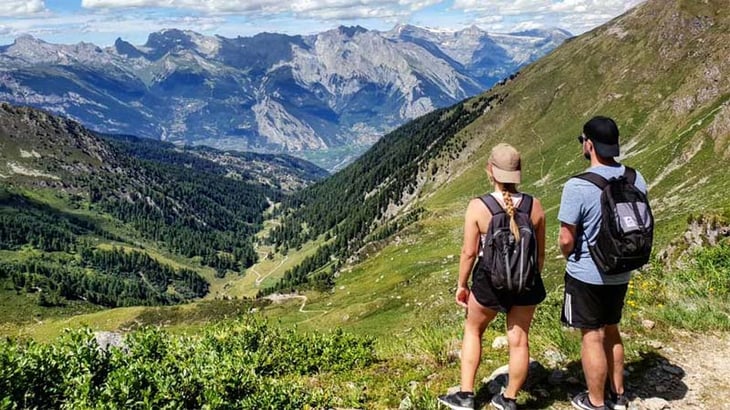 I always fancied the idea of living and working abroad, so when my partner told me that he was applying for a job in Switzerland and asked me if I'd like to join him, I was more than willing! I had just graduated from university and was ready for something new beyond the world of study. We moved to the French-speaking part of the Swiss Alps that same winter (2018), and both got jobs at a local international winter and summer camp. I loved my job, however as winter melted in to spring, I started to think of my degree, and my reasons for doing it. My intention was always to teach English. So, I started browsing online for TEFL courses and, by happy accident, I found International TEFL Academy. What interested me the most about this particular TEFL school was the amount of positive and genuine testimonials from past students and, after an in-depth conversation with Andrew Hines, my ITA Course Advisor, I signed up to the Online TEFL Course. By doing so, I was able to study around my job, which was brilliant.
Fast forward to the end of Summer 2019; I had been working in Switzerland for 10 months when I completed my online TEFL course. As I said before, I loved my job at the international winter/summer camp but I felt that it was now time to look seriously into teaching. However, I was soon to discover it wasn't going to be easy. Switzerland is a competitive market whatever the occupation, especially if you are a foreigner without a strong grasp of the local mother tongue. A factor that disadvantaged me greatly. The town where my partner and I work and live is heavily populated with Brits, so, though this was fortunate for us when we first moved, it was very soon made apparent that learning French was going to be a struggle. Most people, if not every person, in the town could speak a passable amount of English, so there was no urgent need to learn French. It also dawned on me that if everyone could speak a passable amount of English already, was there any need for a TEFL teacher in the town? Equally, being one of the many Brits that there was at the time (and still is), was the competition going to be far too plenteous? My concerns were not unfounded. As I began to research the job requirements for teachers of the local private and state schools, bilingualism was an absolute must. Plus, the schools were small and job vacancies were scarce, if not non-existent. Thoughts of having to give up the idea of teaching abroad in Switzerland started to cross my mind.
However, despite my concerns, I was to find out that having already lived and worked in the town for 10 months did have its advantages. Campers in the establishment I worked in had the opportunity to take language lessons during their holiday, one of those languages being English. Teachers from the local independent language school would come in three times a week and host lessons. I didn't give it much thought at the time, believing that all the schools insisted upon employing only bilingual teachers, even the independent ones. Over time, I got friendlier and friendlier with the teachers that came to my place of work. I eventually came to find out that some of the teachers only spoke English, and no other language besides that. Learning this got me very excited, and very hopeful! Perhaps I could still teach English in Switzerland, after all?
In September 2019, before leaving Switzerland for a couple of months to visit family and friends back home, I decided to hedge my bets and visit the language school. In turns out that one of the women who ran the school recognized me from teaching at the winter/summer camp, and was happy to talk. I enquired about whether there was any possibility of me teaching with them, and after a quick chat and looking over my CV and qualifications, I was hired! It turned out that the language school was not insistent upon their teachers knowing more than one language, if the language they spoke was one they could teach well. It looked like my patience had finally paid off!
From then on, I have worked for the language school teaching students from the ages of 5 up to 18 years old; I tutor privately, run "English clubs", teach at the winter/summer camp and, on odd occasions, substitute at the local schools. It is dream come true! On the other hand, I won't sugar coat it – the work load is all, or nothing. Being an independent language school means that there is only work if clients book a teacher, or sign up to clubs. So, to be safe financially, and to secure a work permit from the commune, I got a job as a part-time Nanny to ensure regular income. But I wouldn't take that as a negative, not at all! Through both jobs, I've met an abundance of interesting people from all over the world. And although my experience has been a long winded one in terms of finding a teaching job abroad, the experience I gained and the people I have met throughout the journey has made it all worthwhile. If anything, the experience has taught me that patience and integrity do pay off, and now I have finally got my dream job and have been reaping the rewards ever since. Switzerland is beautiful, my students are mostly hard working and enthusiastic, and I am only 2-hour flight away from my home country. I've definitely struck gold with this one.
Amelia Sharratt is a 26 year old from the United Kingdom with a BA (Hons) degree in English Literature and Language. Whilst studying for her degree, she did temporary summer work in New York state, Canada and Madrid, as well as working part time in a café in her home town in England. Upon completing her degree, Amelia decided to move and settle indefinitely in Switzerland where she completed her online TEFL course with International TEFL Academy and started teaching English there.
Want to Learn More About Teaching English Abroad & Online?
Request a free brochure or call 773-634-9900 to speak with an expert advisor about all aspects of TEFL certification and teaching English abroad or online, including the hiring process, salaries, visas, TEFL class options, job placement assistance and more.