Home is Where the Asado Is - My Life Teaching English in Argentina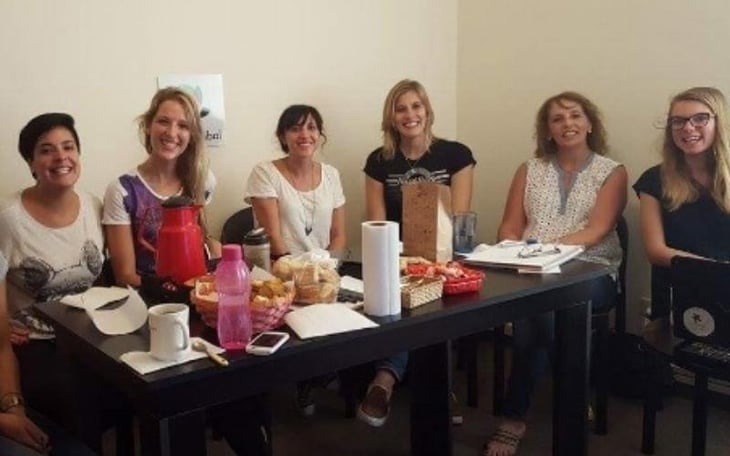 I remember being on that plane to Cordoba, my head a bewildering mix of thoughts about what was waiting ahead of me. Ready for a new adventure. Ready for a new chapter in my life! I had been to Cordoba before, so it wasn't all too scary, but the teaching experience was something new! Just thinking about it made my heart skip a beat. The reason why I ended up choosing Cordoba was because of my boyfriend. He was/is attending university here and we were both tired of being in a long-distance relationship.
So I did some research, and after reading only positive comments and reviews about the International TEFL Academy, I decided to enroll in the Online TEFL Course. Why the online course? Knowing Argentina isn't the most stable country economy-wise, I wanted to have a back-up, in case I wouldn't find a job right away. You do have to watch your money in Argentina. Money flies, but here? It flies like a jet! So by taking the online course, I could maintain working and saving up a little more. By the way, don't think that taking the online course is easier because you don't have to attend class. It is a lot of work but the International TEFL Academy makes it really interesting and fun! I was always eager to finish the chapter, and I was amazed by how fast our mentors corrected our tasks. It is a lot of work to combine with your day job, but it is worth it!



Although I had been to Argentina before, it still felt new to me. What did I know? The people are welcoming, warm and festive; their economy is tricky, just like their government, and they are known for their steak. They do have tasty meat!

But it didn't take long for me to feel at home and becoming more of an Argentinean. I absolutely love criollos. I am getting used to the siestas, and with my boyfriend, I started to discover the Argentinean culture for myself. Although I took Spanish classes before, it was (and sometimes still is) hard to understand and speak their Spanish. There is still the language barrier. Argentinean Spanish is unique - a lot of slang and they drop letters and speak quickly with a distinct accent making it a real challenge for newcomers, but I am taking Spanish classes every day and that surely helps. I am even taking classes "Cordobés", where they teach me how to speak like a real Cordobés girl.


I live in Nueva Cordoba, well known for their great university, which means I am surrounded by a lot of young people. The atmosphere in the city is really popping and vibrant! You feel alive but it is not as crazy as Buenos Aires. People in Cordoba are known to be nicer and kinder, which is true in my opinion.

My first week in Argentina, I was eager to start working. I e-mailed a lot of schools and institutions. Thanks to the International TEFL Academy, I knew where to start. They provided me a whole list of schools and their information. Also, my mentors helped me a lot with all the questions I had. I never felt like I was bothering them or asking silly questions. That's what I also loved about International TEFL Academy. That same week, I got a reply from an institute inviting me for a job interview. I couldn't believe it! I didn't expect it to go that fast. Using all the tips the ITA provided me, I prepared myself as much as possible and went out there. And boy, was that a good experience! My boss (I got hired that day) was so kind, friendly, warm,… We talked for almost 2 hours and were drinking mate (a local drink) and eating facturas. I was going to give conversation cIasses to other English teachers to work on their pronunciation and grammar. I couldn't believe what just happened. I got the job! Teaching teachers made my job much easier considering that their level of English was already quite advanced.
In between all this working, I still had a lot of time to myself; this is the great thing about teaching here too. It feels like I am taking a long vacation, since teaching became my passion and I don't have a crazy working schedule. My stay in Argentina has been such an amazing journey. I've been here for five months now, and I have already seen so many faces come and go, opening my eyes in different ways. Together we went out a lot, endlessly exploring its hidden gems, side streets, tucked away cafes, restaurants, and let's not forget the beautiful nature. It is such an amazingly beautiful country…

I worked (and still work) there every evening from 6:00 pm to 9:30 pm, giving conversation classes and helping out with pronunciation and grammar issues. It is great because through teaching them English, I was also able to give them a little taste of European culture, as there was a lot of interest! And once in a while, we have a class with typical Belgium and Argentine foods to make the class somewhat looser.
I also work for a private institute, which is a totally different experience. There I am teaching children who, most of the time, are attending private schools, so I was helping them with homework or again, grammar issues. The level of English I taught is basic to advanced (advanced in Argentina) because the institute doesn't focus on one level particular. It is great to be able to open the kids' eyes to the world outside their community and to be able to teach them something about Europe. I am surprised by how many children know where Belgium is located. I work varied hours, depending on their and my schedule. The good thing is that children in Argentina only have to attend half days. They have class in the morning or in the afternoon. The great thing about teaching children is that I am growing on so many different levels. In developing patience, determination, problem solving, stress,… I found and find myself growing and my perspective on life changing.
Having been here for 5 months now, I am becoming much more comfortable with my Spanish and with the fact that I now live in Argentina. I also feel like I learned more about the world too. But being here made it hard not to be infected by love for the place. Cordoba is a great base to travel from because of its perfect location, right in the middle of the country. This means a lot of weekend trips and sight seeing. The bus is the way to travel and is surprisingly affordable, and often you spend more time on it than your actual destination. But those 'cama' beds that are fully reclinable are not uncomfortable. Plus, they provide you with dinner, beverages, and breakfast. Not bad, not bad at all.
Traveling in Argentina will surprise you at every turn. The diversity of the climate and scenery, the cities and the landscapes, and the people you meet all give Argentina its unique personality -- a personality that is making my stay in Argentina an unforgettable experience. I feel home again; I am creating my own little world here with the help of my boyfriend, his family, my friends, and colleagues. A little world that is teaching me a lot about myself and my life. I came here for love, a passion for traveling, and dreams for my future, with finally a clear goal of where I was going.
And I couldn't have done this without International TEFL Academy.
Alien Carlier is a 25-year-old currently teaching English in Nueva Cordoba, Argentina. Before becoming an English teacher, Alien was a fashion stylist and store manager for a high-end fashion company living in Brussels, Belgium, where she loved the chocolate, beer, and waffles. But falling in love and eager to change her life, Alien decided to move to the other side of the world! And, here she is in the place she considers her second home.
Want to Learn More About Teaching English Abroad & Online?
Request a free brochure or call 773-634-9900 to speak with an expert advisor about all aspects of TEFL certification and teaching English abroad or online, including the hiring process, salaries, visas, TEFL class options, job placement assistance and more.