Experience Quintessential Europe While Teaching English in Poland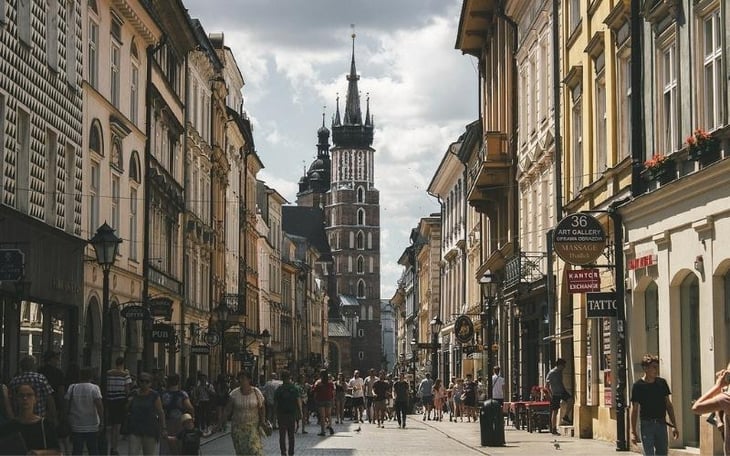 Do you want to discover quintessential Europe while living in a nation of historic cities, charming villages and beautiful landscapes?
Would you like to walk to work everyday in the footsteps of great historical figures and artists from Nicolas Copernicus and Frederic Chopin to Lech Walesa, Pope John Paul II and Roman Polanski?
Can you see yourself living in the one of the fastest growing and most dynamic countries in Europe?
It may not have the cache of France or Spain, but if you seek to experience life in one of Europe's most beautiful and exciting countries, it would be hard to beat living and teaching English in Poland. Here are just several reasons why.
One of the Fastest Growing Job Markets in Europe
You may not know it, but over the past 15 years, no country in Europe has experienced the high rate of economic growth enjoyed by Poland. Since freeing itself from the shackles of communism and Soviet domination just 25 years ago, the nation has emerged as an economic powerhouse attracting investment and trade from the world over. This has generated new wealth and a high demand for English language instruction, creating thousands of jobs every year.
Those looking to teach English in Poland should possess a TEFL certification and will typically get hired after interviewing face-to-face in Poland during major hiring seasons in September and January, though some schools will interview and hire teachers from their home country in advance. English teachers are hired throughout the country, but most opportunities are found in major metropolitan areas, including the three fantastic cities listed below.

The Charm & Beauty of Krakow
This fairytale city is one of the few in all of Europe that escaped World War II with minimal damage. A major center of art and architecture in central Europe for more than 1,000 years, Krakow offers a great mix between the modern, post-Soviet Poland of the 21st century and the Renaissance and Gothic glories of the city that date as far back as the 7th century.

Today, the city remains one of the most important cultural and political cities in the country with vibrant art and music scenes, lively street life and loads of museums and galleries. Here you can enjoy one of the oldest and best preserved cities in Poland while visiting a multitude of historic churches and castles like the Wawel located in the heart of the Old Town. You can also enjoy a stroll through Rynek Glowny, a sprawling medieval square lined with magnificent buildings, and tempt your palate with traditional specialties of Kuchnia Polska and a refreshment at any of the city's hundreds of inviting restaurants, bars and cafés.
Warsaw: Modern Capital of Poland
Unlike Krakow, Warsaw was practically flattened after the Second World War, but ever since, the city has been constantly rebuilding, improving and rediscovering itself, most recently in a largely successful effort to reclaims it beauty from the drabness of the Soviet era. Poland's largest city and capital, Warsaw isn't known for it charm and beauty to the extent Krakow is, but it still offers a vast array of castles, museums, and exhibitions as well as exciting and vibrant cultural and musical scenes.
Highlights include visiting the old Jewish Ghetto, where Warsaw's once thriving Jewish community made a courageous stand against the Nazis; strolling along the old streets of the Old Town; admiring the royal grandeur of the reconstructed Royal Palace; and enjoying mouth-watering Pączki (Polish donuts) at the legendary Café Blikle, which has been serving them since before World War I.
The Historic Port of Gdansk
Known to those who remember the Cold War as the birthplace of the Solidarity labor movement that spearheaded Poland's popular resistance against Communism in the 1980s, the Baltic Sea port of Gdansk is also one of the most beautiful and historic seaside cities in Europe! This energetic town has endless numbers of narrow cobbled streets alleys, elegant and beautiful architecture, and charming coffee shops. Other highlights the Amber museum, the largest old brick church in the world: St Mary's Cathedral, and the unusual ecclesiastical architecture of Oliwa Cathedral. Considered the longest Cistercian church in the world, Oliwa Cathedral has been a center for spiritual life in the city for more than 500 years and is home to one of the largest and most famous church organs in the world.
John Bentley is Co-Founder & Senior Writer for International TEFL Academy (ITA), the world leader in TEFL certification for teaching English abroad. A graduate of Harvard University and the Medill School of Journalism at Northwestern, John is a recognized expert in the field of TEFL. His articles have appeared across the field's top websites, including GoAbroad.com, StudyAbroad.com, InterExchange, GoOverseas.com, Adventure Teaching, & many others. He has also spoken as an expert on Teaching English Abroad & TEFL certification at major conferences like MeetPlanGo and Lessons from Abroad (LFA) in Portland & San Diego.
Want to Learn More About Teaching English Abroad & Online?
Request a free brochure or call 773-634-9900 to speak with an expert advisor about all aspects of TEFL certification and teaching English abroad or online, including the hiring process, salaries, visas, TEFL class options, job placement assistance and more.