Teach English in Krakow, the Gem of Poland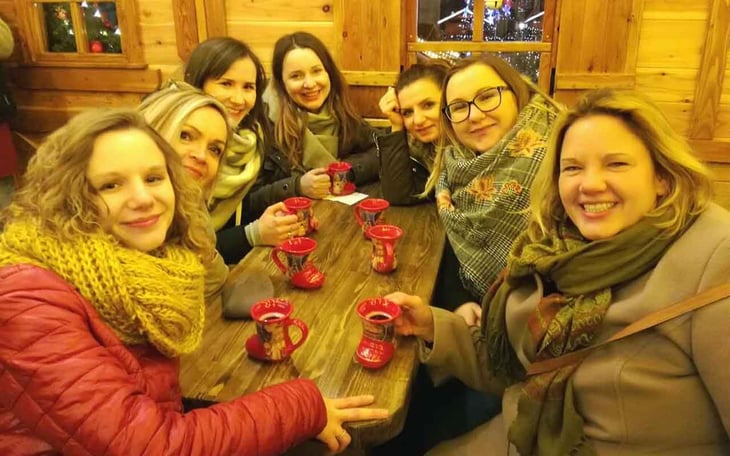 To the Polish people it's known as "The Gem of Poland", but to others worldwide, it's just another Eastern European city with an unpronounceable name. Little do they know that Krakow is a veritable treasure chest of art and architecture, boasting delicious and inexpensive beer, wine and food besides. While many of Poland's most beautiful cities saw nothing but ruin and destruction during World War II and the era of Communism, Krakow escaped largely unscathed. Wawel Castle and the city's many churches look today as they did when they were constructed hundreds of years ago. Find your future dream job working as an English teacher in Krakow, Poland, as you explore this nation's rich and fascinating past.
Stroll along any of the pedestrian-only lanes extending from the city center, or "centrum", and you'll see why in recent years Krakow has become known as Europe's new bohemian capital. The sidewalks literally hum with activity as young Poles and European tourists duck into bars and underground pubs. The walls of Kazimierz, the former Jewish district of Krakow, are plastered with posters promising live jazz muzyka, poetry readings and film screenings. This city is well on its way to knocking Prague off its pedestal of cool and nabbing the title of hippest city in Eastern Europe for itself.
The word is quickly getting out that this medieval city is home to an eclectic and creative atmosphere. Expats from America, England, and other comparatively-Westernized nations in Europe have suddenly flocked to Krakow, where the beer is still cheap and the air is still filled with a promise of real, cultural adventure.

Krackow celebrated its 750th anniversary in 2007. With gorgeous architecture dating from the Romanesque period onward, Krakow is home to a number of art and history museums, ranging from the avant-garde video galleries to spectacularly ornate church interiors. The main market square, or Rynek Glowny, dates back to before 1300 and is the oldest and largest medieval square in Europe. On any afternoon in the market square you're likely to find students sipping cappuccinos and babcias gossiping over tea, tourists bartering for amber jewelry, and pigeons soaring into the wide sky overhead. Small spaces, too, are filled with wonder in Krakow- search for those cellars that transform into music clubs, and the milk bars that remain so well hidden only the oldest Poles can remember how to find them.
As an English teacher in Poland, the colorful history and unending charm of Krakow will be yours to discover. The need for qualified English teachers in Krakow, Warsaw, Lodz, Gdansk, and many other cities throughout Poland is very high. Teachers can expect to make enough money to live comfortably and travel throughout the country and the whole of Europe. While working in Poland, you can expect to teach a wide array of students, ranging from young elementary school children to older business professionals.
Krakow's position as a center of learning in Poland (it houses the country's oldest and most reputable university, the Jagiellonian University or Uniwersytet Jagielloński) makes it the perfect place to find a job as an English instructor. Poland, and Krakow, are on the forefront of a modernized Europe, and now is the time to experience the country's captivating blend of past and present.
Contact the International TEFL Academy to find out how you can become qualified to work as an English teacher in Poland with a TEFL certificate. Call today to speak with an advisor and learn more about teaching overseas and to request a brochure. Find out how you can be on your way to an exciting overseas adventure in Krakow, Poland, or anywhere in the world!
Founded in 2010, International TEFL Academy is a world leader in TEFL certification for teaching English abroad & teaching English online. ITA offers accredited TEFL certification courses online & in 20+ locations worldwide and has received multiple awards & widespread recognition as one of the best TEFL schools in the world. ITA provides all students and graduates with lifetime job search guidance. ITA has certified more than 40,000 English teachers and our graduates are currently teaching in 80 countries worldwide.
Want to Learn More About Teaching English Abroad & Online?
Request a free brochure or call 773-634-9900 to speak with an expert advisor about all aspects of TEFL certification and teaching English abroad or online, including the hiring process, salaries, visas, TEFL class options, job placement assistance and more.