must read
What is the Difference Between Private and Public Schools in Japan?
Written By: Shay Ames | Updated: June 28, 2022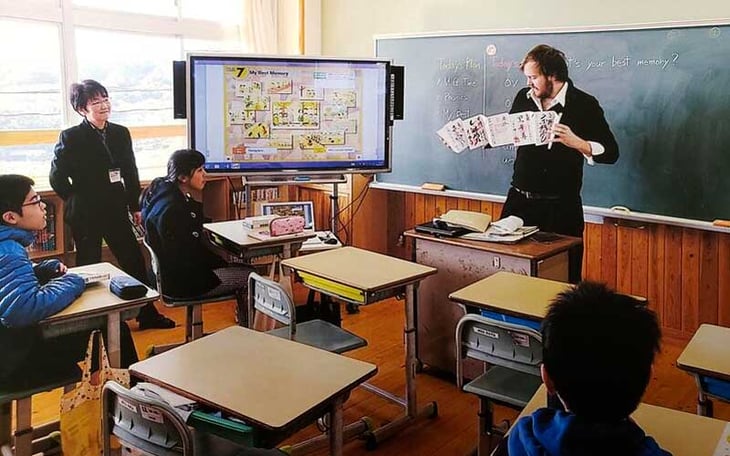 Want to teach English in Japan, but are unsure of whether you prefer to teach in a public school or a private school?
Are you wondering if there are alternatives to the famous JET Program for teaching in public schools?
Do you just want to know what your options are for teaching English in Japan?
Typically recruited once a year through the JET Program, English teachers in Japanese elementary and high schools work alongside a Japanese teacher and are known as ALTs (assistant language teachers). Private school jobs often entail teaching English to adults & positions open throughout the year.
From Shinto Shrines to Sake Houses, Japan offers a cultural experience like no other. Can you envision yourself in the tranquility of spring cherry blossoms, admiring an ancient Japanese pagoda? Then hopping on a 250-mile hour bullet train to become suddenly immersed in flashing neon and the bustling excitement of a sprawling ultra-modern metropolis? These are daily experiences in Japan, where ancient and modern seem to meet at every turn.
Japan is also one of the one of the largest and most established job markets for teaching English in the world. With a large population (127 million+) and an economy based largely on international trade & finance, Japan has been investing in English language education on a massive scale for decades.
Many of those interested in teaching English in Japan are familiar with the famous Jet Program (Japan Exchange & Teaching Program), which places foreign teachers in Japanese public schools as Assistant Language Teachers (known as "ALTs").
But with millions of Japanese of all ages taking English classes each year, the JET Program (which entails a lengthy & competitive application process) is not the only option for teaching English in Japan. Thousands of job opportunities open each year in other public school programs as well as in private schools & language academies, many of which cater to adults, particularly business people and university students.
Public School vs. Private Schools in Japan
While teaching in a Japanese public or private school might not be so different in the grand scheme, you may have preferences based on the advantages that each option can offer. Overall, Japan boasts a robust TEFL market where there is high demand for TEFL trained professionals. It's also routinely on our Top 5 Countries To Make The Most Money Teaching English, among the many other attractions that draw English teachers there. So what's the main difference between private and public schools in japan? Let's dive in.
English Teaching Options in Japan:
Japanese Private Schools (often known as Eikaiwas):
Teach your own solo classes
Work with students across the entire age spectrum
Smaller class sizes
Must be flexible with schedule - some schools require evening hours or even weekend work
You can choose where you teach & can live directly in Tokyo, Osaka, etc.
Must be flexible with commuting to different class locales and settings
Japanese Public Schools:
Opportunity to work as an ALT (Assistant Language Teacher)
Work directly with native Japanese teacher for added cultural immersion
8 - 5 weekday only schedule
Generous vacation time, all public holidays and weekends off
Must be flexible with location (teachers are typically assigned to a school)
Work primarily with Junior and Senior High School students
There are alternative programs & recruiters to the JET Program, such as Interac
International TEFL Academy Students & Graduates should contact the Student Affairs Department to receive additional information about opportunities to teach English in Japan through ITA's Job Search Guidance.
Demand for English Teachers in Japan Has Been Growing Faster in Recent Years
Now add this to the mix. The TEFL marketplace in Japan has surged in recent years in anticipation of the 2020 Tokyo summer Olympics, which were rescheduled for summer 2021. The CEO of Interac America, representing the largest private national provider of public school ALTs in Japan (similar to the public, JET Program) is preparing for the increase in jobs too:
"We are looking for candidates that are culturally adaptable and wish to have a life changing experience while working and living in Japan. The number of ALTs is expected to grow between now and the Olympics [rescheduled for 2021]. If you are flexible, adaptable, and think you have what it takes to live and work in Japan, we wish to hear from you." – Steven, CEO Interac America
Here is also an article from the Japan Times about the ramp up of English teaching jobs.
Take advantage of this new wave of demand for you – a professionally TEFL trained, native English language teacher! If you've wanted to experience the full spectrum of living in Japan, now is the time.
A senior Admissions Advisor with International TEFL Academy, Shay Ames has more than 12 years of high-level professional experience working in the fields of teaching English abroad & TEFL certification. In addition to personally helping more than 1,000 ITA students achieve their goals of teaching overseas, Shay has published numerous articles on the topics of teaching English abroad & TEFL certification. He also works extensively to build partnerships between International TEFL Academy and major institutions throughout international education.
Want to Learn More About Teaching English Abroad & Online?
Request a free brochure or call 773-634-9900 to speak with an expert advisor about all aspects of TEFL certification and teaching English abroad or online, including the hiring process, salaries, visas, TEFL class options, job placement assistance and more.