Colombia on Coronavirus Lockdown & Why I Chose To Stay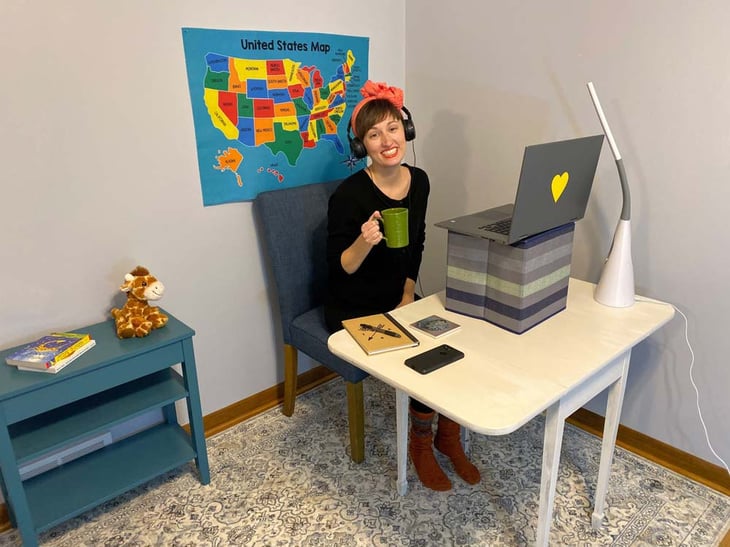 Last week should have been my first full week as a full-time English teacher in Medellín, Colombia. But it wasn't. It was my first full week in quarantine instead.
Let's rewind…
Before leaving the USA to travel indefinitely in 2018, I took the in-person TEFL course at the International TEFL Academy in Chicago. It was one of my many if I run out of money while traveling but don't want to come home yet, back-up plans. I had no idea where, or even if, I'd teach English.
Seven months into traveling around Asia, I needed money but wasn't ready to settle down, so I started teaching English online. It was the perfect way to make money and keep traveling!
On February 11, 2020, after a year and a half of teaching online, I arrived in Medellín Colombia, finally ready to settle down for a bit. (I obviously had no idea how "settled down" the whole world was about to get).
Finding an Apartment
I spent my first few days in my new home city searching for an apartment. I had a good feeling about the apartment I ended up choosing before I even went in. There were tons of people in the street. A bakery stood on one corner of the block and a bar on the other. A variety of restaurants and corner stores were scattered throughout the neighborhood. I loved everything about the city scene.
The landlord pulled up on a motorbike then led me to the second story apartment. Before looking around thoroughly, or asking all the questions I had written down, I knew I was going to take the place. It wasn't perfect but it was perfect for me. It was spacious, had excellent WiFi, came with a nice big table I could use for teaching online until I found a job, and had a balcony that overlooked all the commotion in the street. We worked out a deal and I moved in the next day.
Landing a Teaching Job
As soon as I settled in, I applied at three or four schools online. Within an hour I heard back from a school that I almost didn't apply at because I didn't think I was qualified. They wanted me to come in for an interview the next day.
The interview went great! The school was prestigious, as I'd suspected, and the workload intense (40+ hours per week). But those things were met with great pay (for Colombian standards) and benefits, including a work visa and health insurance. As nervous as all this made me, it seemed to be exactly what I was looking for. I was invited back for a second interview.
The second interview was more intense, more inspiring and made me want the job even more. I had to write and present a lesson plan. Several teachers and administrators came in to assess my work. On March 9th, after a third interview, I was officially offered the job!
COVID-19 Timeline
On March 10th, 11th, and 12th I was meeting up with friends, hanging out in cafes, eating at restaurants, shopping for work clothes, and preparing for my new life in Colombia.
On March 13th I received the first sign that things were not going to go the way I thought they would (even though I didn't recognize it as a sign at the time). It was an email from the school I'd just been offered the job at, informing me that they were waiting to proceed until they knew how the Coronavirus would impact the next course, the one I'd just been hired to teach. All I could do was wait.
On Sunday March 15th, I went out to dinner. The restaurant was busy. Everything seemed to be business as usual. I had no clue that it would be the last time I would eat in a restaurant for a while.
On Monday the 16th I got a text from a fellow ITA graduate, who worked at the school I'd been hired to teach at, saying that the school was closing until April 1st, possibly longer.
I hadn't heard back about the job yet, but I already knew that it wasn't going to happen.
Over the next few days many of my traveling friends fled the country, one got stuck here (the Latvian borders closed, even to Latvian nationals, with little notice), and the rest of us had to decide between staying in Medellín or going home. It was becoming pretty clear that if we wanted to go home, we needed to go asap, because before long, going home would no longer be an option.
I never considered going back to the States. For one, the virus was already way more out of control there than it was here and two, I feel so at home here, in this city, in this apartment, no part of me felt an urge to leave.
On March 20, at 7pm, Colombia went into a country wide lockdown. It is set to last until April 13th, but as we have seen with other countries, that will likely be extended. Colombian borders are closed and all flights in and out of the country are suspended indefinitely.
Day to Day Life During Quarantine in Medellín
Unlike in the USA, Colombia is handling this pandemic appropriately and taking lockdown seriously. There are police and soldiers in the streets day and night. Only one person per household is allowed to leave at a time and only for food or medicine. There is no walking around the neighborhood, running in the park or going through the fast food drive thru like I see happening on so many American Instagram stories. I have no doubt that I am safer here than I would be in the USA right now.
That doesn't mean things aren't weird, and even a little scary, here. My street is eerily quiet compared to that city scene I fell in love with a month ago. Seeing police and the military out of my window is unsettling. The grocery store limits the number of people shopping on any given day by only allowing people with certain ID numbers to shop on certain days. My ID ends in a 2 so I can shop on Thursdays and Saturdays. To avoid the hoarding of toilet paper, water, eggs and cleaning supplies, stores have set limits for each item.
I get most of my groceries delivered now but when I do go to the store, I get strange looks that I didn't get before. Since the most severe outbreaks of Coronavirus are in Europe and the United States, seeing a gringa elicits fear in locals now. They wonder when I got here, why I haven't left, and if I have the virus.
This quarantine has highlighted the number of homeless and hungry people living on the streets of Medellín. Whenever I sit out on my balcony at least one person stops, looks up at me, and pleads, "tengo hambre" (I'm hungry). This didn't happen before quarantine. I drop down apples, crackers and leftovers to people whenever I can. But it isn't enough.
Luckily, I am still able to teach English online while I'm here. But, between kids in China being able to go outside again for the first time in over two months and the influx of quarantined Americans and Canadians teaching online, I'm not as busy as I was a month ago. But I am teaching enough to sustain myself during quarantine and that is all I need right now.
I wake up every morning between 4:30 and 6am, whether I am booked or not. I drink a bottle of water, shower, make coffee, and teach- if I have classes. I find that sticking to a schedule keeps me grounded during these unpredictable times.
I have had bouts of boredom, as well as anger, binge watched my fair share of Netflix, and stuffed my face with junk food, just like the next person. But when I am feeling up for it, I read, write, study Spanish, cook vegan meals, and meditate. From getting the opportunity to stay in a country safer than the one I'm from, to all this extra time to do things I will not have time to do if a 40 hour work week is still in my future, I am privileged!
Even during the most difficult moments of this worldwide pandemic, I have to acknowledge the privilege of my situation and, more importantly, spend it wisely.
We are all in this together!
---
For more comprehensive information regarding your TEFL options during COVID-19, please read Coronavirus FAQs: TEFL & Teaching English Abroad or Online - What Are My Options?
Watching a video more your style? It's OK, we've got you covered! Check out our video addressing the issue below:
Las Vegas hairstylist turned online English teacher, Melissa has been traveling around the world since April of 2018, with no end in sight. Originally from Chicago, she moved to Las Vegas when she was 19 years old. After nearly a decade in Sin City, she walked away from her successful hair salon and sold everything she owned to travel the world! Melissa prefers to travel slowly, to really get to know a country and its culture, before moving on to the next. So far her world tour has taken her to Thailand, Singapore, Vietnam, India, Indonesia, Guatemala, and Colombia!
Want to Learn More About Teaching English Abroad & Online?
Request a free brochure or call 773-634-9900 to speak with an expert advisor about all aspects of TEFL certification and teaching English abroad or online, including the hiring process, salaries, visas, TEFL class options, job placement assistance and more.