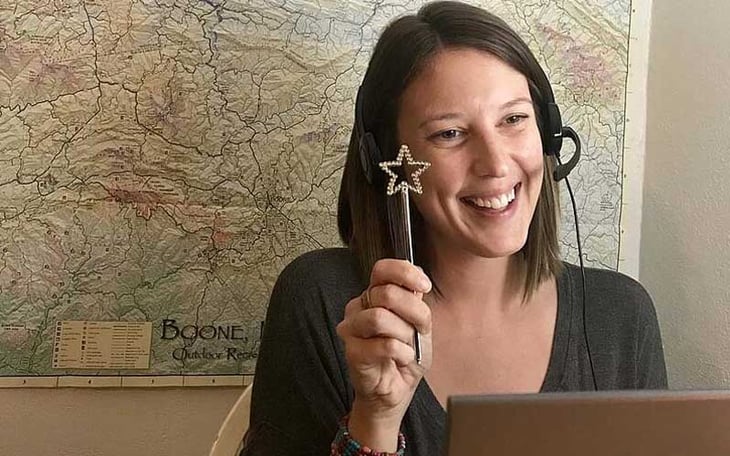 Classroom Teacher to Online Teacher: The Greatest Transition!
Growing up, I never not wanted to be a teacher. I spent my young childhood setting up a classroom with my doll babies and stuffed animals in my bedroom. As a pre-teen, I thought about how I'd decorate my classroom when I was in charge. As a teenager, I imagined being the "cool teacher." When it came time for college, I mindlessly chose education as my major. At the age of 30, education is still my passion even though it looks a little different (and more exciting) than I imagined it would.
Becoming The Cool, Fun Teacher
After college, I couldn't wait to set up my classroom and create fun lesson plans. And that's exactly what I did when I landed my first, and second, teaching job. I spent five years enjoying the summer months of making my classroom exactly how I wanted it to be and staying up late during the school year tweaking my lesson plans to meet the needs of my students. I also spent my time overwhelmed by all the responsibilities of a teacher and the lack of support (in my experience and in the experience of most teachers I know). The five years I spent as a teacher in Charleston, South Carolina were full of great lessons, belly laughs, and stressful times. I am forever grateful for my time as a classroom teacher and I'm even more overwhelmed by gratitude at where life took me following this time.
The Start of a New Chapter
A new chapter began when I went online and came across International TEFL Academy. I quickly became intrigued by all of the information I started reading about teaching English abroad or via an online platform. You mean, I might not be stuck staring at the same four walls day in and day out and working long hours simply to pay my bills? I set up a phone meeting with an advisor for ITA and two phone calls later, I signed up for the online TEFL course. I began the 11-week course in April, finished the school year and my teaching career in the classroom (I do actually miss it some days), and completed the course in June.
The Greatest Transition
The most wonderful aspect of ITA is the support offered when it comes to what to do after you have your TEFL certification. Conversations with classmates, course assignments, and the support of my advisor led me to feeling confident about my decision to move to Vietnam to teach English in October 2018. I was an English teacher in Vietnam for a few short months because ultimately teaching English online while traveling was just what I needed and wanted in life. Before the start of my journey across the world, I got hired at VIPKID (an online platform for teaching English to students located in China). Teaching online allowed me to make a very livable income while having more than enough time to travel to seven countries over a year and a half. I spent a good portion of my time living in Vietnam and was able to live comfortably, explore, and save cash.
*Pro tip: Getting hired and obtaining a full schedule can take time, so start this process while on familiar land.
Why Teaching Online is the Best Job I've Had
Don't get me wrong, I get frustrated with teaching online just like I have with any job. Regular bookings aren't always reliable. With that said, a back up company is always a good idea; I am actually employed by three online teaching companies. Students can give you a run for your money, as with any teaching job.
BUT, in the grand scheme of things, I'm pretty spoiled with this job and here's why:
Fairly easy cash: The money isn't bad at all for a 30 second commute to work in your pajama pants. Depending on the company you work for, you can make up to about $20-$25 an hour.
Flexibility: You can teach anywhere you want as long as you have access to reliable internet. I've taught in a bungalow on an island in Thailand, in a fair share of Airbnb's in Vietnam, on the floor of my empty apartment, and I plan to eventually teach in a van while road tripping the United States.
More Flexibility: While hours can be rough, depending on your time zone, I have gotten used to it and you can take off and work any time you want. Some of these companies do have a minimum requirement of hours per week, but the ones I work for do not. Side note: I work for VIPKID, Zebra English, and GoGoKid (rarely).
The students: I've built relationships with the most adorable kiddos. There are kids I've been teaching for up to 2 years from oceans away, some of which I am able to have full English conversations with despite barely speaking a word of English when I met them. How cool, right?!
Teaching online really is a great opportunity for anyone who is looking for a side gig, wants to travel, or is trying to get away from working a 9-5 and work in the comfort of their home. There is an abundance of possible companies to work for. Some require a Bachelor degree while others do not and most do or are beginning to require a TEFL certification. If living a life filled with adventure or flexibility or both (because why not), then teaching English online is a pretty fantastic route to take.
Polly Clover, 30, is from South Carolina. After being a classroom teacher in a public school for five years, she decided to obtain her TEFL certification with the goal of moving abroad. After completing her online TEFL course through International TEFL Academy, she moved to Vietnam to teach English in a classroom as well as online in order to travel. She has now been teaching online for two years.
Want to Learn More About Teaching English Abroad?
Request a free brochure or call 773-634-9900 to speak with an expert advisor about all aspects of TEFL certification and teaching English abroad or online, including the hiring process, salaries, visas, TEFL class options, job placement assistance and more.