must read
8 Reasons Why ITA Offers the Best TEFL Course in Costa Rica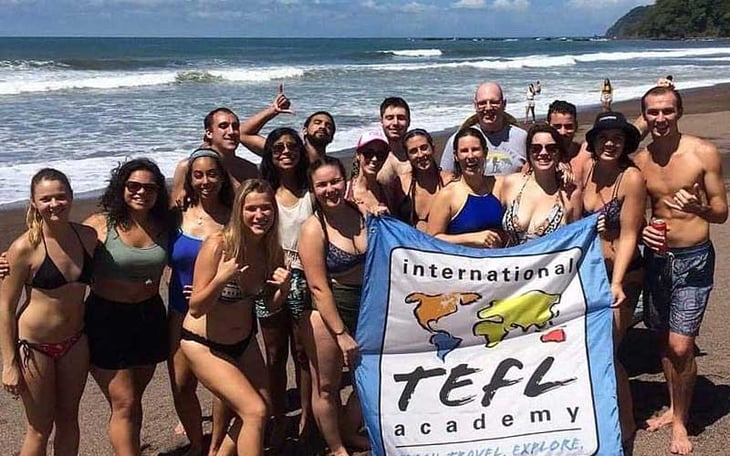 Earn Your TEFL certification Course in Costa Rica - the "Happiest Nation on Earth"!
Want to live, work in travel in the heart of Latin America?
Are you looking to immerse yourself in a Spanish-speaking culture?
Do you want to teach English in Costa Rica, a beautiful nation recently named by CNN as " the happiest country on earth"?
Costa Rica offers one of the strongest job markets for English teachers in Latin America, and virtually every student who takes their TEFL certification course with International TEFL Academy in Costa Rica gains employment as an English teacher following the course. Want to learn more?
Here are eight reasons why taking International TEFL Academy's four-week TEFL course in Costa Rica is ideal if you want to teach English in Latin America.
8. Fantastic TEFL Course Location in Heredia, Costa Rica (near San Jose)
International TEFL Academy's Costa Rica TEFL Course is situated in the historic city of Heredia less than 10 miles from the bustling capital of San Jose. Famously known as the "City of Flowers," Heredia was founded in the early 18th century, making it one of the oldest towns in Central America. Today it is a center of culture and education that is acclaimed for its charming colonial architecture and beautiful landscaping. The course itself is situated in a highly regarded local language school with first-rate classrooms and facilities. The presence of local ESL students also provides ideal opportunities for live practice teaching with non-native speakers.
7. Costa Rica is a Great Job Market for Americans Who Want to Teach English in Latin America
Despite its small size (roughly equal to Vermont and New Hampshire combined), Costa Rica offers one of the top markets in Latin America and the Spanish-speaking world, due to its relative economic prosperity, fast-growing tourism industry and an emerging profile in the world of international commerce. Most English teachers will gain employment by interviewing on the ground in Costa Rica, primarily in major hiring seasons like January and June. Costa Rica is a country where it is common to gain employment for those who gain their TEFL certification, but who may not hold a four-year degree, and it is also a country where English teachers of all ages can get jobs as well.
6. Highly Qualified and Experienced TEFL Instructors
Like all International TEFL Academy TEFL certification courses, the Costa Rica TEFL course is taught by expert instructors with stellar academic qualifications and extensive experience. Not only are instructors well-versed in the field of TEFL, they also boast years of experience working and training specifically in Costa Rica and will provide students with loads of information and insights about all aspects of teaching English in Costa Rica from the local job market to culture and customs. This insures not only will you be prepared as professional ESL teacher to handle the rigors of running 4-6 English classes a day, it will prove invaluable in helping you to navigate the local job market for English teachers in Costa Rica and to enjoy a smooth transition to life in this beautiful nation.
5. Convenient and Affordable Options for Accommodations during your TEFL Course in Costa Rica
Students enrolled in International TEFL Academy's four-week Costa Rica TEFL course will receive personal assistance making housing arrangements during their course. From homestays with local families (great for practicing your Spanish!) to guesthouses and hotels, students have a variety of options to choose from for accommodations during their TEFL course in Costa Rica.
4. Lifetime Job Search Guidance for Teaching English in Costa Rica and Worldwide
All participants in International TEFL Academy's four-week course in Costa Rica receive hands-on job placement assistance with finding jobs teaching English in Costa Rica as well as world-wide job search guidance to assist graduates in landing teaching opportunities around the globe. Costa Rica offers one of the strongest job markets for first-time English teachers in Latin America as more than 100 local language schools employ more than 1,000 foreign English teachers each year. Staff members and instructors have extensive experience and are extremely well connected within the local job market for English teachers in Costa Rica and will provide guidance, contacts and other assistance to help students and graduates arrange interview and land English teaching jobs in Costa Rica.
Also, because the vast majority of language schools hire English teachers locally in Costa Rica, taking your course in Heredia – located within 20 miles of 90% of all language schools in the country – will put you in perfect position to interview and get hired as an English teacher in Costa Rica.
3. Live practice teaching with local ESL students (not role-playing with other teachers-in-training).
Live practice teaching with ESL students is a critical element for any accredited TEFL course. Accrediting bodies will not recognize TEFL certification courses that do not incorporate live practice teaching and the vast majority of schools and language institutes around the world will not hire you if your TEFL certification course does not include live practice teaching. Established international standards maintained by accrediting bodies hold that a professional-level TEFL certification must incorporate at least 6 hours of practice teaching.
During your International TEFL Academy TEFL certification course in Costa Rica, you will engage in live practice teaching with local ESL students from. You will not only practice the methodologies and techniques that you will learn in the class; you will also become comfortable working with actual ESL students, including some who don't speak English at all. Achieving this comfort level will prove invaluable when you begin teaching English on a professional level after the course.
2. Start-up Costs and Cost of Living Are Relatively Low for English Teachers in Costa Rica
Did you know that typical monthly rent for an English teacher runs from $150-$300 a month? You won't get rich teaching English in Costa Rica, but the cost of living is low, which means that any dollars or euros that you bring will go that much farther, and the amount of money that you need to support yourself until you begin getting paid will be far less than what would be required in many European nations.
1. Earn a top-level, internationally accredited TEFL certification that is recognized worldwide.
The bottom line is that to qualify yourself for the best possible jobs teaching English abroad, and to best prepare yourself to perform as a professional-level English teacher, you need to receive the best training possible. International TEFL Academy's Costa Rica TEFL certification course exceeds international standards for both the number hours of academic training and coursework (160 hours – international standard is 100 hours) and practice teaching (international standard is 6 hours).
This state-of-the-art curriculum incorporates all aspects of teaching English as a foreign language including teaching methodologies and techniques, lesson planning, classroom management, teaching English to business learners and children, and more.
This certification will not only qualify you for English teaching opportunities in Costa Rica, but for thousands of positions around the globe (positions you qualify for will also depend on other factors, including citizenship, education level and others).
Founded in 2010, International TEFL Academy is a world leader in TEFL certification for teaching English abroad & teaching English online. ITA offers accredited TEFL certification courses online & in 20+ locations worldwide and has received multiple awards & widespread recognition as one of the best TEFL schools in the world. ITA provides all students and graduates with lifetime job search guidance. ITA has certified more than 40,000 English teachers and our graduates are currently teaching in 80 countries worldwide.
Want to Learn More About Teaching English Abroad & Online?
Request a free brochure or call 773-634-9900 to speak with an expert advisor about all aspects of TEFL certification and teaching English abroad or online, including the hiring process, salaries, visas, TEFL class options, job placement assistance and more.