tefl certification
5 Reasons That You Need To Take Your TEFL Course Now, Even If You Are Not Leaving Right Away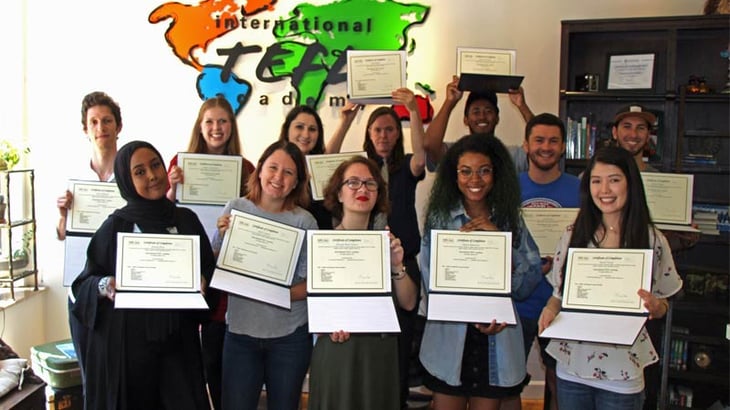 Even day to day, I find myself running to catch my morning bus far more frequently than I find myself sitting peacefully at the stop awaiting its arrival. However, when it comes to big things like choosing a college, applying for a career job, buying a home, deciding where to study abroad, or purchasing a new car, the majority of us take the time to research and develop a plan for completing the task. This is logical, as these are all types of decisions that will have a major impact on our lives. So why would something as important as picking up your entire life to move halfway around the world to teach English abroad be any different?
Afterall, your TEFL certification never expires, so you don't have to worry about it becoming invalid; and ITA students and graduates receive lifetime access to Job Search Guidance that also does not expire.
Here are 5 reasons that you should take the first step in this adventure by getting started on your TEFL certification course NOW.
1. It makes financial sense
For teaching English abroad, there are 3 main costs that you need to plan for: TEFL Certification, Flights, & Basic Start-Up Costs (like paying your first month's rent). Costs will vary depending on your personal expenses and where you want to teach, but in most cases it comes to anywhere from $2,000 - $5,000. To put it simply, if you cram all of your expenses into a few short months, it can be very overwhelming.
Ideally, you want to start with your tuition payment about 6-12 months before you leave. Next, you will want to purchase your flight about 2-4 months before you leave to secure the best fare.
Then you will have the rest of your time to focus on saving money to make sure you have enough of a nest-egg to have a comfortable transition into your new life abroad. Bottom line: enrolling in your TEFL course and getting started will enable you to space out your start-up costs.
2. Get started on your job search & give yourself as many options as possible.
The sooner you enroll; the sooner you receive Job Search Guidance and the sooner you can begin lining up job opportunities teaching English abroad.
The process of lining teaching jobs abroad typically takes 3-6 months and it can take longer, so it's never too early to begin the process. Accordingly, giving yourself more time to research and work on your job search will make it easier for you to put together a realistic timeline and to plan according with regards to travel arrangements, ending your lease, and other facets of moving abroad.
It's also worth noting that approximately 50% of the students who enroll in an International TEFL Academy TEFL class do not have a specific teaching destination chosen when they enroll. Of the 50% who enroll with a country in mind, around 1/3 of them end up teaching in a different location than they had originally anticipated.
Why does this happen?
Well, all of our students receive lifetime job search guidance from our team of Student Services advisors. These advisors are experts in all of the major TEFL markets around the world, and it is their job to educate each student about all the wonderful opportunities that exist out there. Enrolled students are also put in touch with our robust alumni groups, enabling them to network with teachers who are on the ground in the places they are learning about.
Access to our Student Affairs advisors, alumni networks, and our other resources begins as soon as a student enrolls for a TEFL course. A student may have entered thinking that she wanted to move to Rome, Italy next September, but after learning that in Santiago, Chile it is possible to surf and ski all in the same day, she now realizes that she will need to be on the ground 3 months earlier for Chile's up-coming hiring season in July (or applying and interviewing for jobs from home in advance). If that student has not completed her TEFL certification yet, she would be out of luck. Moral of the story: The sooner you become TEFL Certified, the more options you will have on the table.
To Learn More: How quickly can I get TEFL certified and begin teaching English abroad?
3. Getting the first step of registering for your TEFL course out of the way allows your mindset to shift strictly to teaching abroad.
Numbers 1 & 2 covered the financial and logistical reasons for registering for you TEFL class now. Number 3 will cover the mental/emotional reasons for getting started today. The bottom line is, once you enroll for your TEFL course, your dreams of actually living abroad change from fantasy to reality.
Registering for your TEFL course, and investing the time and money in taking the class really represents your first true commitment to making your adventure of teaching abroad a reality.
Now there is a date on it! A light at the end of the tunnel!
You may not be physically leaving for up to a year, but your trip has now officially begun, nonetheless.
After taking the big step of enrolling, you can take a huge sigh of relief, and get started with the fun stuff. This is the time you start picking up travel books, telling your friends and family about what you are doing, planning the drink list for your going away party, etc. All the anxiety that you may have felt about moving abroad will now evolve from nervousness over wondering if this will ever happen, to excitement that it actually is happening!
In the end, nothing good ever comes from procrastinating on the things we KNOW we need to do in our lives. For most people that live abroad, their decision to live in a different culture than their own was more of a calling than it was a choice. Over 250,000 English teachers are doing so around the world as we speak.
4. Access to all of the ITA Alumni groups
Start connecting and networking with fellow work travlers and ITA grads. This is an ideal way to meet other teachers who are heading abroad and make friends before you arrive. We have country-specific Facebook groups that you have access to as soon as you're enrolled in your class with ITA. We also host Facebook Live sessions and live Q&As, so make sure to keep an eye out for those!
5. Make money teaching English online!
If you are TEFL Certified but not quite ready to head overseas just yet, you're in luck. You can start using your TEFL Certificate right away by teaching English online. This is an increasingly popular way for teachers to not only gain valuable teaching experience before they head abroad, but it's also a smart way to boost your income before, during, or after traveling & teaching!
A Michigan native, Michael has more than 10 years of experience working in education, both teaching English abroad in Spain and teaching in the Chicago public school system. Michael holds a Master's Degree in Education from DePaul University and is one of ITA's most senior advisors, who has also published numerous articles about various aspects of TEFL. When asked about his experience in Spain, Michael invariably states that after marrying his wife, teaching abroad is the best decision he has ever made.
Want to Learn More About Teaching English Abroad & Online?
Request a free brochure or call 773-634-9900 to speak with an expert advisor about all aspects of TEFL certification and teaching English abroad or online, including the hiring process, salaries, visas, TEFL class options, job placement assistance and more.