10 Dishes & Drinks to Try While Teaching English in Central Europe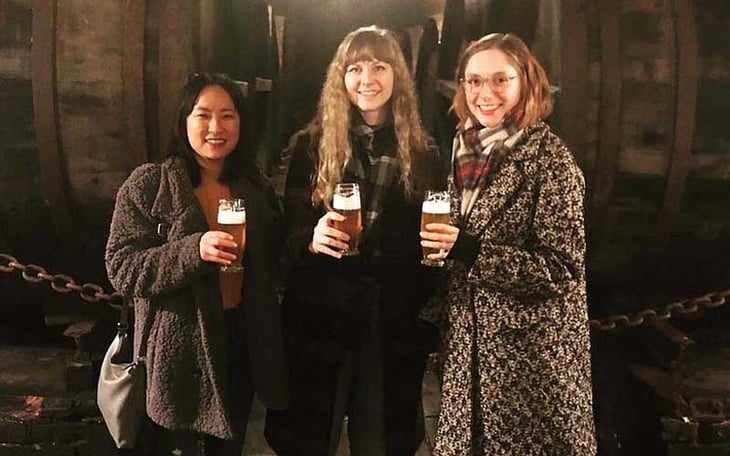 Teaching English abroad has many perks. Embracing a new culture, speaking a new language, building friendships around the world… and FOOD. Let's be honest, you are not going all this way to continue eating microwave mac & cheese. The world has great treats to offer and Central Europe is the perfect place to begin your culinary journey!
Whether you (want to) teach in Poland, Hungary, Germany, Austria, Slovakia or Czech Republic, here is a list of 10 dishes and drinks you need to try while you are living, traveling & teaching English in Central Europe.
1. Goulash
Dig right in the heart of Central European cuisine with this traditional Hungarian stew. Goulash is your perfect combination of meat, vegetables and spices. You will fall for its strong paprika flavor! Can't get enough of it? Great! There are many more variations for you to try: as a soup, with beef, veal, pork or lamb… In other words, goulash is your perfect dinner after a day of teaching.
2. Wiener Schnitzel
Hungry yet? Then try one of Austria's prominent dishes: Wiener Schnitzel. You have probably already heard of it before but wait until you try it in Vienna (no, really). Tender and crispy, this traditional thin cut of veal coated in breadcrumbs and fried is a famous icon of Austria's capital city. In fact, the word 'Wiener' actually means 'from Vienna'. Traditionally served with parsley potatoes, or potato and cucumber salad, Wiener Schnitzel is a must-try for any gourmet TEFL teachers.
3. Slovak halušky
TEFL foodies, meet this traditional boiled potato dumpling from Slovakia! Halušky is Slovakia's most famous dish. Think of it as the Slovak version of Italian gnocchi. There are several kinds of halušky and the most popular one is Bryndzové halušky. It is usually served with bacon bits and sheep's cheese. Is your mouth watering yet?
4. Trdelnik
Teachers with a sweet tooth, this next dish is for you! Trdelnik is probably one of the most popular desserts in Central Europe right now. What makes them unique? These pastries are cooked on rods over hot coals. They are then topped with sugar and walnuts, and filled with ice cream, chocolate, or whipped cream and fruit. While Trdelnik is popular in Czech Republic (they are all over Prague) and Slovakia, you will find them all over Central Europe. Lucky you!
5. Lángos
Hanging out in Budapest? Meet one of Hungary's most popular street food! Lángos are a traditional deep fried flat bread usually served warm and topped with sour cream and grated cheese. You can also choose to have yours only rubbed with garlic, or garlic butter, and even doused with garlic water. In short, Lángos are bound to become your Hungarian guilty pleasure.
6. Smažený sýr
Forget your mozzarella sticks and fall for this fabulous European fried cheese. Smažený sýr are a very popular street food in Czech Republic and Slovakia (where it is known as Vyprážaný syr). It is usually made of Edam, Hermelin, Niva cheese or Emmental, then coated in flour, eggs and bread crumbs, and fried. You will appreciate dipping it in mayonnaise or tartare sauce, eating it with a side of potato salad, or even in a bun. In other words, Smažený sýr is your Czech and Slovak definition of comfort food.
7. Pierogi
More dumplings, please! If you have not heard of them already, you need to try these tasty polish dumplings. They are traditionally filled with cheese, potatoes, mushroom, sauerkraut and fruit...The number of fillings is literally countless. Pierogis suit every taste and they are a great Polish comfort food. Enjoy!

8. Pils/Pilsner
Central Europe has great food but it also has great drinks for you to wash it all down! And you have surely picked the right place for craft beer. Take Czech Republic, for instance: did you know that the Czechs drink the most beer in the world per capita? It is also the home of one of the world's most popular type beer: pils or pilsner. There are hundreds of pilsner-style beer for you to try out in Czech Republic. Not only they are good but they are also very cheap. Don't miss out!
9. Palinka
Not a beer lover and in Budapest? You should try Palinka. Palinka is a traditional Hungarian fruit brandy that comes in a variety of different flavors, including plum, apple, apricot, pear and cherry. Fun fact: It was invented as a medicine over 500 years ago before it became a popular drink all around the country. Hungarians still drink it as a digestive after a meal sometimes. It is a very strong beverage so drink moderately!
10. Polish Vodka
You simply cannot go to Poland and not try their vodka. Even with beer becoming more and more popular around the country, vodka is still a traditional drink and is appreciated as such in Poland. There are several brands for you to enjoy but do not expect to drink it in a cocktail or dilute it with a mixer. Here the vodka is served neat and chilled. Na zdrowie!
There you have it! 10 dishes & drinks to try while teaching English in Central Europe. Have fun exploring these wonderful countries and their specialties… Bon appétit!
A passionate traveler from Brittany, France, Stephane has always been eager to explore the world. He lived in 4 different countries and traveled to 16 more. Professionally, Stephane cut his chops in the diplomatic world working on the press relations & social media team at the Canadian Embassy in Paris before relocating to Chicago where he now oversees video & alumni relations at International TEFL Academy. He is also a primary organizer of ITA's ground-breaking Teach Abroad Film Festival.
Want to Learn More About Teaching English Abroad & Online?
Request a free brochure or call 773-634-9900 to speak with an expert advisor about all aspects of TEFL certification and teaching English abroad or online, including the hiring process, salaries, visas, TEFL class options, job placement assistance and more.