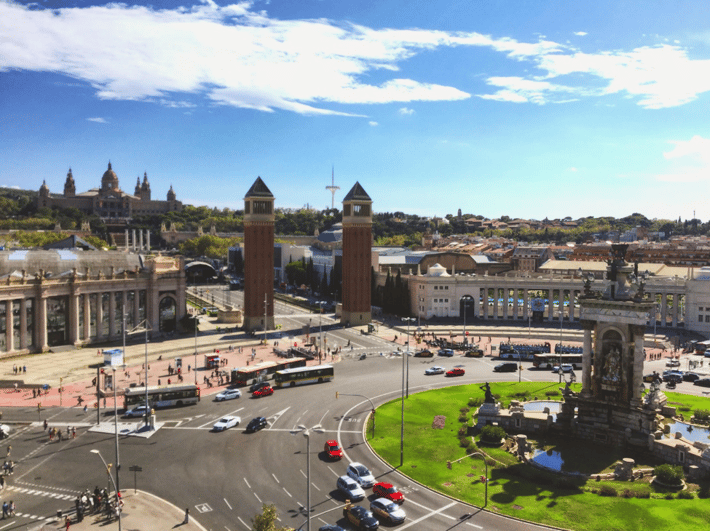 Our ITA Alumni Ambassadors are living in some of the world's greatest cities. We asked them to hit the streets and give us an inside look at their favorite neighborhoods to hang out and spend an afternoon. From the best coffee shops and restaurants, to the more off the beaten path hidden gems, our Alumni Ambassadors are on the ground abroad & ready to spill their tips!
---

Sants-Montjuïc is one of the 10 districts that gives Barcelona its flair and is the furthest west district.
It is well-connected with the Barcelona Sants train Station, Estació de Sants, that has high speed trains that connect with major cities in Spain and France. All of Sants is easily accessible by metro just 10-15 minutes from the center of Barcelona.
A new, trendy place to live and socialize for many locals, Sants has its own distinct community feel with fantastic restaurants, cafes and an annual festival in August where the locals choose themes to decorate their streets and party all night till early morning.
Mountjuïc has several attractions including: A fort that dates back to the 17th century, a Greek amphitheater with many gardens that are breath taking, Poble Espanyol an open-air architectural museum, a huge Palace called the Palau Nacional that was transformed into an art museum and a magic fountain that touches the senses with music, color and water in all the right combinations.
If you are looking for a relaxing, up and coming trendy, culture filled, well-connected district to visit or live in, than Sants-Monjuïc should be on the top of your list.
Take me back to the Alumni Ambassador Corner
---
About as Midwest as they get, Omaha, Nebraska, Allen always dreamed of: visiting new countries, learning new languages, experiencing cultures and living a simple life while doing so. After graduating University in 2014, Allen sold all he had and bought a one-way ticket to live those dreams and share his experiences along the way. He decided to teach abroad to break free of life's traditional routines.