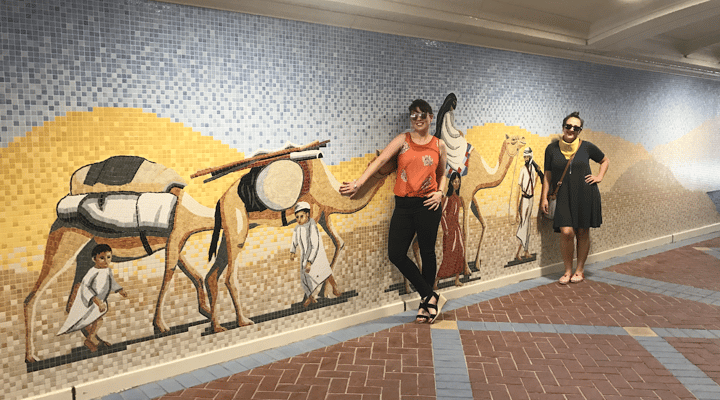 By Katie Ayers
Cell phones. I hate them but I love them. In the two years I have lived in the United Arab Emirates, I've gone through 3 phones. Phones are unreliable but the most necessary thing for international survival. A few months after I arrived, I got a new phone through the phone company here. I'm still paying for that iPhone 7, which magically broke - I'm pretty sure it melted and Apple has a monopoly on all things expensive.
Because phones are pretty cheap to buy outright here in comparison to US phones, it's definitely better to buy the phone outright once you are in the UAE. So you don't get into a situation like me and have to continue paying for a phone you've already Office Space smashed in the middle of the desert. My replacement phone I bought from a tech store and have much less problems with it.
In terms of phone service providers, you have two options; Du and Etisalat. Etisalat owns or has their hands in essentially everything. I use Etisalat. Phone, internet and the darn fee I have to pay for the previously mentioned iPhone costs me right around $170. I find the phone plan to be reasonable (40 ish dollars) but the internet is Comcast price, and if you have ever experienced Comcast you know that's not a compliment. However, all of my services are really reliable and Etisalat customer service is marginally better than most places.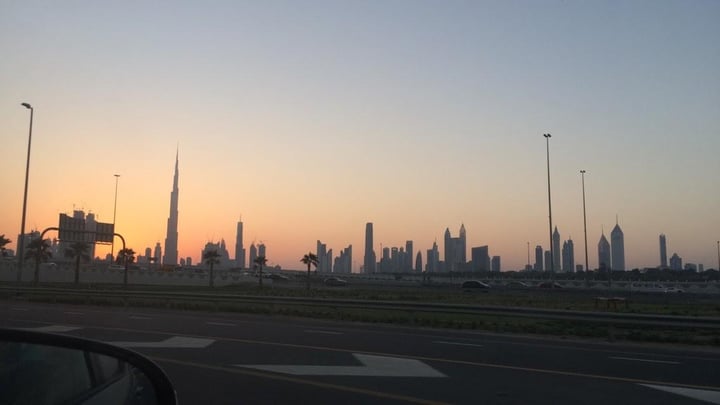 There are several apps that are necessary for an easier life in Ras al Khaimah and the UAE in general.
1. Whatsapp: If you've only ever lived in America you may be used to everyone having iMessage or messaging services of some sort. Abroad, it's basically all Whatsapp. Traditional messaging is only really used for business advertisements and alerts. Your life will be so much happier if you get your friends and family back home on Whatsapp. There's of course Facebook Messenger and other social media to keep in touch, but Whatsapp is what's up (see what I did there). WhatsApp voice/video calls are banned in the UAE.
2. Talabat: Word on the street is Dubai has Uber Eats or an equivalent but up in the north all we've got for mass food delivery is Talabat. This App is becoming more popular over time - I kind of think RAK is stuck in time and they're just now working on updating themselves to have up to date technology options like Talabat. There are tons of restaurants that deliver that aren't on Talabat yet and you still get tons of menus at your door, but I use Talabat at least once a week. Side note, delivered food/restaurant food is reasonably priced in RAK.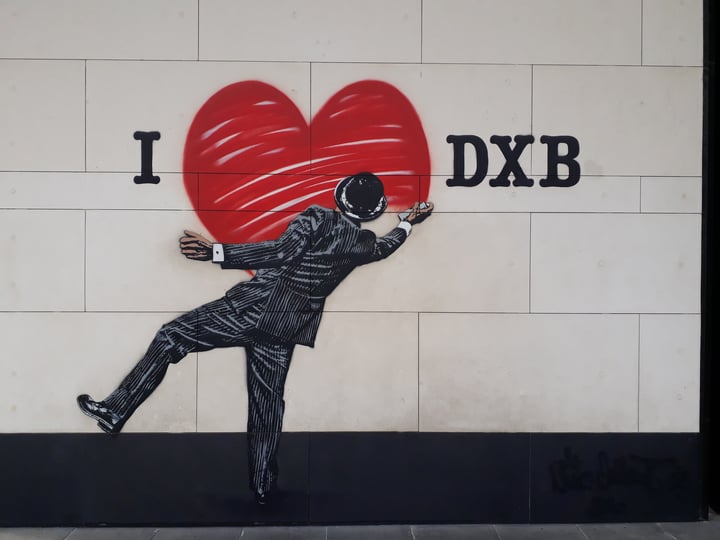 3. MOI: Ministry of Interior, this is essentially the "car" app. If you buy a car, which isn't a terrible idea, you'll want this app to view your registration and get notifications when your insurance is expiring. Most importantly, you'll be able to see your speeding tickets (all of which are given by cameras, not by police officers), and salik (toll fees). Fun fact, there are "discount days" for speeding tickets. With your driving license, you will lose points for every ticket and if you lose too many you may have some legal punishments. However, your points start over every year and defensive driving is necessary to survive Mario Kart live.
4. ADCB (or other bank app): You'll want the app for your bank. It'll be nice to know when you've spent all your money living your world record life. It's also necessary to digitally pay your credit card and transfer money home. The bank is only open when you're at work and I only know of one full branch in my whole Emirate. So a lot of banking will be done digitally.
5. XE: The currency exchange calculator. It's just nice to have the latest conversion rates easily available. You'll be planning your next adventure the whole time you're in the UAE, because it's so easy to travel so this will help you translate costs.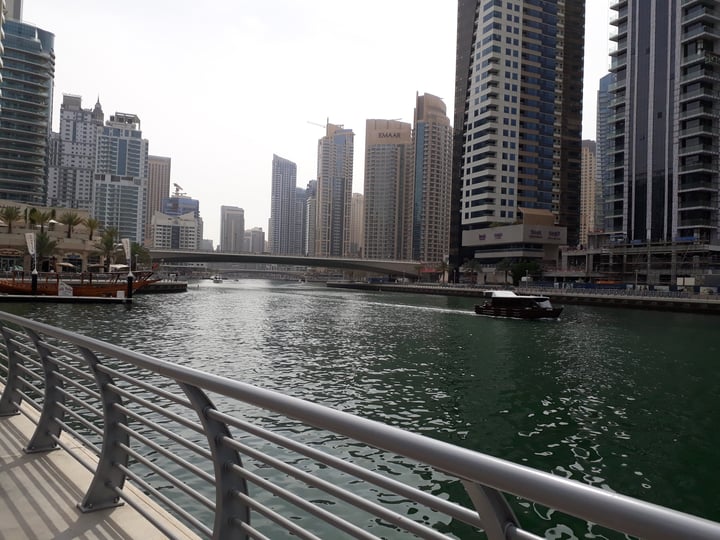 6. Waze: I think that Waze is much more reliable for directions. Roads are constantly changing in the desert and I think Waze is updated more quickly than Google Maps. Waze is also great because accidents are shown, and there are constantly accidents here (can you tell driving is an adventure out here). It's also nice because you get notifications for where the speeding cameras are... which you'll want to know!
7. Entertainer: I definitely recommend buying the Entertainer app. The buy one get one free life is pretty wonderful. Food, adventure, hotel rooms, every time I save I feel accomplished!
8. Countdown App: Time Until is my personal favorite. Knowing how much time until things start excites me and calms my anxiety - maybe it'll add to yours but since we get almost no breaks in school I find having a countdown acts as a motivation to go to work some days. At the end of this year I had a week-by-week countdown. Excessive but motivating.
9. Namshi/Jollychic: Online shopping apps. Easy delivery and lots of great options.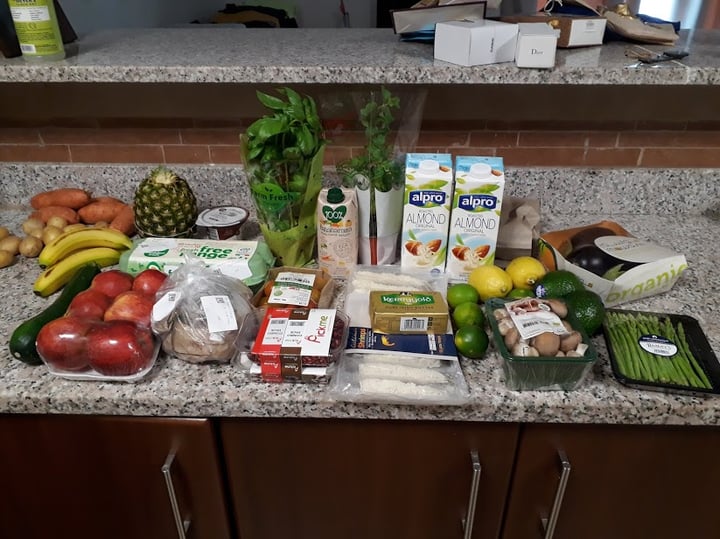 10. Hot Tips: I don't know of much that is fully banned beyond Skype, but the UAE does monitor Whatsapp/social media. So play nicely and focus on the positives. Anything that may be banned (because there is an Etisalat equivalent, for example, Spotify) is functional but you cannot download it in the country. If it's on your phone - it'll work. VPN's are banned so I can't imagine why you'd have one - but if you do it'll help you out with social media (including Skype). I've heard great things about ExpressVPN.
There are new apps all the time and a many that work in the US will still work for you in the UAE!

A Chicago gal at heart and one of ITA's Alumni Ambassadors, Katie gained the travel bug in high school when she took a trip to Rome. Since then she's been finding her way abroad whenever she can, two years ago she got that wish and she isn't turning back anytime soon!
---
Want to Learn More about Teaching English Abroad?
If you are excited about teaching English from either the comfort of your own home or anywhere in the world, contact us about TEFL certification options and get ready for a great adventure!
Related Resources: