What If Teaching English Isn't Your Dream Job!? Lessons from a Prague TEFL Teacher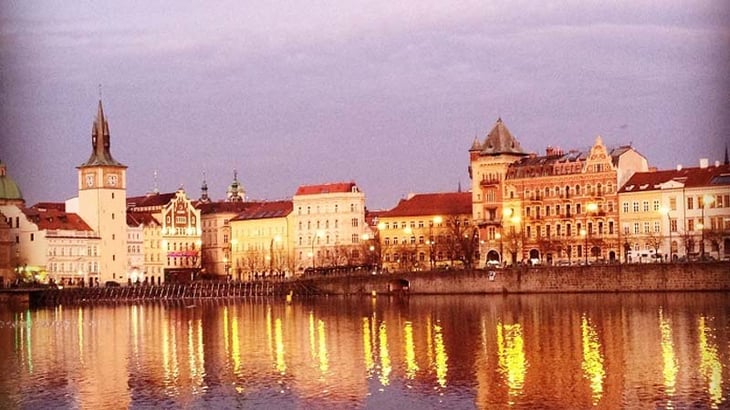 By: Caitlin O'Brien
In 2017, I left my home and family to try out something completely different. Teaching English in the Czech Republic.
Why was that "completely different," because I never imagined I would enjoy being a teacher!
As it turns out, I was right. After one full year of teaching, I can confidently tell you that it's not my dream job. However, even if that's also the case for you, I would still encourage you to try out teaching English overseas for at least one year. While I was busy trying to be a good teacher, it turns out that I learned many, many valuable and transferable lessons for myself!


If you knew you might not like teaching, why did you even try?
Well, don't knock it til you try it! That's what I always say. Taking the International TEFL Academy's Onsite Prague TEFL course in February 2017 was one of the most challenging learning experiences I've done. Primarily because I'm very uncomfortable in front of a classroom and my perfectionism made lesson planning a pain.
The course ended up being really helpful. Not only did I face some speaking fears, I also learned a significant amount about the English language. Knowledge that I used repeatedly with my students throughout the year.

Who did you teach and what happened after the course?
I learned pretty quickly that I wasn't up for teaching children. Kids are great, don't get me wrong, I just have difficulty getting them to listen! Instead, I worked with several adults on a conversational basis.
These lessons were fantastic! I really loved each of my long-term students and we always had very interesting conversations.
Still, my heart wasn't in the work. I soon picked up hostel reception and bartender jobs to help stretch my income. Turns out, I'm much happier working in the service industry!
Was teaching English overseas worth it?
YES! Despite my discomfort with having a focused student's attention and my realization that teaching (any teaching) isn't my dream job, I still develop an abundance of transferrable skills!
Active Listening:
When teaching English, you can't simply lose yourself in the conversation. You have to listen intently to each word and concept the student is trying to communicate. Instead of simply forming your own response, you really listen. Not only to what they are saying, but to what they are trying to say. This skill is very necessary for people looking to work or connect with others! Think about therapists, journalists, community organizers…heck, even just having a healthy dating life!
Improved Speech:
Since your goal is to be completely understood, teaching English drastically improves your ability to speak more clearly. Not only do you learn to adjust by moderating speed and annunciation, but also learning to avoid words and phrases that are not as well known. Already, this has improved my communication and experiences when working with people coming from different native-languages and cultures. Watch out for sarcasm especially!
Better Debating:
One of my lessons was primarily formed around debating controversial topics. Many of the things we discussed I would hesitate to debate in the United States, fearful that it would break a friendship. I learned that people primarily speak from their own personal space. Rather than feeling attacked when someone is disagreeing with me, I was able to stop and think about why they have those opinions. Where did those opinions originate? How were they developed? What does the other person want me to understand? Using such awareness, I can hope to improve communication across dissenting lines in almost any situation. Even a boardroom!
Open-ended Questions:
As most of my conversational lessons focused on getting the student to speak, I developed a much better ability to ask open-ended questions. This is way harder than you might think!! It is also a necessary skill to social science research, journalism, and any instance of communicating where you really need more information than a "yes" or "no."
Cultural Exchange:
Any teacher will tell you, I learned a lot from my students! The students I taught gave me most of my insights to Czech culture, as well as a lot of interesting input about topics ranging from zero-waste sustainability to socio-economics. The people learning this 2nd or 3rd language are crazy smart and willing to share their knowledge, too! As a bonus, I'm now much better at engaging strangers while traveling abroad. This means that my travels have a more in-depth and connected feel to them. For example, I frequently use Couchsurfing to meet up with locals. Even when we strongly disagree, or it's someone I wouldn't necessarily be friends with, we have an excellent conversation and cultural exchange!
Entrepreneurial Business Skills:
Oh boy, did I learn these! Before moving to Prague, I always felt like I needed to be an expert before doing something new (or at least do a lot of research). As a freelance English teacher, I became really resourceful at finding and maintaining work. Besides having to do my own accounting, I gained the confidence to strike out and find new employment. For example, I surprised myself by learning to become a bartender while in Prague. Just from walking in and asking to pick up paid work doing dishes! Now, I'm applying some of those skills to develop a travel blog and participate in work exchange in the Balkan states.
So, in conclusion?
My year of teaching improved many transferrable skills and even made it possible for me to have the confidence for my current adventure—doing work-exchange in the Balkans. Even if you think teaching isn't for you, I would still recommend you try pushing out of that comfort zone. Of course, you mind find that you love it! In which case, schools around the world are looking for teachers willing to commit to working with their students.
Try it out. See what you'll learn!
ITA graduate, Caitlin O'Brien, has a major obsession with community development and mint chocolate chip ice cream. Head over to her blog for travel stories, budget hacks, and intentional community interviews.
Want to Learn More About Teaching English Abroad & Online?
Request a free brochure or call 773-634-9900 to speak with an expert advisor about all aspects of TEFL certification and teaching English abroad or online, including the hiring process, salaries, visas, TEFL class options, job placement assistance and more.