diversity abroad
How Was Traveling to South Korea During the COVID-19 Pandemic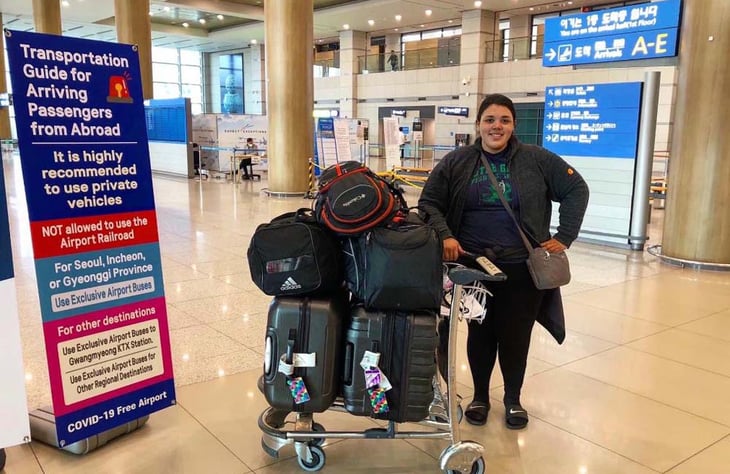 The era of COVID-19 has rocked a sense of normalcy for people around the world. Regardless of their location, citizens within every country have had to alter their routines for work, school, health, shopping, entertainment, as well as an array of other activities. I knew traveling from the United States to South Korea in the midst of the COVID-19 pandemic was bound to be unlike any of my previous travels; but planning accordingly helped to simplify the experience.
I crossed through three airports on my journey to South Korea: O'Hare International in Chicago was my starting point, San Francisco International for my layover, and Incheon International was my final destination. Face masks were an expectation in each airport, and social distancing reminders were posted in all three locations. The shops and restaurants in all three airports were closed because of lockdown regulations, and all of the employees within O'Hare and San Francisco International wore face masks.
The first flight was four hours long and my second flight lasted for 12.5 hours. Face masks were worn by passengers and airplane staff for the entire duration of both flights. I flew on United and Asiana Airlines, and there were no regulations on where people could or could not sit on either flight; but both planes were filled to less than 50% capacity. The majority of passengers had an entire row of seats to themselves, and everyone spread out throughout the plane to provide some distance between each other.
We landed in Incheon, South Korea at 5:00AM local time. After departing the aircraft, everyone immediately had to go through a health screening prior to crossing through immigration. The screening included having your temperature taken twice and answering questions on whether you were experiencing various symptoms that all related back to COVID. Unlike the previous two airports, all of the airport staff in Incheon were wearing hazmat suits and proper PPE.
After completing the health screening, passengers were split into two lines: foreign passports and national passports. From there, the foreign passport holders went through another series of questions - the same questions we had been asked before. We also had to show our visas and provide the address of where we would be staying. We had to provide the name of a contact person in Korea, who was then called by the health staff so they could verify why we were in Korea and where we were staying. As mentioned before, it was quite early in the morning when these phone calls were being made, but if a passenger's contact person could not be reached by phone, they were not allowed to move beyond that point. They had to stay in that area of the airport until somebody in Korea could be reached on their behalf.
We were then moved into a different line where we had to fill out COVID-related health paperwork as well as a quarantine agreement. The quarantine agreement stated that foreigners who break quarantine by leaving their place of residence during the required 14 days would face up to one year in prison, a 10-million won fine, cancellation of their visa (residency status), deportation, or a ban on reentry into Korea. Passengers also had to download the "Self-Quarantine Safety Protection" app to their phones in order to document their symptoms (or lack of symptoms) twice each day during their 14-day quarantine. After the paperwork was completed, we were moved to immigration where our fingerprints were scanned and our addresses were verified again.
After immigration, passengers had to go to the Ministry of Justice office in the airport where, again, our addresses were verified and passports checked. After they were able to verify our arrangements for a final time, passengers were allowed to move on to baggage to collect their belongings.
Every employee throughout the airport was wearing proper PPE or a hazmat suit. After picking up my bags, I went toward the airport exit and had to go through an additional COVID-19 check where my passport was looked over and my health paperwork was checked. I answered more COVID-related questions and an orange sticker was placed on the arm of my jacket. None of the passengers on my flight received a stamp in their passports upon entry into Korea.
After departing the airport, I boarded a bus to my apartment and the bus driver wore a hazmat suit. There were three passengers on the bus, and we were all dropped off at the same stop where we were met by three government workers who drove the other foreign passenger and myself to a hospital in order to be tested for COVID-19. An ER nurse standing inside of a glass box in the parking lot of the hospital administered my COVID-19 test. I was given a receipt and my test was free of charge. The results came in two to three days later, but I never heard anything further, so I am taking it as a good sign.
The government workers drove me to my apartment after leaving the hospital. I am currently on day eight of a 14-day quarantine. These precautions are currently being taken on all foreigners entering into Korea for long term stays. The COVID-19 situation in Korea is very secure and I feel much safer here than I did in the United States regarding the measures being taken to keep people safe during the time of a pandemic. My school is doing virtual teacher training online as well as holding Zoom meetings for all new instructors because each of us are completing quarantine.
If you are planning to relocate abroad for a long period of time, it is best to prepare in case quarantine is part of your experience. I packed some cooking spices, snacks, toilet paper, towels, DVDs, and bedding in my checked bags because I was not sure when I would be able to get to a store. My school's branch manager asked me to create a list of groceries I wanted and she delivered even more than what I requested.
On my second day in Korea, the government delivered two large boxes of food to my apartment; and a friend that I met in my online class at the International TEFL Academy lives locally and offered to send me anything I needed via delivery service. Overall, I feel very well taken care of during this time. Quarantine may not be the most entertaining setting, but with proper preparation and a solid support system, the two-week period is flying by quickly; and meeting my students on the first day of school will be the reward at the end of this peculiar travel experience.
Ambrosia Maddox is a 30-year-old Chicagoan with a BA in English from the University of Southern Indiana, 2014. After teaching English abroad in Georgia and China, she returned to the USA and worked at the Chicago Tribune's publishing company for three years. While residing in Chicago, she earned her TEFL certification through ITA. In May 2020, she relocated to South Korea where she currently lives and works as an English instructor.
Want to Learn More About Teaching English Abroad & Online?
Request a free brochure or call 773-634-9900 to speak with an expert advisor about all aspects of TEFL certification and teaching English abroad or online, including the hiring process, salaries, visas, TEFL class options, job placement assistance and more.