Top 3 Reasons to Get TEFL Certified Over the Summer So You Can Teach Abroad Right After College Graduation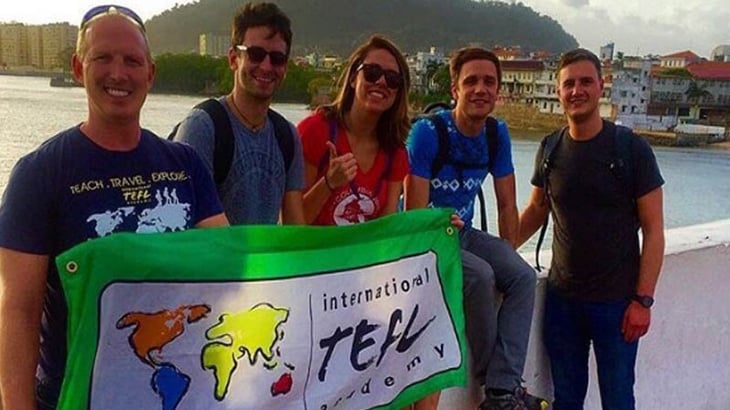 Top 3 Reasons to Get TEFL Certified Over the Summer So You Can Teach Abroad Right After College Graduation
"I'm actually just looking into TEFL certification but I'm not ready to take a class until after I graduate…" This might sound like a sensible thing to do. It may even seem like a strategic plan, but it's really just procrastination at its finest.
Here are the top 3 reasons you should get TEFL certified in the summer so you can teach English abroad right after college graduation.
Reason 1: Don't put TEFL certification on the back burner
Maybe you're a sophomore or junior in college and you think graduation is just SO far away so you don't want to think or worry about it. As soon as you graduate from college — BOOM — you have to get a job, pay back your student loans, and then probably move into a new apartment. Party's over?
Taking your TEFL class (that you put on the back burner) gets lost in the shuffle. Don't let this feeling of doom overtake you. Put a plan into motion. Wouldn't it be better to instead think - as soon as I graduate I'll be having my going away party and packing my bags to teach English abroad in Costa Rica? Or how about South Korea, where schools will provide you a free housing and a salary that will enable you to save $1,000 (perfect for paying down those student loans).
Otherwise, you'll spend the summer and even the fall working towards your TEFL certification & this can put you behind schedule when it comes to your job search and hiring seasons in certain parts of the world.
Much better idea.
Get your TEFL certification class done during the summer while you're still in school and start counting down to that day of graduation so you can start your adventure abroad right after you graduate!
Reason 2: Knock out your TEFL course while you're still in "School Mode"
If you're still in college, you're already in school mode. You live and breathe lectures, textbooks, and writing assignments. You are in the zone. This is your life and you have accepted it as your fate.
The worst thing you can do to yourself is take your last college exams, graduate, celebrate, and then…TAKE ANOTHER CLASS. Honestly, the moment you take that diploma and walk across that stage with your degree in hand, the last thing you will want to do is take another class. Instead, graduate with the knowledge that you now have a university degree AND your TEFL certification completed in your back pocket. You're ready for the next big adventure!
Reason 3: Get a head start on your job search
"So, what's your plan after graduation?" How many times have you already gotten this question (especially around the holidays at family parties)? Dozens? HUNDREDS?
Wouldn't it be incredible to be able to confidently reply, "well actually, I accepted a job teaching English with a language academy in Shanghai, China. My airfare and housing are already taken care of and I'll be saving hundreds of dollars per month while also traveling the world. I leave in August." BOOM. Meanwhile, think of all of your classmates who will may not have jobs or who will be moving back in with their folks - ouch!
While timelines and the length of your job search will vary based on where you seek to teach, the process of preparing your resume, applying for jobs, interviewing with schools and recruiters, making travel plans, and getting together any necessary documents & visas, can often take 3-6 months. By getting your TEFL certification in advance, you can get a huge head start on the process of lining up a job teaching English abroad.
TAKEAWAY & NEXT STEPS
So please, heed our advice. You've been warned! Take your Online or In-Person TEFL certification class over the summer. Get the ball rolling and get excited about your next big adventure!
What are your TEFL certification options?
From Uruguay, Ecuador & Argentina to South Africa, Japan & Iceland, Lindsay has literally lived all across the globe. With her Master's in Education and her zest for life, Lindsay's extensive background in international education makes her uniquely qualified to help others achieve their goal of teaching English abroad.
Want to Learn More About Teaching English Abroad?
Request a free brochure or call 773-634-9900 to speak with an expert advisor about all aspects of TEFL certification and teaching English abroad or online, including the hiring process, salaries, visas, TEFL class options, job placement assistance and more.