Why is Teaching Abroad so Great?
Written By: Kelsey Ax | Updated: June 28, 2022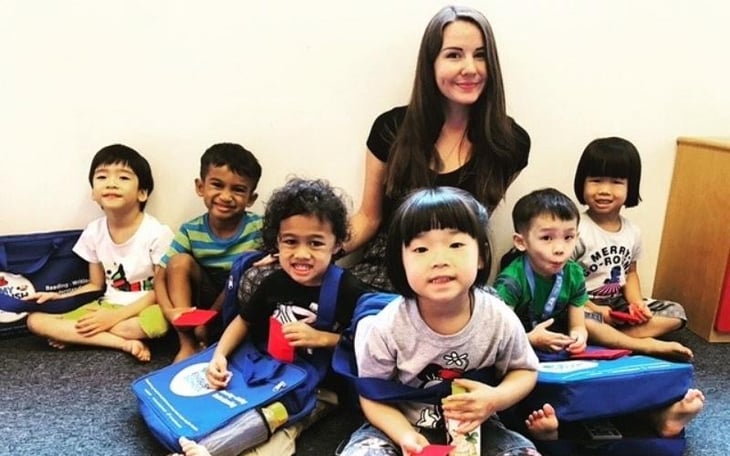 Armed with a Bachelor's degree and a desire to travel, I set out after graduation from college, along with my two best friends, to teach, live, and experience Barcelona. I graduated with not much direction as to where I wanted to be career-wise, but rather more directed towards adventure and excitement outside of the United States.
It all began in high school. My history teacher organized a trip around Greece and Italy over spring break and I knew I just had to join them. With the support of my parents, I went on this trip and got my first glimpse of life outside of the United States. We went all over Greece, exploring Athens, Delphi, and even several Greek islands before taking a ferry across the Mediterranean to Italy. In Italy, we ate pasta in Rome, rode the speed train to Florence, snapped touristy photos in front of the Leaning Tower of Pisa, roamed the ancient streets of Pompeii, and hiked up Mount Vesuvius. It was on this trip that I was bitten by the travel bug.
After getting my high school diploma, I moved to Champaign-Urbana, Illinois, to further my studies at the University of Illinois. I knew immediately that I wanted to major in International Studies and an interest in learning the language of my grandmother led me to choose a minor in German.
With an International Studies major, it was a requirement to study abroad for at least a semester. To me, a semester was not long enough. Therefore, I decided to spend my entire junior year abroad practicing my German and indulging in the culture of Vienna, Austria. By far, my year abroad was the best year of my life (so far). Not only did I form bonds with people from across the globe, I got to really, truly experience what it's like not only to visit a new place, but to live in a new place.
Little day to day experiences made me proud that I was starting to assimilate. Having grown up in the Midwestern American city of Rockford, Illinois, I never had to depend on public transport before. I remember the first time I nailed the route from home to school without having to consult a map. Years down the line, public transport became second nature. Now when I spend time visiting my parents in Rockford, I long for the ability to use trains and buses to get around rather than depending on having an automobile.
The Austrian culture became a part of me. I enjoyed my coffee and cake in the afternoons sitting in a cafe. My friends and I would bounce around to the different Christmas Markets, warming up with Glühwein and comfort food. And who could resist wasting away summer days enjoying a Radler at the canal beach bars.
Interacting with people from different countries opened my eyes to how common we all are regardless of our nationalities. It was so easy to make friends abroad. I lived with a Romanian who took me all over Romania in her parents' car during one school break. My Austrian friend would have me over on the weekends and her French mother would make us crepes and coffee. I met my German speaking would-be British husband in Vienna who, after my grandmother passed away, offered to accompany me to Germany to help organize with my distant relatives a way for me to spread her ashes in her hometown. These relationships still hold strong even though we often go years without seeing each other.
I never wanted that year to end. I fell in love with the city of Vienna and in love with the idea of living abroad. I was looking forward to seeing family and friends again, but my restlessness grew. By the end of my senior year, I began discussing with my two close friends the possibility of moving to Barcelona after graduation. One of my friends studied abroad there and did some tutoring on the side in addition to her courses. She suggested we give it a go using her connections. Thus, our post graduation plans were made.
Living in Barcelona was everything I imagined it to be. We spent our weekends wandering around but always managing to stumble upon some event or celebration in the street. The food was phenomenal. The wine was sublime. Everything reaffirmed that living abroad was my destiny.
Alas, it felt that the dream was coming to an end. I did not have enough money or the visa to stay in Barcelona the whole year like I had hoped. I decided that if I wanted to maintain this life abroad I needed certification and guidance to help me.
I found this guidance with International TEFL Academy.
I started my online TEFL course halfway through my time in Barcelona. Unfortunately, once my visa for Spain was up, I had to head elsewhere. My not-yet husband, Josh, and I went back to live with his mother in the United Kingdom over Christmas and search for a job in Europe that would provide me with a visa. At that point, I had my TEFL Certificate as did my husband. I used the resources available to apply all over Europe.
One afternoon, Josh received an email from the owner of an after-school education center in Singapore. At first, we were skeptical. It paid well, had good holidays, but Josh and I had only a little teaching experience. After further investigation, we concluded that this was a legitimate institution, so Josh agreed to the interview. I waited downstairs during his interview and once he finished, he came down and said he was offered a job starting in March. We shrugged it off. We weren't planning to leave Europe just yet and, plus, we'd need a job sooner than March.
As the day went on, the thought of moving to Singapore became more and more tantalizing. We gazed at Singapore on the map in Josh's room and just thought how cool and kind of outrageous it would be to just get up and move to Singapore. By the end of the day we decided that I should send the owner my credentials and see if I could arrange an interview. A few days later I was also offered a job. We were going to Singapore!
The day that they needed me was quite vague at first. However, I still immediately booked a flight back home to visit my family and friends before embarking on my Asian adventure. While I was enjoying a Guinness during my layover in Dublin, I received an email from the company in Singapore saying they needed me in a week. Once I landed back in the United States, I had to break the news to my mom. Despite her disappointment that I would not be staying longer, she was supportive of my decision to continue with the Singapore plan.
I landed in Singapore the next week. Surprisingly, I adjusted to the time difference quickly. At that point, my biological clock was used to jumping between time zones. I began my training almost immediately and learned that the reason they needed me so urgently was to replace a teacher who was leaving unexpectedly.
I started my life in Singapore in January 2015. During that time, I visited Malaysia, Indonesia, Brunei, The Philippines, Australia, New Zealand, Japan, South Korea, Hong Kong, Myanmar, Thailand, Laos, Vietnam, Cambodia, India, Taiwan, Macau, Sri Lanka, and the Maldives. My two year contract ended in January 2017, and we decided not to renew in order to take some time off to spend with family and travel around Europe with my now-husband and visit old friends and new places.
We were able to travel all over with our savings from Singapore. However, after our travels and self-explorations, we both decided we wanted to go back to school to get our Masters degrees and we needed the money to do so. When the time came for us to find a new job, nothing seemed to check off as much on our checklist as Singapore did. In the end the choice was obvious. We are now happily back in Singapore, working and saving money for school. (Of course, there's always money in the budget for a trip away from time to time.)
Teaching English abroad has opened new doors I never thought possible. I've been able to visit over forty countries since that first high school trip to Greece and Italy and with these experiences, I now have a clearer picture of where I wish to be what I want out of life.
International TEFL Academy graduate, Kelsey Ax, is 25 from Rockford, IL, with a BA in International Studies and German from the University of Illinois. She began teaching in Barcelona in 2014 for several months before moving to Singapore. She has been teaching there for over two years. Kelsey has been lucky enough to have visited over 40 countries and counting and loves sharing her insight and experience with fellow travel-lovers.
Want to Learn More About Teaching English Abroad & Online?
Request a free brochure or call 773-634-9900 to speak with an expert advisor about all aspects of TEFL certification and teaching English abroad or online, including the hiring process, salaries, visas, TEFL class options, job placement assistance and more.