The Lowdown on Spain's COVID-19 Lockdown And Why I Stayed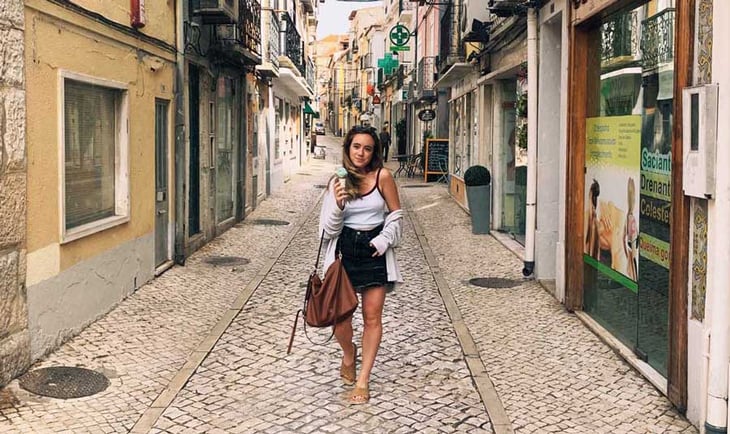 Right now I should be back home on Long Island for the first time in almost a year. I should be playing with my dogs in my backyard while eating a classic NY bagel from my favorite local shop. I should be seeing my friends and family and sharing pictures of all of my adventures. I had this trip planned for the past few months and was looking forward to returning home for one short week-off from teaching English in Spain during Easter break. However, like many peoples' plans across the globe, my flight was canceled due to COVID-19 and my life was turned a bit upside down. Instead, I am actually sitting on my balcony in Barcelona while writing this blog post and soaking up the one hour of sunlight my balcony gets during the day, one of the many things I have learned during our COVID-19 lockdown these past 23 days.
But let's go back to the beginning.
Hi, my name is Casey and I have been living and teaching in Barcelona for about one year and three months. I first moved to Barcelona in January 2019 to take ITA's on-site TEFL course, which I highly recommend. After the course was over, I took Spanish classes and was able to stay in Spain legally through a student visa while teaching English online. I fell in love with Barcelona and decided to stay another year by teaching through a language assistant program called Meddeas. I am currently a Pre-School English Language Assistant in an amazing school in Barcelona, well more like an "Online" Pre-School English Language Assistant, but more on that later.
The past few weeks have been a whirlwind of emotions. There has been new news coming out every day about the current state of the Coronavirus in Spain as well as back home in the U.S. It wasn't an easy decision to stay, and there were so many factors that were telling me to leave. However, I ultimately chose to stay in the country I am living in because, well it feels like home.
Here is a little timeline of the impact of the Coronavirus in Spain over the past month:
March 11: Trump Announces a European Travel Ban
March 12: Barcelona Closes Schools for 2 Weeks
March 14: Spain Announces a 2 Week National Lockdown and State of Emergency
March 16: EU Calls for 30-Day Travel Ban
March 19: U.S. State Department Urges American Citizens to Return to U.S.
March 26: Spain Extends Lockdown Until April 12
April 5: Spain Extends Lockdown Until April 26
As you can see, things escalated pretty quickly here. Since March 14, the entire country has been on complete lockdown. That means that nobody can leave their homes. We can only leave our homes to get groceries, go to the pharmacy or a doctor's appointment, walk your dog, or go to work. All non-essential workers have been ordered to stay home. All bars, restaurants, museums, theaters, etc. have been closed for some time now, I almost forget what going to public places is like.
You are also only able to leave your home by yourself, you can't get groceries with your partner or bring your children for example. When you do go to the supermarket, only eight people are allowed in the market at a time. Therefore you have to wait outside in a line while keeping a distance from the people in the queue as well. Once you do enter the supermarket, you are greeted by an employee with a face mask and gloves who squirts sanitizer into your hands. You also must fill out a form stating where you are going in order to show the police if they stop you and ask where you are going. If you don't have a valid reason, you can face fines from 600€ - 30,000€.
We are lucky to have plenty of household supplies and food in stock, there haven't been any shortages in Barcelona that I am aware of. However, hospitals in Spain are completely overwhelmed. In Madrid, ice rinks have turned into morgues and hotels are being used as makeshift hospitals as well. As much sadness and death this country has seen in the past few weeks, the Spanish spirit is still strong. Since the lockdown began on March 14, every night at 8pm all residents rush out to their balconies to applaud all healthcare works and professionals helping Spain get through this difficult time. It is something I look forward to participating in every night, and I've become quite friendly with my neighbors because of it!
I will admit all of these restrictions have been extremely difficult. However, when faced with the decision to stay or go home to the U.S. where I would have a bit more freedom, I decided to stay as I feared catching the virus through my travels and infecting my family. There were also almost no flights available, or they were way out of my budget, so that made the decision easier.
I also decided to stay as it is very uncertain when I would have been able to return to Spain. I want to be able to finish out the school year here and see my students again, although it is very unclear when that will be. There has yet to be an official announcement on when schools will open again as it is also unclear when the lockdown will be lifted. I hope to be able to return to school in May, however, it is also possible we may not return until June or at all. In the meantime, I have been creating one video a week for my students where I sing a song, read a book and make a craft for them to watch and do at home.
I have also been teaching online with VIPKID to keep me busy and it has been a great additional income during this time. I've been cooking a lot and talking to family and friends every day. It's also been a great opportunity for me to organize all of my photos from past adventures and work on my writing and eventual launch of my blog (stay tuned for that!). I've been posting a lot of my past travels on my Instagram @case_ofbrooks as well as updates on what's going on over here in Spain, feel free to reach out if you have any questions! Stay safe and healthy, everyone!
---
For more comprehensive information regarding your TEFL options during COVID-19, please read Coronavirus FAQs: TEFL & Teaching English Abroad or Online - What Are My Options?
Watching a video more your style? It's OK, we've got you covered! Check out our video addressing the issue below:
Casey Walsh grew up on Long Island, New York and was a publicist in New York City before she sold all her things and booked a one-way flight to Barcelona in January 2019. Casey took the on-site ITA TEFL course in Barcelona and never left. She is currently a Pre-School Language Assistant in a school in Barcelona and teaches English online as well.
Want to Learn More About Teaching English Abroad & Online?
Request a free brochure or call 773-634-9900 to speak with an expert advisor about all aspects of TEFL certification and teaching English abroad or online, including the hiring process, salaries, visas, TEFL class options, job placement assistance and more.