The Difference Between Studying Abroad & Teaching English Abroad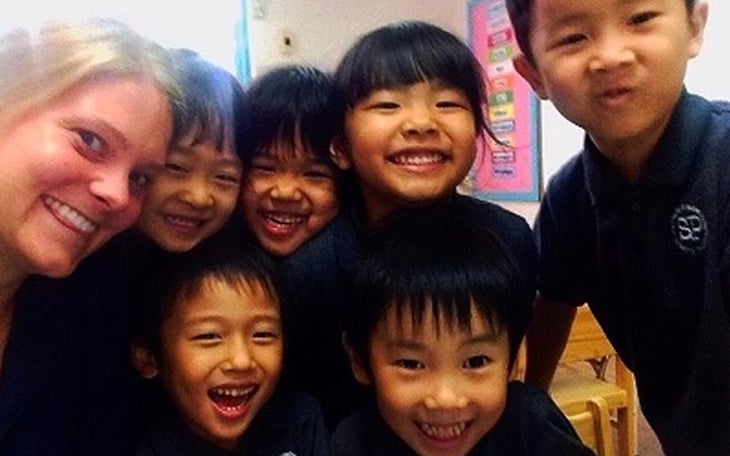 When I studied abroad, it felt like an extended vacation. Every day my friends and I would repeat the phrase this is not real life. Classes were challenging because they were in Spanish, but it was exciting learning and thinking in another language. We had tons of free time to explore the city, go to the beach and go out A LOT.
When I came home (from Spain), I couldn't wait to go back, I knew I belonged in another place, a place where my blonde hair and blue eyes stuck out instead of blending in. I craved the excitement of ordering something in another language, of bargaining, trying new foods and waking up somewhere new every day.
I graduated. Time passed, but my yearning to be pushed out of my comfort zone never went away. Teaching abroad was my answer and I hoped it would be just like studying abroad. While there are similarities, there are many more differences.
1. Friends
When I studied abroad in Alicante, Spain, I had an instant group of friends. All the people in my program were doing the exact same thing. We were all English speakers, around the same age, and had similar life experiences.
Teaching abroad in Bangkok, Thailand is the complete opposite. I met lots of amazing people during my four week TEFL course in Cambodia with the International TEFL Academy, but when the course finished, we all parted ways; some were staying in Cambodia while others were off to the north of Thailand and some to Vietnam. So when I arrived in Bangkok it was up to me to find friends.
2. Schedule/ Independence
When I studied abroad everything was planned out for me, from where I was living to what classes I would be taking. Even the meal plan was included. I had a big support system from my teachers to the advisors to the other students. I had a lot of rules to follow and a very tight schedule to adhere to.
Teaching abroad, I am in charge of my own agenda, my own life. I decide where I want to live, where I want to teach, what I am going to do in my free time, and there are no rules to follow. Besides the amazing job placement assistance from the International TEFL Academy, I had to figure everything out on my own when I moved to Bangkok.
3. Free time
During my study abroad semester, I had loads of free time; in fact, my program even had Fridays off to make traveling easier.
Teaching abroad is a full-time job and an important one! Melding the minds of two to six year-olds. My job is real, I work 8:30 am- 4 pm, preparing lesson plans and materials. It can be hard work at times but it is an experience that will pay off for my future in the international education field, and with my month long breaks, there is still plenty of time for travel.
4. Finances
The cost of my program was taken care of before I even left the U.S. through the help of my parents, which included accommodation, insurance, meals and some trips. I worked throughout the year and summer and saved up spending money.
Teaching abroad, I make a monthly paycheck just like I would back home. I budget for living expenses, bills, food and traveling.
Living in a city like Bangkok has made me more financially independent and responsible, as I am able to live well and save money.

5. Temporary vs. Permanent
When I studied abroad, I had a return ticket. I knew exactly when I would be coming home. I never got a phone plan or opened a bank account. I did not sign a lease or buy furniture.
Moving to Bangkok, I have no return ticket. I do not know when I am going home. I opened a bank account, got a local phone plan, and signed a lease on an apartment. Bangkok feels like a home instead of a temporary place to stay.
Study abroad prepared me for teach abroad.
When I studied abroad in Spain, I was the student. In Thailand, I am the teacher. I used to take classes everyday in Spanish and now I am teaching classes everyday in English. Learning a language has helped me to teach a language, as they say.
"In order to be a teacher, you must first be a student."
In both studying and teaching abroad, I am able to see what 'everyday' looks like in another part of the world. I have learned languages, met locals, developed independence, and self-reliance. I am immersed in the aspects of daily life that pass you by when you are just passing through.
Unlike study abroad, teaching abroad enables me to interact more deeply with the culture, my colleagues, and my students. Teaching abroad has given me the gift of contributing to the lives of others through meaningful education.
The same phrase I repeated in those six months studying abroad still crosses my mind as I'm sitting on a beach in the islands of Thailand or sipping on a coconut I bought for 50 cents on the walk home from work. "This is not real life."
Kirsten is an ESL Kindergarten Teacher in Bangkok, Thailand. Sick of freezing winters, short summers, and an office with no window, she moved to Asia to teach and travel. She can be found on the back of a motorbike taxi hanging on for dear life, trying to order coconut shakes in Thai, or lounging by the pool.
Want to Learn More About Teaching English Abroad & Online?
Request a free brochure or call 773-634-9900 to speak with an expert advisor about all aspects of TEFL certification and teaching English abroad or online, including the hiring process, salaries, visas, TEFL class options, job placement assistance and more.