teach english online
Teaching English Online & Business English Specialty Class Review with Nanet Andrews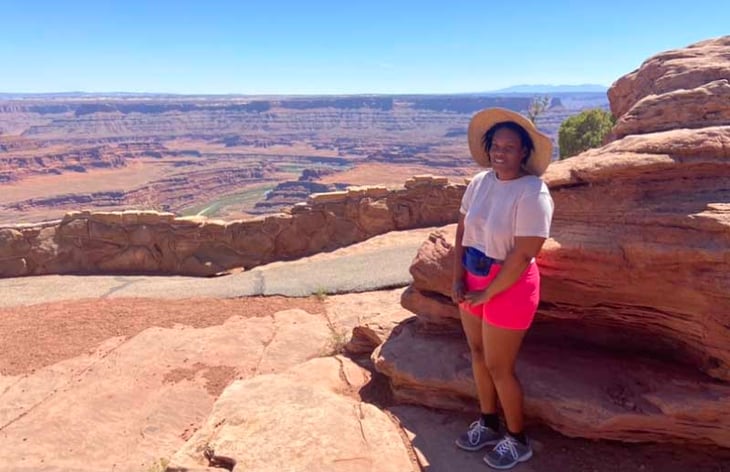 What is your citizenship and where are you from?
I'm a US citizen and I'm from Los Angeles, California, USA.
How old are you?
33.
What is your education level?
Master's Degree or higher.
Which ITA Specialty Class did you take and when did you take it?
I took the 2-week Teaching English Online (TEO) and Teaching Business English (TBE) Specialty Classes in September and October of 2020.
What motivated you to enroll in these Specialty Classes?
I knew I wanted to teach English as a second language, but because of the pandemic, I wanted to make sure I had the knowledge and right tools to teach English online. This is why I enrolled in the Teaching English Online class. What motivated me to enroll in the Teaching Business English Specialty Class was the idea of teaching English in a different way. I loved the idea of working with adults in the business world. Helping them prepare for interviews in English and give presentations in English excited me.
What did you enjoy most about your Specialty Classes?
In the Teaching English Online class, I enjoyed learning about the different online tools that are available to teachers. I had never heard of Kahoot! and now I love it.
What stood out to you in the Specialty Classes that set it apart from what you learned in your standard TEFL course?
For both Teaching English Online and Teaching Business English, I enjoyed going beyond teaching children and teaching in-person. The standard TEFL course did not take an in-depth look at online tools we can use when teaching English online. And the course did not focus on how to teach business English. TEFL is more than teaching children and adults grammar, we know that, but I am happy to learn about teaching business English skills and how to teach English online.
Did you take your Specialty Classes while taking your standard TEFL course or after?
I took my Specialty Classes during my TEFL course.
Was it hard to manage the workload of your TEFL course with the workload of your Specialty Classes?
When I took the Teaching English Online Specialty Class, my workload was manageable. Not because the class is easy, but because during those two weeks, I just started working on lesson planning in the TEFL course. But when I took the Business English class, the second week of that class was during my last week of the standard TEFL course. I had to work on my thematic unit along with my last project for the Business class. It was hard, but doable.
Do you have any advice for alumni that are considering taking their TEFL course and Specialty Classes at the same time?
You can do it! It is worth the reward. Just stay focused.
How many hours per week did you dedicate to your Specialty Classes?
Honestly, I dedicated around 10 hours per week for each class.
Did you buy the textbooks for your Specialty Classes?
No I did not purchase the textbook for the Specialty Classes.
Did you enjoy being able to virtually interact with your classmates?
I didn't virtually interact with my classmates for the Specialty Classes. I would have loved to but I think most of them were busy.
If you teach English online, where do you teach from?
I teach English online from home in the USA.
What company do you teach English online with?
I teach English online with italki.
Tell us about your online teaching job!
I like to say I am a free agent (for the sports fans out there). I do not have a contract, I set my own hours and I set my own rate. italki is a marketplace, so the students come to me if they believe I am a good fit for them. I had an open schedule for my first two weeks of being on italki, but I was swamped with students! Now I have a schedule that fits my needs and I still have a lot of students.
Did you talk about your Specialty Class training during your job interview to help land your teaching job?
I didn't have an interview. But I did list my Specialty Class training on my application.
Did the Specialty Classes you took help to prepare you for teaching English online?
Yes, they have! I get a lot of business students who want to work with someone with a college degree and a certificate in Teaching Business English. The Specialty Class prepared me for basically how to teach Business English. I know how to teach interview skills, presentation skills, note taking, how to answer phone calls, etc.
How has the knowledge from your Specialty Classes been incorporated into your teaching?
In my Teaching English Online class, I remember learning about how to handle if a student loses focus during class and how to handle video lag. The video lag part is true! I've experienced a few lessons where the video may lag or just simply freeze. I know how to properly handle it when it does occur.
What do you enjoy most about TEO?
I enjoy the fact that I am able to make my own schedule and have the freedom to teach from wherever I am in the world. If I wanted to go on vacation, I can simply bring my work with me. But who normally does that? I am just happy it is an option for me.
Where do you hope to teach English abroad from?
It's a long shot, but Switzerland. If not, Morocco would be second.
Is there anything you wish you were made aware of prior to taking your Specialty Classes?
No, I was fully aware of what to expect.
Would you recommend fellow ITA students/grads take the Specialty Classes?
Yes, I would recommend my fellow ITA grads and students to take ANY of the Specialty Classes. The Teaching English Online class helped me learn about teaching tools I have never heard of. And the Teaching Business English class is a must if you think you want to teach Business English. The standard TEFL course does not go into teaching business, but this add-on class does.
Nanet Andrews is from Los Angeles, California. She has a BA and MA in Sociology from California State University, Los Angeles. During the pandemic, Nanet earned her TEFL certificate from ITA. Since then, she has been keeping a busy teaching schedule. She teaches English online to adults from around the world.
Want to Learn More About Teaching English Abroad & Online?
Request a free brochure or call 773-634-9900 to speak with an expert advisor about all aspects of TEFL certification and teaching English abroad or online, including the hiring process, salaries, visas, TEFL class options, job placement assistance and more.