non native english speaker
TEFLing My Way Around the World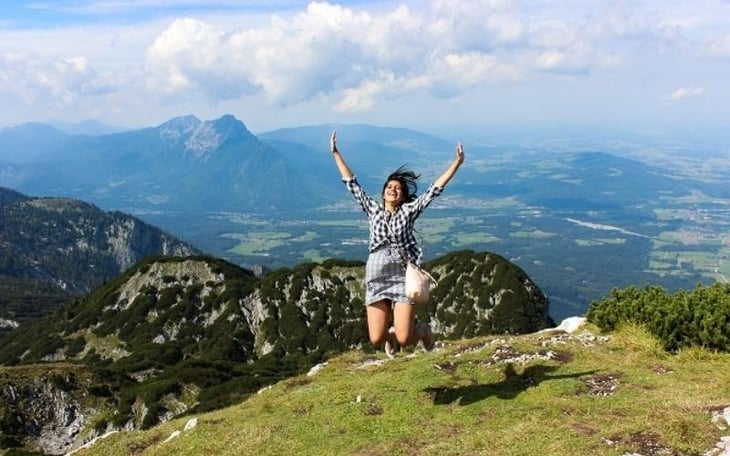 This time last year, I was packing my bags, running around shopping for all the "missing last minute stuff". I did not know much beyond the fact that I was going to Madrid to teach English!!
I distinctly remember my parents telling me - "Are you CRAZY? You have decided to leave your perfectly well paying-well planned career to move to a country where you know nobody and don't speak the language?" Well, I can't really blame them for this reaction. Most of my friends also thought I was crazy.
But I knew I needed more. And I decided to go after it myself.
So, well how did this all start?
It all started with my first trip to Europe in May 2015. I was 26 - not very young for a first time abroad I must say . But I came from a very middle class family in Mumbai with my dad being the sole wage earner. So travel was a luxury we could not afford. But thanks to my upbringing that taught me to follow a set career path, I managed to graduate with an MBA in Finance from a premier business school in India and land a lucrative job with a career path defined for me.
My folks were very happy. My dad decided to retire since he believed that it was now my turn to take care of them. (Very typical in my country) Seems fair, right? It was! Everything was fine. I liked my job, Finance as a sector seemed interesting.
But that trip had changed something inside me!!
It had exposed me to so many beautiful things in the world. Had given me the opportunity to meet different people with different types of careers I had never imagined could exist. I was surprised with the way young people lived in Europe and their approach to life. I was always taught that if I don't have a job with a big multinational corporation, I am pretty much not doing anything with my life. But the trip made me realize, I did not need a big corporate career to be happy. I was happier in those three weeks than I was ever sitting at my desk and thinking about being an Executive Director at a bank!
I thought to myself - "There is so much to see in this beautiful world and I don't want to have only three weeks in every year to see that!"
Smaller things and more meaningful experiences is what I started looking for. I knew I had to come back. I knew I had to see and experience so much more. I knew I was not going to spend the rest of my 20's behind a desk crunching numbers and building financial models.
So when I was back home I did what was the most obvious thing - I 'googled' jobs that help to earn money and travel the world . Yes I Googled!!!! When I started the search, trust me, I had no idea that there was so much that could be done. From being a nanny, to working on a farm, to being a travel nurse, the options were endless. But let me be honest here, I am not a super talented human and managing kids all day or working on a farm was never my thing. So I had to look for something that made me earn my bread, but at the same time also kept me going.

Then I came across this completely strange term to me then - TEFL (Teaching English as a Foreign Language). I had no idea this was even possible. I was privileged to be a part of a very good education system where my medium of instruction was English.
Contrary to popular belief, I did socialize in English for the most part of my life as well. Studying English since school and speaking in English with family and friends all the time always made me believe that a second language was something like French or Spanish or may be even German. But little did I know that a bulk of Europe, Asia & Latin America do not have an education system like we do in India. I had found something I could do - something logical, something that made sense, and something I knew I could do fairly well.
If you decide to google 'TEFL', I can assure you that you will be overwhelmed with the plethora of information that will be thrown at you! Its unbelievable! But being the person I was, I had to get to the crux of it. I spent two full months researching about TEFL, and after being able to sift the wheat from the shaft, I finally decided to get my TEFL certificate from International TEFL Academy (ITA). My student advisors were Shay and Jeff who were super helpful and provided me all the guidance I needed.
My favorite country during my trip in 2015 was Spain, and so I was almost sure I wanted to go to Spain. ITA has a TEFL course in Madrid with a Student Visa Option promptly put me through them to get me enrolled. The team in Madrid was very helpful. I could speak to a few alumni from this institute as well which made me feel more confident about my decision. They also offered lifetime job guidance in Madrid & worldwide which also was a key factor in choosing them.
And so here I am one year later….
I have achieved an Intermediate level of Spanish; I have traveled to 11 countries in the last year; and spent so many nights dancing Salsa and Bachata I can't even recall! When I look back to what 2016 has offered me, I would without a doubt say this was the best decision I have ever made. I could have never experienced kayaking through cliffs in Lagos (Portugal) or cruising the Danube river or mountain climbing in Salzburg or sipping Chianti in Florence.
Was it all easy? I would be lying if i said "Yes." But was it worth it? ABSOLUTELY.
I would recommend anyone remotely interested in the Spanish culture to choose Madrid to teach English. There is always something to do here, the people are amazing, the food is delicious and nightlife? Well, there is a reason why the Madrileños are called the 'night owls'!
Travel started for Rhea when she was 26 and took her first trip to Europe in May 2015. She came from a very middle class family in Mumbai and with her dad being the sole wage earner, travel was a luxury her family could not afford. She graduated with an MBA in Finance from a premier business school in India and land a lucrative job with a career path defined for me. But soon into her career she realized she still very much had the itch to keep traveling after her first trip to Europe. The rest is history!
Want to Learn More About Teaching English Abroad & Online?
Request a free brochure or call 773-634-9900 to speak with an expert advisor about all aspects of TEFL certification and teaching English abroad or online, including the hiring process, salaries, visas, TEFL class options, job placement assistance and more.