Teaching English in Saigon, Vietnam: Alumni Q&A with Savanna Fowler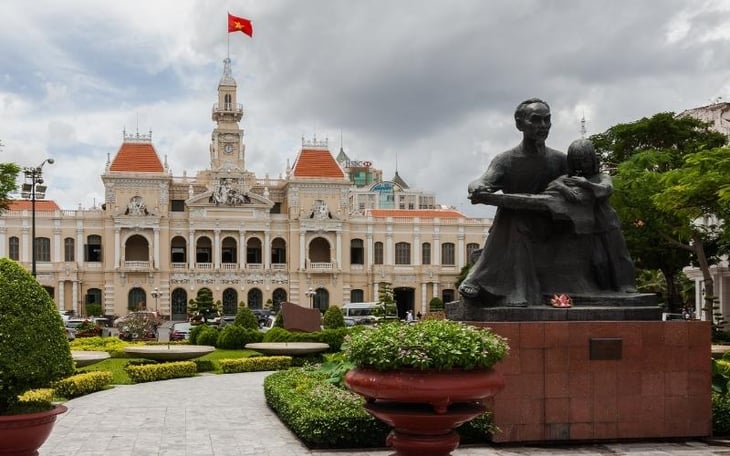 What is your citizenship?

United States

What city and state are you from?

Lumberton, North Carolina

How old are you?

26

What is your education level and background?

Master's degree or Higher
Have you traveled abroad in the past?
Some international travel with friends, family, business, etc.

If you have traveled abroad in the past, where have you been?

Mexico, Jamaica, Cayman, and Canada
What sparked your interest in going to teach English abroad?

In the back of my mind, I had always been aware of teaching English abroad as an option. It sat as a backup, a something in the future, or maybe a when-the-time-is-right situation. I made the moves in college to get the credentials that would keep the field open for me should I need it, and I made casual lists of where I would go. The idea materialized when I graduated with my masters. Life had been very routine and sleepy going straight through high school, university, and master's with summer school and part time jobs in between. But then, life changed, rolled over in its sleep, and the small things that kept me still weren't around to be found. It truly happened in a day. Graduation was around the corner; the ramen was in steady supply; and I faced the reality of going to the same office, in the same building, through the same storms for another degree. Or not. And once that thought stepped into my head, I couldn't send it away. I couldn't turn down the chance like I had so many times before.

What were some of your concerns before teaching abroad?

As someone who spent their life in a southern hamlet, the most emotionally taxing concern was lacking the skill, savvy, and the vocabulary to live in the metropolises of various countries. So many of my classmates at the academy were well traveled and had international experience outside of the family vacation, and I felt very green when facing their collected knowledge. The more practical concern was the financial aspect of it. Would I make a major financial mistake? Could I stay economic and keep my start up costs within reason? Would I be able to find work that made the undertaking worth it? With so many dreams of traveling and experiencing, you don't want to spend the entire trip saving for your plane ticket home. I spent a lot of time adding up spending and making budgets for myself in the beginning since expats are often overcharged until they learn the economic ropes.

What did your friends and family think about you moving and teaching abroad?


The reactions were varied when I announced I was leaving the country. My family is very southern traditional, which means staying home and keeping family close is a top priority. My decision surprised and maybe confused those members of my family that had never seen a girl decide to leave completely. Some couldn't understand what I wanted that wasn't available in America. Other family members and all of my friends (another branch of family) were immediately planning their next vacation to where I was going and spent the weeks prior to my departure sleeping over and begging me to get any type of social media for pictures. The best reactions were from adults who would take a second, have some emotion pass over their eyes, and admit they wish they had done the same thing when they had a chance. It is the best kind of encouragement when your plane is leaving in a week.


TEFL CLASS INFORMATION
Why did you decide to get TEFL certified and choose International TEFL Academy?

I knew that I needed my TEFL certificate to bridge my degrees in writing and language to the teaching aspect. Not having degrees in education specifically, I knew that I needed training in taking what I knew and had done as a student and translate it to others in a new role. So the certificate gave me the ethos that I needed as a teacher in the job market.

As for choosing the academy: Research. Research. Research. Not just internet surfing either. After reading testimonies, reviews, looking at prices, what is offered, the structure of the program, and the opportunities available after the program, the academy was the best fit for what I wanted. The phone conversations with my recruiter were also a big selling point. She made me feel confident in not only what the academy would do while I was there, but what they would continue to do with me as an alumni and that I wouldn't end up halfway around the world without any support or any training on what to do.
Which TEFL certification course did you take?

USA - Chicago

How did you like the course?

This is knowledge in hindsight, but the intensity of the course makes a great deal more sense to me. It was an intense month, but it is better to go through the process totally immersed and increasingly dependent on the teamwork and help of your team to learn in the ways you need to learn. I loved the learner profile for several reasons. The major reasons are getting to explore a single student on a far deeper level and observing, up close, the behaviors and phenomenons of language and how flexible it is. I also liked it because it gave me a lot of exposure to one on one, more private style teaching that I now do in conjunction with my main job. In a program that is more class oriented, it is a valuable lesson in the differences between one on one and group.

Betsy and Juliana were my instructors and the differences in personality always split the day into two parts, with two distinct atmospheres, which kept the room without a window interesting. Betsy had the best stories about teaching in various countries, street smarts, and tips for the parts of the world you were interested in, and she was a treasure trove of activity ideas.


Juliana was the task master, the one that would push you hard and come down on you when you need it. I responded very well to that. I was writing my master's thesis while in the program, and my attention was sometimes halved between the two. It began to take a toll on me, and it was obvious that I wasn't the star of my class. Juliana noticed that and took me aside and told me the good and bad things that I needed to hear to become a better teacher. I still appreciate it to this day and remember her words when a well planned lesson goes unexpectedly awry.

How has your TEFL training helped you in your current teaching position?

Lesson planning, ideas, organization and format, has proven to be an immeasurably vital skill. Its nice to have the bones, the blueprint of a system when you are moving to different companies and countries that all have a different method, pedagogy, philosophy, and system. When you are in the stage of the learning curve at a new job, or are in the chaos of the mid semester, it is a way to have some control over your daily teaching life.

Peer teaching also helped to orient myself at the board and in front of the class. It helped me to take note of my speed, both writing and talking, my hand writing and organization on the board, and how I use my body language to augment what I'm speaking. All of these elements are not static. They have to adapt and serve your groups and their level of ability specifically, and student teaching went a long way in helping me understand that.

Lastly, the information I received on averages, benefits, typical offers, salaries, demand, etc. has also helped me to move in the right direction and make the smartest decisions in where I go and how I make a living at what I'm doing. Whether it is to save money, travel or branch out of school work into other purposes, the academy gave me a great starting foundation in correctly evaluating necessities for wants and goals.


Which city and country did you decide to teach English in and why?

I chose to teach English in Vietnam in the city of Saigon. I had a friend from the academy who had chosen Vietnam as her first location. I knew that I wanted to move further away than Mexico, as it still felt very Americanized, and speaking with her about money, proximity to other wonders and the ease of transitioning convinced me to move to Vietnam. I also had a childhood dream to go to Cambodia. It has always made every travel list I've ever made, and since the market hasn't reached Cambodia yet, it was either Vietnam or Thailand. My friend's presence swayed the vote toward Vietnam in this respect.
How long have you been in this country and how long do you plan to stay?

I have been in Vietnam since August of 2016 and I stayed until 2018.

During which months does your school typically hire?

May-July and December-February

Did you secure this position in advance of arriving?

Yes

How did you interview for this position?

Skype/Phone Interview

What kind of Visa did you enter on?

Work Visa

Please explain the visa process that you went through.

The visa process for the company is encouraged to be done beforehand. I first collected all of the documents that were needed, including a criminal background check and the typical identifying/education documents that are typically demanded. I sent a digital copy of these documents to the company where we verified the length of my working visa and what costs they would cover. I then sent these documents and my passport to the Vietnamese Consulate in Washington D.C. because it was the closest to North Carolina. After two weeks, I received a new visa in my passport in the mail.

What are the qualifications that your school requires for teachers? Please check all that apply

Bachelor's degree

What is the best way to apply?

Apply online
Please include any application resources (website, email, etc.) or other information here:

You will need to have scanned PDF's of several documents: cover letter, CV, teaching degree, TEFL degree, picture page of your passport, and a letter of recommendation.

Tell us about your English teaching job!

Hours: My daily schedule is broken up between teaching and office hours, from 8 am to 5 pm. You spend the week teaching one or two classes depending on your schedule. You come to the office to print and plan your classes with all the material you need available to you. I teach secondary English, so my classes are once a week, 2 1/2 hours per class.

Pay is some of the best in an English company here outside of international schools. Depending on your time at the company and your tax rate, you can make anywhere from $1700-$2200.

Savings: It all depends on life style doesn't it? Cost of living can be as low as $800 or as much as $1500 depending on how fun your weekends are, how much you travel, and how much of your groceries are western and more expensive. If you are someone who lands in the middle, it is very easy to save over half of your paycheck. With my simple lifestyle, I find it a legitimate effort to drop below half of my paycheck in spending a month.

Type of school: I work for a company that has contracts with various public schools around the city. Teachers go to various schools during the week for weekly English lessons under a British curriculum.

Type of students: A majority of the students in these classes are children of business professionals or doctors/lawyers as they are paying for additional classes in their public schools. My secondary classes range from 11-13 years old.

Vacation time: Actual time out of the office is a bit limited. There are breaks in classes at Christmas and in April where teachers are still required to go to the office without teaching. There are opportunities to take unpaid time off at Christmas if you have acquired bonus days. Summers can be taken off without pay, and 10 days at Vietnamese new year (February) are paid time off.

Other: There are a lot of cultural differences in the teaching methods and views in Vietnam that will absolutely baffle a westerner at first. Most of the differences are funny and just take adjustment but some things can become annoying to a western teacher and it is possible to negotiate around these things in the office. A good example is the tendency to have your translator follow you or keep a watch on you throughout the day. It can feel intrusive and can easily be communicated about with your translator. I've always seen this issue easily resolved.

How did you find somewhere to live and what is it like? Do you have roommates?

The best ways of finding an apartment are either expat website or Facebook groups, or from your co-workers at work. If you want to find somewhere immediately, there are always apartments looking for one or two roommates to replace the constant flux of teachers here. Living with people is always cheaper here and the apartments are great in terms of price and quality. If you are a patient person, you might do well to spend your first week or two in a hostel and talk to others about where they went and what they did when they were looking for an apartment. Who knows, you might end up living with a friend from work.
COUNTRY INFORMATION - FUN!
Please explain the cultural aspects, public transportation, nightlife, social activities, food, expat community, dating scene, travel opportunities, etc...

Cultural aspects: The culture a very obvious mix of increasing Western influence and protected traditions of Vietnamese living. Women will be in traditional dress listening to Ed Sheeran. Random food stalls sport tripadvisor stickers, and tattoos are an increasing sight. However, there are some cultural beliefs that are inescapable, and can honestly frustrate you from time to time. The idea of femininity is still very traditionally defined here: dresses, flower patterns, make up,etc. If you are into black and pants, you will spend some time explaining it. It is also considered odd to be over a certain age and not married. Mid twenties is considered old for marriage and many conversations center or come back to this topic. It is also common for both Western men and women to receive comments on their size. I've been in many shops and called big, fat, or simply told they didn't carry sizes for me. It is something that you and everyone else, Western and Vietnamese, will hear in casual conversation.

Transportation: Traffic can be very stressful and dangerous here, a problem which is exacerbated by massive traffic jams. I use GRAB or Uber for motorbikes that are very cheap to use. I get to go anywhere in the city and look around for interesting things, rather than mentally exhaust myself negotiating traffic.

Expat community: The company is a great place to extend your expat network and to find the best events from your translators. It is easy to sit in the bubble and surround yourself with people who look like you. Your translators easily become your friends, and always tell you about weekend markets, parties by the canal, open mic nights, and the best places on the infamous party street Bui Vien. The expat community here is very well connected and the conversation is extensive. What you often find is that the expat community here has firmly joined in with Vietnamese society through dating, marriage or friendship, so you will always have a level of contact and friendship with the Vietnamese that you may not have easily had otherwise.

Food: Saigon is a notoriously hot city. Even the evening maintains a noticeably uncomfortable humidity. This makes indoor places like coffee shops, Korean fast food and fried chicken restaurants, and tea shops crowded places to gather around the aircon and hang out. There are coffee shops of all imaginations in Saigon: eclectic, music devoted, Viet Cong green, french, and even an Ethiopian inspired place. Skip Starbucks to find your hangout spot. I might have mentioned this before but even the most amazing food, which Vietnamese food is, gets tiresome after a while. There are so many rice and noodle dishes that are fabulous for months. Eventually, you find a balance between carbohydrate heavy meals and cooking more familiar dishes at home. My personal favorite are the deep noodle dishes that you find on street food streets. Everyone knows Pho and Bun Bo Hue, but they skip the crab soups, the Chinese food in District 5, or the duck noodles in yellow broth. The soups are always different and a nice break from rice and bread. A downside of the diet being so starch based is that some nutrients are hard to get. Vitamin B, Vitamin A and protein are all things that you have to stay conscious of getting somehow in your diet.

Travel opportunities: If you get tired of the city, there are several great southern beaches nearby that are easily reached by motorbike. My friends and I catch a bus on weekends and go to Mui Ne to sand slide and swim. Saigon is a great place to fly out of. Saigon is the only way to reach Con Dao island off of Vietnam's southern tip, Bangkok is a short flight away, Malaysia is always an inexpensive option and Singapore for those who want the ultimate shopping experience.

Nightlife is mostly centered around the backpacker area at the edge of district 1. The two streets are Bui Vien and Pham Ngu Lao, which are freckled with clubs, bars, and street food stalls. Its a very multi-cultural place that has the potential to be a mini Bangkok. If you aren't feeling up to the debauchery, there are jazz clubs, open mics and guest DJ's at clubs around the city.

Dating is very much online here. Meeting organically is not impossible, but most younger age groups have their faces turned down toward their phone so its getting harder and harder.
COUNTRY INFORMATION - MONEY
What are your monthly expenses?

Rent/utilities: live with my friend in an apartment that costs both of us a few dollars short of $200 a month. Wifi, water delivery, electricity are included in the cost but this isn't a universal practice in the city. AC is what will cost you the most. At the least, I've paid as little as $21 and as much as $43 dollars for a month of AC. I suggest you invest in fans!

Food: The cost of food is best balanced when you find a rhythm between cooking at home and eating out. Your salary makes it possible to eat more expensive Western food every night should you want it, but you will definitely feel it in your wallet! Living in the city is busy and cooking time is hard to find, but it is possible and saves the most money. Vietnamese "street food" is cheap, quick, different, surprising, and easy to get. Groceries usually range between $90-$110 dollars a month. A bit more on Vietnamese food. There are so many stalls. So many wafting smells and sizzling meat. And the bowls are so big to hold all of the yellow broth and duck noodles that you have been looking forward to all day. But one thing is true: you will, eventually, get tired of rice and noodles. In fact, you may go through periods where you can't even stand to hear one more noodle slurped. It's not a permanent affliction, but it happens. I encourage you to be adventurous and open minded to what you eat and what you try because the safe dishes will quickly become a chore.

Social activities are definitely a major source of financial drain. One weekend out isn't lethal. But four a month is another story. And it is a seductive proposition in Vietnam. The party streets rarely stop and the city is tropical; an endless summer. How easy it is to throw on that crop top and go! As someone who doesn't drink, my nights out are relatively cheap, especially because I bring my own water. Maybe $13 for a nice meal, a glass of wine, and the rides to and from home.

Transportation: Most people rent a motorbike which is about $50 a month. There are buses here but I've never ridden on one. Saigon is getting a subway in a few years, which will do great things on the very chaotic traffic in many of the inner districts of the city. I usually use GRAB bikes, which is in competition with Uber right now. They offer bikes, cars and taxis to use. They start at .53 cent a ride.

Phone/internet: Cell phones are very simple. When you come to Vietnam, you buy a SIM card that is available all over the city for $2. After you get a SIM card, you go to your phone company and buy data to put on your phone. One gig of data is $4. One gig lasts for about 1 month. Water is a real expense here. Water will easily end up being a greater expense than your gym fee, your GRAB bike fees and maybe a cheap bus ticket. It is so hot that you can't get enough of it. Be prepared to buy a lot of it.

How would you describe your standard of living?

Even with my budget, I live very comfortably. I don't necessarily mean in terms of shopping or four day holidays. I mean that I have access to healthy food, the gym, proper nutrition, and the doctor when I need it. If you wanted to spend the money, you could always include the materialistic in your life.

In your opinion, how much does someone need to earn in order to live comfortably?

A teacher could have a monthly salary of $1200 and live comfortably in Vietnam. However, you are paid very well as a teacher, so you stand an incredibly good chance of making more than $1200 a month.


ADVICE FOR PROSPECTIVE ENGLISH TEACHERS
What advice would you give someone planning or considering teaching abroad? Would you recommend teaching in your country?

If you are capable of handling heat or you love tropical weather without the next door beach, then Vietnam is a great place. Its filled with palm trees, beautiful beaches, coconut water, and cold lemon tea. The money is excellent here, traveling to some of the oldest structures in the world is easy, and the life you get to experience here is one that opens your eyes and your mind to new things and certainties.

Personally, I think one time teaching abroad is enough for you to get the bug. When you get that passport and see all of the empty pages, you just start thinking of filling it up. If you want to learn, cry, feel something, and grow up in an unexpected way, then you should definitely teach abroad.

My advice would be to pick a country that will give you the most opportunity. Its fine if you want to visit Laos, but do you want to live and teach there? If you make smart decisions from research and homework, then you can be in a situation where you can have enough work and play to create and amazing experience. Don't be afraid to think, call, read again and go for it when it comes to choosing your next part of the world.

Some other quick tips:
- Pack light Bring unique things like glass water bottles.
- Don't assume you can buy them where you are going.
- Check your travel checklist from the academy!
- Take care of your important documents
- Remember: The rules of the country are your rules too!


A native of North Carolina with backgrounds in writings and languages in search of adventure, Savanna decided teaching English abroad was a natural choice after completing her Master's degree. She had a longtime dream of visiting Southeast Asia and a friend who had taught in Vietnam, so the country seemed like a natural fit.
Want to Learn More About Teaching English Abroad & Online?
Request a free brochure or call 773-634-9900 to speak with an expert advisor about all aspects of TEFL certification and teaching English abroad or online, including the hiring process, salaries, visas, TEFL class options, job placement assistance and more.