Teaching English in Hanoi, Vietnam: Alumni Q&A with Holly Grudovich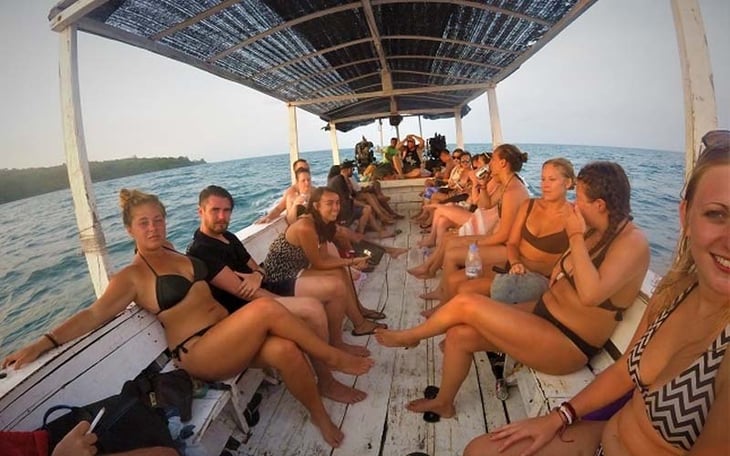 What is your citizenship?
United States
What city and state are you from?
Pittsburgh, Pennsylvania
How old are you?
23
What is your education level and background?
Bachelor's degree
If you have traveled abroad in the past, where have you been?
Spain, Mexico, England, Morocco, Czech Republic, Greece, Italy, France, Malta, Austria, Netherlands, Belgium, Thailand, Cambodia, Laos, Indonesia, Japan, China
If you have studied abroad in the past, where did you study?
Bilbao, Spain.
What sparked your interest in going to teach English abroad?
During my junior year at university, I studied abroad in northern Spain. During my time there, I had the opportunity to work as an English teacher in public schools throughout the city. I found the job to be extremely rewarding and also a great way to fund my travels. I decided to join the Peace Corps to fulfill this dream of living and teaching abroad; however, I ultimately denied my invitation because I did not enjoy my placement city. It was then I discovered ITA and decided after careful consideration and encouragement from my helpful advisor (thanks Jeff!) I decided to complete the TEFL course and head to Asia on my own to find work as an ESL teacher.
What were some of your concerns before teaching abroad?
Although I had traveled a considerable amount before, Asia seemed vastly different from anywhere I had ever been. I was concerned about my safety and being able to communicate in such a foreign culture. Fortunately, I had nothing to fear. Asia has a massive backpacking population, so navigating throughout the countries is very easy and cheap to do. This also connects you with other like-minded adventure seekers who are always willing to lend a helping hand in a time of need. As for health and safety concerns, it is important to always be careful and aware of your surroundings, but often times I feel much safer here than I do back in the states. The only downside is that I have had a tough battle with food poisoning while being here and have since turned vegetarian. However, most of my friends have not been sick once since being in Vietnam.
What did your friends and family think about you moving and teaching abroad?
My family was thrilled when I told them my decision to move and teach abroad. They have always encouraged my passion to travel, and I am suspicious that they live a bit vicariously through me. Also, I had done A LOT of research before making my decision, so they knew that I was well prepared. Their primary concern was about me traveling alone. I had decided to backpack Southeast Asia for six months before finding work, and they were worried about me on my own so far away from home. Fortunately, it is so easy to make friends while traveling that the only time I spent alone during my whole travels was the taxi drive from the airport to my hostel in Bangkok. Having a consistent group of travel friends helped to ease their mind quite quickly.
Why did you decide to get TEFL certified and choose International TEFL Academy?
I spent a lot of time researching certain TEFL programs, and this one by far had the best reviews. I think what drew me in the most was all of the resources that were available to alumni. The Facebook groups are extremely helpful. I post on them fairly often for advice. I have even made a friend through the ITA Alumni Vietnam Facebook group.
Which TEFL certification course did you take?
Online TEFL Course
How did you like the course?
I enjoyed the course. It was more challenging than I expected it to be but the challenge helped to prepare me to become a better teacher. Even now after teaching for a few months I often refer to my past lesson plans that I submitted for guidance. The most helpful part was the practicum requirement. I chose to volunteer at a local ESL center. I enjoyed it so much that I decided to continue to volunteer even after I met the required practicum hours. I still maintain a close relationship with the head of the ESL center. My time there significantly reinforced my decision to teach abroad, and I also learned so much about classroom management and finding my own teaching style.
How has your TEFL training helped you in your current teaching position?
ITA is well recognized here in Vietnam by employers. Often times when you are applying for jobs, they require you to attach a scan of your TEFL certificate. By having a certificate with ITA, employers will see that you are qualified for the job. There are many places you can get a TEFL for cheaper, but they are less quality and often not accredited. Many employers will simply not accept them, especially if they are not 170 hours and do not require at least an in-person practicum.
Which city and country did you decide to teach English in and why?
I decided to teach English in Vietnam in the city of Hanoi. I did a lot of research before I decided what region of the world I wanted to teach in. Unfortunately, many locations were simply not an option for me because I have a significant amount of student debt to pay off each month. I had to choose a location that allowed me to make enough money to live and pay off loans while abroad. The high salaries and low cost of living is what attracted me to Vietnam; however, meeting travelers during my time backpacking ultimately influenced my decision to move to Hanoi rather than another city in Vietnam. I have yet to meet someone who has not fallen in love with this city. Also, there is a massive expat community, so it is easy to make friends from all over the globe.
How long have you been in this country and how long do you plan to stay?
I have lived here for about four months now, and I plan to stay at least two years; however, I could see myself staying here much longer.
During which months does your school typically hire?
Year round.
Did you secure this position in advance of arriving?
No.
How did you interview for this position?
In-Person Interview.
What kind of Visa did you enter on?
Tourist Visa
Please explain the visa process that you went through.
The process for getting a visa in Vietnam is very simple. You need to first apply and purchase a letter of invitation before coming to the country. It needs to have the specific location and date of your arrival. I think it costs about $20 for a three-month multi-entry visa and then $50 for a stamping fee once you arrive. Once my school hired me, they helped to arrange for me to receive an invitation letter for a business visa. After three months I had to leave the country and come back to renew my visa. I took a quick flight to Bangkok and then had to spend the night in the airport before flying back to Hanoi the next morning. I will have to continue to do this every ninety days until my school has finished my work permit. This is a lengthy process so I am sure I will have to do it again. Fortunately, my school will be funding any more visa runs in the future.
What are the qualifications that your school requires for teachers? Please check all that apply
- TEFL Certification
- Native English speaker
- Bachelor's degree
What is the best way to apply?
In-Person

Please include any application resources (website, email, etc.) or other information here:
I found my school in one of the many Facebook groups for Hanoi. One of the main ones is Hanoi Massive. There are hundreds of ESL job postings every day.
Tell us about your English teaching job!
Type of school: I work at an International Montessori school. It is a bit different than from what most other English teachers do here. While I do still teach English, I also teach other subjects such as math, art, history, etc. and I have the same group of children all day long instead of different classes with different students.
Type of students: Also, I have a large age range of students. My youngest is three and my oldest is almost seven, however, this is typical in Montessori education.
Hours: I work full-time Monday through Friday, 8 am to 4 pm. During that time I have a two-hour lunch break and also a scheduled hour nap with my children.
Salary: At the moment I make $1950 a month, but in December my wage will increase to $2150. Because of my schedule, I could easily make a lot more money if I taught in language centers in the evenings on occasion, but I have not found the need to.
Ability to save: I can easily save around $1,000 a month which allows me to save and pay off college debt.
Vacation time: I have paid vacation for all major Vietnamese holidays such as a week off in February for Tet, two weeks paid off for Christmas, two weeks in July and also ten days paid sick leave for the year. I am extremely satisfied with my work-place environment and I plan to stay at least for the next two years.
How did you find somewhere to live and what is it like? Do you have roommates?
It was very easy to find a place to live. Most of the teachers and expats live in the same area called Tay Ho. It is a beautiful part of the city, and you can find almost any Western comfort when you need it. I found a room in a shared house here from a facebook group. My house is beautiful and I live with six other girls, most of whom are also teachers. Altogether there are six different nationalities living under one roof.
Please explain the cultural aspects, public transportation, nightlife, social activities, food, expat community, dating scene, travel opportunities, etc...
Cultural aspects: The Vietnamese are lovely people. They are kind and generous and often very curious about Westerners. It's a regular occurrence that strangers will come up to me in the street and ask to take a photograph with them.
Public transportation: There is not a great mode of public transportation. Everyone goes by motorbike, but it is quite dangerous and I would recommend learning to ride one either before coming or somewhere outside of the city before using one. Crashes are frequent. However, it is not necessary to drive here. Before I mustered up the courage to get my first bike I used GRAB for everything. Its Asia's version of Uber and it is very cheap. You can order a grab bike where someone will pick you up by motorbike and you can ride on the back. My commute to work is about 45 minutes and it costs me $3 to get there, so getting around by GRAB is a great alternative to driving.
Nightlife: Hanoi has a thriving nightlife. Since most teachers work on the weekends and have random days off during the week, every night can be treated like a Friday night in Hanoi. There is always a party, and many bars stay open 24/7 and there are large events that happen almost every weekend.
Social activities: Even if you don't like to party, there are alternatives. There are tons of meetups that are organized primarily on Facebook. For instance, there is a Hanoi circus group that meets twice a week to practice circus tricks such as fire eating and poi, or groups who go on trips outside the city once a month or even exercise and cooking classes.
Expat community: The expat community is so large that it is easy to make friends from all over the world.
Travel opportunities: Even if you need to escape the city for some fresh air, we are within driving distance of the famous and beautiful Ha Long Bay, and there are also other very close national parks to visit outside of the city.
Food: As for food, I find Vietnamese food to be a bit boring and monotonous, but it is very cheap! Fortunately, there are PLENTY of Western options when you cannot stomach another bowl of Pho.
What are your monthly expenses?
Rent/utilities: My rent is slightly more expensive than most. I pay $250 a month for my room and usually $30 a month in utilities. The summer is very hot and I do not mind spending extra on constant air conditioning. Most houses separate the bills by room because of this reason, so you will not have to pay for your housemates electric use.
Food can range anywhere from $1 to $5 depending on what you want. Western meals are more expensive, but if you eat locally, then do not expect to spend more and $1.50 on your meal.
The city is very cheap so social activities and transportation will not break your bank. Beers here can be as cheap as 25 cents if you drink at a local bia hoi. Due to the low costs of living it is really easy to save money; however, if you want more luxury it is also accessible. How much you spend ultimately depends on your lifestyle, but it is easy to live like a king on a teacher's salary here.
How would you describe your standard of living?
Extremely high. Much higher than when I was living in the USA.
In your opinion, how much does someone need to earn in order to live comfortably?
I would say that to live comfortable, you should make about $1,200 a month. I live on less than $1,000, but you never know in case of emergencies when you might need a bit of back up cash. Accidents are frequent and so is theft. It's always better to be a bit more prepared financially.

What advice would you give someone planning or considering teaching abroad? Would you recommend teaching in your country?
If it is your first time teaching abroad, I recommend coming to a big city (like Hanoi!). Sometimes it can be extremely overwhelming especially when you do not speak the local language. By living in a big city, you are likely to find a larger expat community. While I do think it is important to immerse yourself in the local culture, its always more comforting to have some friends who speak your language and understand your culture.


Holly Grudovich is 23 and from Etters, Pennsylvania with a BA in International Relations from California State University of Chico. After being rejected from the Peace Corps, she decided to jump on a plane and head to South East Asia in search of a new adventure but found a future career as a certified Montessori Teacher at an International School.
Want to Learn More About Teaching English Abroad & Online?
Request a free brochure or call 773-634-9900 to speak with an expert advisor about all aspects of TEFL certification and teaching English abroad or online, including the hiring process, salaries, visas, TEFL class options, job placement assistance and more.