non native english speaker
Teaching English in Al Ain, UAE: Alumni Q&A with Lieke Palies
What is your citizenship?
Netherlands (Holland).
What city and state are you from?
Amsterdam.
How old are you?
27.
What is your education level and background?
Master's Degree.
Have you traveled abroad in the past?
I studied abroad previously.
If you have traveled abroad in the past, where have you been?
I've been to most EU countries, Albania, Serbia, Bosnia, Macedonia, Nicaragua, USA, Senegal, Gambia, Tunisia, Egypt, Jordan, Syria (before 2011), Lebanon, Turkey, Russia, Mongolia, and China.
If you have studied abroad in the past, where did you study?
I studied in Edinburgh, Scotland and London, England.
What sparked your interest in going to teach English abroad?
I have a MA in Arabic literature, and as it turns out, there are not many positions to be found in this field. So after three years of struggling, I simply decided to take control in my own hands and do something a bit more practical. I desperately wanted to leave the Netherlands so, I signed up for a teacher training course. I think I just stumbled upon this possibility by accident and thought, why not?
What were some of your concerns before teaching abroad?
I thought to myself "will they hire me?" (since I'm not a native English speaker), and "am I going to spend a lot of money on a fruitless quest?"
What did your friends and family think about you moving and teaching abroad?
They were not particularly thrilled that I wanted to leave them again, but for everything else they are very supportive.
Why did you decide to get TEFL certified and choose International TEFL Academy?
I noticed that many vacancies for teaching positions required a TEFL certificate and after a short search online I found the International TEFL Academy. I just applied to see if I even had a chance since I'm not a native English speaker. I had to write an essay and have a little chat, and suddenly... I was accepted. It all went very fast, but I just decided to go for it.
Which TEFL certification course did you take?
I took my TEFL course in Toulouse, France.
How did you like the course?
It was an intense course but I learned a lot. It's nuts. We had classes everyday from 9am to 7pm. Theory was in the morning and the afternoons were about actually teaching. We only taught pre-intermediate and intermediate levels - which naturally, depended on the students that you practice with. Jonathan is the Toulouse school coordinator, and he's the main instructor as well. His focus is on making the lessons fun. He had us doing lots of speaking exercises. Sometimes felt a bit silly because he made us go through all the basic exercises too, but it's good to experience the lessons you're going to eventually teach for yourself.
I think in total, I've met five other instructors who were there to observe our lessons. They were very friendly and extremely thorough in their feedback. I think this course was all about crossing my own personal boundaries as well. Just to put yourself out there in front of a group of strangers, and to be responsible for their learning process. It's an extremely useful skill to have in life.
Therefore, I'd say my overall experience was very good. It provided me with crucial tools for teaching that I use everyday at work.
How has your TEFL training helped you in your current teaching position?
I'm so very happy I chose to do this TEFL course. Teaching is all about the experience of interacting with students, and that was the scariest bit. To teach classes and evaluate the other teachers: it's the best part of the training. I don't think I would have survived my first week in the UAE without the experience of standing in front of a class. I don't need to make the lesson plans from scratch, because I can use the lesson plans we created in my training, but I have a lot of extra material as back up. Also, it helped me see the mistakes of other teachers and know my own areas to improve as well.
Which city and country did you decide to teach English in and why?
Al Ain in the UAE. I wanted to teach in the Middle East because I have an academic background in Arabic literature and I want to enhance my Arabic. I actually applied for Kuwait, but they offered me a position here.
How long have you been in this country and how long do you plan to stay?
I've been here for 2.5 months now. I'm planning to stay for at least 6 months.
How did you secure your English teaching job?
I applied through the Inlingua website.
What school, company, or program are you working for?
Study Smart Center (part of Inlingua).
How did you get your work visa?
The company took care of my visa. It's valid for two years.
Tell us about your English teaching job!
I work six days a week, with an average of five teaching hours a day. I find this to be quite a lot, especially since I'm still a newbie and I need time to prepare my lessons. But I see it as a challenge, and I'm gaining a lot of valuable experience. I teach all levels, both private lessons and group lessons, some business English and I'll start an IELTS batch next week too. The school is a language training center. I mostly teach general English to adults; local Emirati and Middle Eastern immigrants.
My salary is currently AED 8000 a month, which is about $2000 USD. I haven't been able to save much money yet since I had to buy all my apartment furniture myself. I'm going through a probation period of six months so I do not have any holidays included in my teaching contract yet, though I'm allowed to go on a one-week leave for Christmas.
How did you find somewhere to live and what is it like?
The company found a studio apartment for me. Apart from a bed and a couch, it was unfurnished when I moved in. It's not perfect, but I managed to quickly get internet and a fridge, which makes life much easier.
Please explain the cultural aspects, public transportation, nightlife, social activities, food, expat community, dating scene, travel opportunities, etc...
The cultural aspects are definitely making my stay worth while. I met some expats in Dubai a couple of weeks ago and I felt envious for not living and working in such a culturally diverse environment. But I realized later on, how meaningful my life is at this particular moment. I meet Emirati men and women everyday. We share stories, hopes and dreams and they tell me so much about the country, its history and their local customs. This feels more real.
I'm taking a taxi to work every day, since I don't have my own car yet. I hope to get one soon though. Everything is done by car. Especially in summer, it's simply too hot to walk around. I've taken the bus from Al Ain to Dubai once though, which goes every hour, but it takes almost three hours to get there. It's only 1.5 hours by car.
Only hotels have alcohol licenses here, so that's where you find most Expats. There are several bars and clubs with expensive drinks and bad cover bands - it a feels a bit provincial. If you want to go out (properly), you simply have to go to Dubai or Abu Dhabi. Nightlife in Al Ain is not really a thing. Or, do what the locals do: get a car and spend the night in the desert or smoke shisha with friends.
As for social activities, there's an enormous compound for expats in this city, and you have the possibility of joining the shooting, golf, or equestrian-club. I'm still contemplating. I recently joined the yoga society, so I'm hoping to meet some people there. I don't know much about the dating scene yet. Websites such as eHarmony are blocked, but Tinder is widely used, surprisingly enough.
If you have the time (and aren't working six days a week), traveling opportunities are brilliant. Oman, Qatar and Kuwait are a couple of hours away and you can go anywhere from Dubai. Just make sure you don't visit countries that make it impossible for you to get back in the UAE.
What are your monthly expenses?
Rent + internet: 2700 AED
Food + alcohol (alcohol is fairly expensive): 2000 AED
Traveling (to Dubai): 1500 AED
Phone: 200 AED
Taxi: 600 AED
As I said, I haven't been able so save money so far because of extra expenses: furniture, work clothes, flight, etc. However, I think that this will get better in the next couple of months.
How would you describe your standard of living?
Decent.
In your opinion, how much does someone need to earn in order to live comfortably?
At least 8000 AED a month.
What advice would you give someone planning or considering teaching abroad? Would you recommend teaching in your country?
I would highly recommend teaching in the UAE, but I would not necessarily recommend teaching in Al Ain. It's very conservative, quiet and in the middle of the desert. However, it is an experience in itself to just live in a place like this at a certain time in your life.
For the rest: I would recommend thoroughly reading your contract, and ask them to send you all the promises, details, information etc. in writing. Also, try to Skype/phone with teachers who are already working there.
Lieke graduated with a MA in Arabic literature, and as it turns out, there were not many positions to be found in this field. After three years of struggling, she simply decided to take control into her own hands and do something a bit more practical. She desperately wanted to leave the Netherlands so she took ITA's TEFL course in Toulouse, France before finding a job teaching English in Al Ain, United Arab Emirates.
Want to Learn More About Teaching English Abroad & Online?
Request a free brochure or call 773-634-9900 to speak with an expert advisor about all aspects of TEFL certification and teaching English abroad or online, including the hiring process, salaries, visas, TEFL class options, job placement assistance and more.
"I chose ITA because my best friend had been certified there. She told me all about the courses and helped me decide. I was most impressed by the country guides and the support for finding jobs after completing the certification that this organization provides."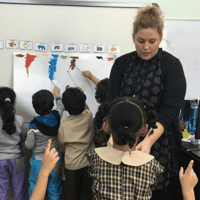 - Carmen Oswalt
Teaches English in the UAE