Teaching English in Al Ain, UAE: Alumni Q&A with Carmen Oswalt

What is your citizenship?
United States
What city and state are you from?
Indianapolis, Indiana
How old are you?
27
What is your education level and background?
Bachelor's Degree
Where are you teaching English abroad?
I teach English in Al Ain in the United Arab Emirates (UAE).

Have you traveled abroad in the past?
Taught English abroad previously.
If you have traveled abroad in the past, where have you been?
Bolivia, East Africa, Southeast Asia, Eastern Europe, South Korea.
What sparked your interest in going to teach English abroad?
I love traveling, and I always feel more alive and more myself when I am experiencing new things and learning about other people. I also love teaching, but couldn't see myself teaching in an American school at the time. Therefore, teaching abroad seemed to be the best option for my future goals and the lifestyle I want to live.
What were some of your concerns before teaching abroad?
Making Friends
What did your friends and family think about you moving and teaching abroad?
Most of my family and friends were sad to have me far away, but excited for the opportunity for me, and supportive of my decisions.

Why did you decide to get TEFL certified and choose International TEFL Academy?
I knew that getting TEFL certified would open up more opportunities for me in the locations that I wanted to live. Although I have a bachelors in Education, I think that my TEFL certification has made me more marketable abroad. I chose International TEFL Academy because my best friend had been certified there. She told me all about the courses and helped me decide. I was most impressed by the country guides and the support for finding jobs after completing the certification that this organization provides.

Which TEFL certification course did you take?
Online TEFL Course.
How did you like the course?
I thought that the course was extremely helpful. I completed the course while teaching English in South Korea, and every week I found myself incorporating different things I had learned in class in my own teaching. I was also able to complete my practicum at the school I worked for, which was extremely helpful.
How has your TEFL training helped you in your current teaching position?
I am currently teaching kindergarten at an international school, with a large majority of my students are native Arabic speakers. I find myself using many of the different techniques that I learned through ITA with my students every day. At the beginning of the year, most of my students spoke little to no English, so I found myself using different songs, TPR movements, and games that I had learned in classes to help them understand the expectations in class.
Which city and country did you decide to teach English in and why?
I decided to teach English in the United Arab Emirates in the city of Al Ain. I've always been interested in the Middle East, so when I looked at the different options in the region, UAE seemed to most fit the type of lifestyle I was looking for.
How long have you been in this country and how long do you plan to stay?
I have been here for a year and a half, and am planning to stay for at least another 2-4 years.
During which months does your school typically hire?
May-July, occasionally other times as needed.
Did you secure this position in advance of arriving?
Yes, I was hired in November to come in January.
How did you interview for this position?
Skype/phone interview.
What kind of visa did you enter on?
Tourist Visa (then converted to work visa).
Please explain the visa process that you went through.
I turned in many papers and had to get approval from the Educational Council here in Abu Dhabi first. Once that was completed, the process moved more quickly, but there were many different steps that had to be completed in order to finally have the visa and my Emirates ID.
What are the qualifications that your school requires for teachers?
- Bachelor's degree
- Native English speaker
- Education or specialty degree (Maths, English, etc.)
Tell us about your English teaching job:
Type of school: I work for a British curriculum school that has grades KG1(reception)- Grade 5 (year 6). I teach KG2 and am the Head of Department for the KG section. As a Kg teacher, I teach English, Phonics, Maths, and Science every day, plus PE, Art, and Music. My students also take Arabic every day, and Islamic studies once a week, with an Arab teacher.
Hours per week: I work from 7:20-3:00, Sunday through Thursday. Fridays and Saturdays are weekends here.
Salary: I make 11,000 AED, which is just under $3000 USD. I also have a housing and transportation allowance, and my school provides health insurance and one roundtrip plane ticket home each year.
Ability to save: I am definitely able to live a comfortable life here, travel on holidays, and still send money home to pay off loans and save.
Vacation time: We have two weeks of vacation during the winter and two during spring, plus around two months paid vacation during the summer. We are also off on all Islamic and UAE holidays, and work shorter hours during Ramadan.
Other: This job has definitely been challenging at times because of the cultural differences, but I have grown so much and have really found a community here in Al Ain. My school feels like a big family, and I love working with my coworkers and students.
How did you find somewhere to live and what is it like? Do you have roommates?
My school assisted me in finding an apartment when I first got here. I lived alone for the first half of my first year here. This school year, I have a roommate and we share a two bedroom apartment. She and I found the apartment through a real estate agent, and were able to use our housing allowances to pay for it.
Please explain the cultural aspects, public transportation, nightlife, social activities, food, expat community, dating scene, travel opportunities, etc...
Cultural aspects: UAE is a very interesting country, and there is so much to see and do here! In my city, Al Ain, it is slightly more conservative, but in Dubai, things are much more lively, and there is always something to do! The culture here is very different than what I grew up with. Women and men should dress appropriately (cover knees and shoulders, nothing too tight). Public displays of affection are not allowed here as well.
Even though it is more conservative than the US, I have found that the UAE is still a very open society, and the people are very kind and willing to invite you in and help you learn about their culture.
Public transportation: In my city, the public transportation is mostly taxis, but they are very easy to find and not very expensive. In Dubai, there is a metro that is simple to use, and very clean.
Nightlife: There is great nightlife in Dubai, although drinks are more expensive than usual. But there are many different kinds of clubs and lounges, from hip hop, salsa, shisha lounges, etc.
Social activities: There is a never-ending list of things to do here in the UAE, and if you have an adventurous spirit, you will never get bored! There are huge shopping malls that include cinemas, bowling alleys, ice skating rinks, and even an indoor ski mountain! There is camping in the desert and dune bashing, hiking in the mountains, and beautiful beaches on both coasts to explore.
Food: You can find all types of food here, with Arab and Indian being the most prevalent. There are also many different western chains, like McDonalds, Chili's, Dunkin Donuts, etc. There seems to be new restaurants popping up all the time, and they are always coming up with new and innovative ideas! You can even dine in the dark, or eat dinner hanging from a huge crane!
Expat community: The expat community is very strong here - in Dubai, 80% of the people are expats! So there are an endless number of activities and ways to get involved an meet people.
Travel opportunities: It is incredibly easy to travel from the UAE. It is kind of in the middle of everything, so with only 5-6 hours you can be in Southeast Asia, Europe, Africa, or a beautiful tropical island! And since we have so much vacation time as teachers, we definitely make the most of all the amazing places to see!
What are your monthly expenses?
Rent/utilities: I don't pay monthly rent since most apartments here ask for the payments up front for either the entire year or six months. Because I have a housing allowance, my school just paid the checks up front.
Food: I spend between 100-200 AED ($27 - $50 USD) on groceries per week, mostly shopping at local markets for fruits and vegetables, and then buying a few other staples as the big chain stores. I tend to eat out a lot as well, and means out can range anywhere from 3-50 aed per person.
Activities: I prefer to try and do as many free activities as I can, like going to parks, the free beaches, and barbecuing in the desert with friends. It can be very easy to spend money on the weekends, as there are so many amazing things to do here! Dubai is known as the Las Vegas of the Middle East! I bought a car after I had lived here for about 10 months. Before that, I was renting a car every month from a rental company. It can be difficult to get around in my city without a car, although many people do.
Phone/internet: I spend about 300 AED ($82 USD) a month on my phone, which includes a payment for my iPhone, 500 local minutes, and 6gb of data.
Travel: It can be cheap to travel within the country, and even to Oman. There are buses between the major cities, or if you have a car, a full tank can get you to most other cities here! I use airbnb and booking.com to find really cheap deals on lodging. It is also pretty easy to find good deals on flights or vacation packages. I was able to go to India this spring break for less than $1000 including everything for the entire week!
How would you describe your standard of living?
I would say that my standard of living is very comfortable. I am able to save money, pay off loans, and splurge occasionally on travel or other activities that I want to do.
In your opinion, how much does someone need to earn in order to live comfortably?
I would say a comfortable lifestyle here would be possible with a salary over 8,000 AED

What advice would you give someone planning or considering teaching abroad? Would you recommend teaching in your country?
My biggest advice it to be bold! If you want to try something new, or if teaching abroad sounds like it might be interesting, then do it! It might not always work out the way you hoped, but you will always have a good story and you will grow from your experiences! I would also recommend saying yes as often as possible, especially at the beginning of your time in a new country. Whenever people invite you to do something or try something, say yes! If you don't like it, you don't have to do it again, but you might find something that you really enjoy!
I would definitely recommend teaching in UAE. It has many western comforts that make it easy to assimilate here, but it also has a distinctly Middle Eastern feel, which opens up so many opportunities for growth, travel, and fun!



After a stint teaching English in South Korea, Carmen Oswalt was ready for her next adventure. Having always been interested in the Middle East, she set her sights on Al Ain, United Arab Emirates, and now teaches English to kindergarten students at an international school there.
Want to Learn More About Teaching English Abroad & Online?
Request a free brochure or call 773-634-9900 to speak with an expert advisor about all aspects of TEFL certification and teaching English abroad or online, including the hiring process, salaries, visas, TEFL class options, job placement assistance and more.
"I chose ITA because my best friend had been certified there. She told me all about the courses and helped me decide. I was most impressed by the country guides and the support for finding jobs after completing the certification that this organization provides."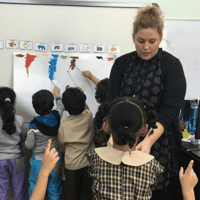 - Carmen Oswalt
Teaches English in the UAE