Istanbul, Turkey English Teaching Q&A with Valerie Davila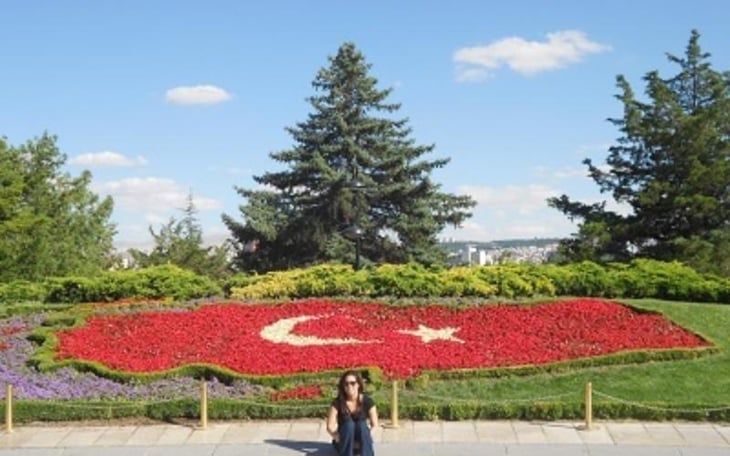 TELL US ABOUT YOURSELF
What is your citizenship?
United States
What city and state are you from?
Houston, TX
How old are you?
25
What is your education level and background?
Bachelor's Degree
Have you traveled abroad in the past?
Some international travel with friends, family, business, etc.
If you have traveled abroad in the past, where have you been?
Belize, Cayman Islands, England, France, Greece, Italy, Mexico, Panama, Romania, and Spain
If you have studied abroad in the past, where did you study?
Paris, France
What sparked your interest in teaching English abroad?
I wanted to live in another country and travel, and teaching English abroad seemed to provide the flexibility to accomplish these goals. It was also a career change from my business background and provided the ability for me to enjoy a more relaxing job. I was looking forward to a change.
What were some of your concerns before teaching English abroad?
I was concerned about how long it would take for me to find a place to live and find a job, or even when I would first get paid. I was also concerned about obtaining a resident permit and the ease of the process.
What did your friends and family think about you moving and teaching English abroad?
My friends and family accepted my decision and they were very excited for me.
TEFL CLASS INFORMATION
Why did you decide to get TEFL certified and why did you choose International TEFL Academy for your TEFL certification?
I spent valuable time researching for the right teaching course. I made several phone calls, read reviews, and visited multiple sites before making a decision. The first website I had visited was the International TEFL Academy. I spoke to Advisor Ian Davis and he explained the program. The more I discussed my options with him, the more I confident I became to follow through with the process of earning my TEFL certification and teaching English abroad. The program was very well organized and I knew it was the best decision for me.
Which TEFL certification course did you take?
Online TEFL Certification Class
How did you like your TEFL certification course?
My TEFL certification course was very manageable and provided plenty of resources for a well-rounded learning experience. I was provided feedback for all my assignments and was also able to see other students' work and learn about their points of view. My professor, Y Paul Sussman, was very helpful and held live office hours to address any questions. Overall, the class was very professionally managed and provided the same effectiveness as a live class.
How has your TEFL training helped you in your current teaching position in Turkey?
The TEFL training helped build my confidence and expand my creativity to become an English teacher abroad. I have used some of my lesson planning ideas in my current school. The structure of my school is different, so I have adjusted my planning accordingly.
TEACHING ABROAD IN ISTANBUL, TURKEY

Which city and country did you decide to teach English in and why?
I decided to teach English in Istanbul, Turkey because of the location and the size of the job market for teaching English compared to other countries. It would be cheaper and easily accessible to travel around surrounding countries.
How long have you been teaching English in Turkey and how long do you plan to stay?
I have been teaching English in Turkey for about nine months and I don't know how long I will stay yet. It is an easy place to call home and you really miss it when you are away. I have to decide whether I will enjoy another year here or perhaps look for opportunities to discover a new country.
How did you secure your English teaching job in Turkey?
The process of finding a job teaching English in Turkey is a simple process, but finding a good teaching job is more of a challenge. I found my current job by posting my resume online and I received a few emails for an interview.
What school, company, or program are you working for?
I am working for a private school teaching English Language Arts to 5th and 6th graders.
How did you get your work visa? If you didn't get a work visa, please elaborate on working under the table without a work visa.
My school provided the work visa. I would recommend looking for a school that enables you to work legally and receive a visa because it is more secure and you will probably receive some type of insurance.
Tell us about your English teaching job in Turkey!
I work for a private school teaching children. I teach 28 class hours a week and the remaining time is spent lesson planning or doing any other school work. The total time I spend at school is the standard 40 hours a week from Monday to Friday. As far as vacation time, there is about three weeks paid vacation throughout the year. This is the perfect time to pack your bags and travel!
How did you find somewhere to live and what is it like? Do you have roommates?
I researched extensively to find a suitable place to live and I mainly searched online. It was a challenge at first because the good, affordable apartments rented quickly and it became discouraging after making many phone calls without success. This was also because I had high expectations as to housing quality and location, and I prefer to live alone. I finally found the perfect place after a hard, long week.
COUNTRY INFORMATION - FUN!
Please explain the cultural aspects, public transportation, nightlife, social activities, food, expat community, dating scene, travel opportunities, etc. about your country:
Turkey is a beautiful country and Istanbul is a magical city and you can find your way easily in this busy place. The public transportation is good and affordable (although sometimes crowded and uncomfortable). I recommend to never take a taxi because there is always a bus that gets where you need to go for less. The ease of transportation is beneficial because there are so many things to do in the city.

There are palaces, mosques, museums, and beautiful sightseeing areas, so you will never get
bored. In addition, the food is very good. My favorite food is mercimek çorba (lentil soup). Other favorites include Adana kebab, köfte, iskender, çig köfte and I love to drink şalgam (turnip juice). Eating out in Istanbul is a great way to spend time with your friends and discover the city.
Most of my friends are Turkish. This is a good thing because locals can give you advice and show you around the city. I rarely hang out with expats, and when I do, it's with the other teachers at my school. However, there is a large expat community in Istanbul and there are many foreigners living in Turkey.

Many Turks love foreigners! If you are foreign, any Turk will be quickly interested in you. You may end up with a girlfriend or boyfriend. This can end good or bad, just like in any part of the world. Some people get really lucky and find their partner for life. The dating scene is what you make it here.

The nightlife is satisfactory. There are areas full of bars, clubs, and liveliness, although the drinks can be considered expensive. I don't think the music is that good at these venues but there a few places to enjoy. If you're a lady, I would recommend bringing a guy friend with you if you do not want to be bothered by admirers.

If you have the opportunity to live in Turkey, I would recommend travelling to other places besides your home city. There are other beautiful places such as Izmir, Trabzon, Bodrum, and Antalya. It is also very cheap to travel to other countries, so it is easy to do so during your free weeks of vacation.
COUNTRY INFORMATION - MONEY
What are your monthly expenses?
Rent/utilities – $ 500
Food – $ 150
Social activities – $ 50
Transportation – $ 25
Phone/communication – $ 12
The amounts can vary, whether you share expenses with a roommate. I currently live independently.
How would you describe your standard of living?
I would say my standard of living is very good for a foreigner.
In your opinion, how much does someone need to earn in order to live comfortably?
I think you can live comfortably with a monthly 2,500 Turkish Lira (currently around $ 1,200 USD). To travel more frequently and concurrently save, you may need a higher salary.
ADVICE FOR PROSPECTIVE ENGLISH TEACHERS IN TURKEY
What advice would you give someone planning or considering teaching abroad? Would you recommend teaching English in Turkey?
I recommend you to teach English abroad in a country that fits your passion. Turkey is a beautiful country and can provide many job opportunities. You should teach English in Turkey if you have an open mind and you don't mind a little uncertainty in your life. You never know what to expect here. So have fun with it!
Valerie is from Houston, Texas and took ITA's Online TEFL Course. She then made the move to teach English in Istanbul, Turkey.
Want to Learn More About Teaching English Abroad & Online?
Request a free brochure or call 773-634-9900 to speak with an expert advisor about all aspects of TEFL certification and teaching English abroad or online, including the hiring process, salaries, visas, TEFL class options, job placement assistance and more.
"The Middle East is a very fascinating and unfortunately an extremely misunderstood area by so many. In a lot of ways, it's an extremely easy place to adjust to, Western luxuries are quite accessible and almost everything is in English and Arabic."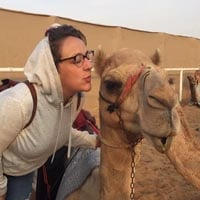 - Katie Ayers
Teaches English in the UAE