Istanbul, Turkey English Teaching Q&A with Leisa Wahlin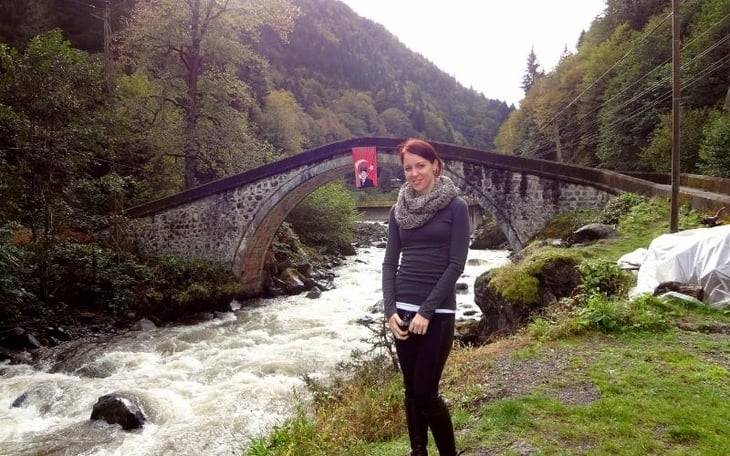 TELL US ABOUT YOURSELF!
What is your citizenship?
Australia
What city and state are you from?
Brisbane, Queensland
How old are you?
30
What is your education level and background?
Bachelor's Degree
Have you traveled abroad in the past?
Some international travel with friends, family, business, etc.
If you have traveled abroad in the past, where have you been?
Fiji, Vietnam, Cambodia, Thailand, UAE, Egypt, Jordan, Turkey
What sparked your interest in going to teach English abroad?
I wanted a change from my normal job. It was highly stressful, and I wasn't sure if it was what I wanted to do in the long run. I had worked so hard to get there, but started to feel unfulfilled. I love to travel, and Australia is so far from everywhere. So I also wanted to be closer to Europe to travel more easily. I visited Turkey in 2011 and fell in love with Istanbul, so decided to come back!
TEFL CLASS INFORMATION
Why did you decide to get TEFL certified and choose International TEFL Academy?
It would have been difficult for me to do a course full-time, as I needed to work up until I left Australia for the money. So I read a heap of forums about the best TEFL/CELTA courses, what was required, reputations etc. The International TEFL Academy website was super-informative, had a good reputation and certifications, and gave me confidence in the organization. But, it was really Christie that made my decision. Her prompt and helpful responses convinced me that International TEFL Academy was the right choice.
Which TEFL certification course did you take?
How did you like the course?
My instructor was great! She was always on time, I loved her online web lectures, and her feedback on assignments was always constructive and helpful. The course itself was designed well. The pace was nice, and the information and skills I learned was very practical.
How has your TEFL training helped you in your current teaching position?
Lots! Mostly about the planning and how to be creative in my teaching ideas and styles.
TEACHING ABROAD IN ISTANBUL, TURKEY
Which country did you decide to teach English in and why?
I chose to teach English in Turkey. I read the demand for English teachers was high, I loved Istanbul when I previously visited, and it's location in Eastern Europe is perfect for me.
How long have you been in this country and how long do you plan to stay?
I have now been here for 4 months, and I plan to stay indefinitely.
How did you secure your English teaching job?
By face-to-face interview.
How did you get your work visa? If you didn't get a work visa, please elaborate on working under the table without a work visa.
My school helped arrange the work visa once I started working for them.
Tell us about your English teaching job!
I have 24 contact hours per week, but my total work hours would be around 40 hours per week. My pay is very good, especially for Turkish standards, as I work in a private school. I earn a nice living and I am able to save around 30% of that - and that's without scrimping on anything I want to do or buy.
I am working for a private middle school teaching Year 5 students in "Language Arts". I teach each class of 24 students for 4 hours per week. The "Core English" teachers are Turkish natives and teach the grammar etc. I then teach the creative things - reading, writing stories, watching movies etc. Expanding on their language skills. I have 2 weeks winter vacation time, and will have 8 weeks summer vacation time - which is paid if I sign a contract for the following year.
How did you find somewhere to live and what is it like? Do you have roommates?
Actually my boyfriend is Turkish and organized our apartment. However, we found a great new place quite easily, reasonable rent, and great facilities.
COUNTRY INFORMATION - FUN!
Please explain the cultural aspects, public transportation, nightlife, social activities, food, expat community, dating scene, travel opportunities, etc. about your country:
Culture: Cultural aspects in Istanbul are just like any other westernized country. Maybe a LITTLE bit more conservative than Australia, but not much.
Public Transportation: Public transport in Turkey is fantastic.
Nightlife: Nightlife is great fun, Turks love to party and have fun!
Social Activities: Social activities are also aplenty. The cafe culture in Turkey is great and friends love to catch up and sit for hours chatting in cafes, especially in winter.
Food: Turkish food is amazing! And apart from the absence of pork, all ingredients are what I am used to eating in Australia, they just make different things with them.
Expat Community: I don't know about expat community, I haven't really joined one. But I have met so many expats from taking a Turkish language course...
Dating Scene: Dating scene I can't comment on either as I was already dating my boyfriend when I arrived.
Travel Opportunities: Turkey is on the edge of Europe, just north of the Middle East and Africa, and to the west of Asia - what more could you ask for? Istanbul itself straddles 2 continents!!
COUNTRY INFORMATION - MONEY
What are your monthly expenses?
Rent: 300TL
Food: Around 400TL
Social: Around 300TL
Transport: 100TL
Phone & internet: 80TL
Other... clothes, extra social... Depends :)
How would you describe your standard of living?
My standard of living is the same as I'm used to in Australia when I was earning $120K/year!
In your opinion, how much does someone need to earn in order to live comfortably?
I guess to live comfortably someone would need around 2000-2500TL/month
ADVICE FOR PROSPECTIVE TEACHERS IN ISTANBUL, TURKEY
What advice would you give someone planning or considering teaching abroad? Would you recommend teaching in your country?
I would definitely recommend Turkey. Just do it!
A native of Brisbane, Australia, Leisa was looking to escape the corporate grind when she took ITA's online TEFL course and headed to Turkey to teach in the historic city of Istanbul. "I visited Turkey in 2011 and fell in love with Istanbul, so decided to come back!"
Want to Learn More About Teaching English Abroad & Online?
Request a free brochure or call 773-634-9900 to speak with an expert advisor about all aspects of TEFL certification and teaching English abroad or online, including the hiring process, salaries, visas, TEFL class options, job placement assistance and more.