Teaching English in Istanbul, Turkey: Alumni Q&A with Ayni Hailicka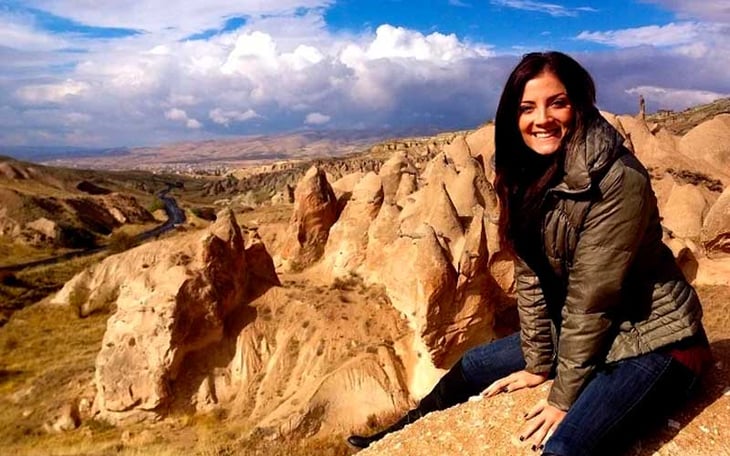 What is your citizenship?
United States
What city and state are you from?
Butte Falls, Oregon
How old are you?
22
What is your education level and background?
Bachelor's Degree
Have you traveled abroad in the past?
Some international travel with friends, family, business, etc.
If you have traveled abroad in the past, where have you been?
Mexico, Guatemala, Belize, Greece, Italy, France
What sparked your interest in going to teach English in Turkey?
I had a close friend who taught English in Spain post college graduation. I was living vicariously through him as I sat at my office desk flipping through his pictures. It didn't seem fair that he was having so much fun and making money at the same time. It didn't take much thought for me to take the next step and buy my plane ticket to Turkey.
What were some of your concerns before teaching abroad in Istanbul?
I was concerned about the amount of money I'd make and how I'd meet people, but neither of those are worries now.
What did your friends and family think about you moving and teaching English in Turkey?
"Turkey?! Why the heck would you choose Turkey?" was the most popular response. To which I replied, "Why not?"
Why did you decide to get TEFL certified and choose International TEFL Academy?
The friend I mentioned above received his certification through ITA, so he recommended it to me. I also spoke with an ITA admission advisor named Ian Davis who answered all my questions and was always prompt to respond to my inquiries. That proved to me that it was a responsible organization that would be a great ally during my transition from college graduate to English teacher.
Which TEFL certification course did you take?
Turkey - Istanbul TEFL Course
How did you like the course?
On my first day of the course, I was surprised to find only three other students in the class. Initially I was upset by the small class size, but it turned out working to my advantage. I had a lot of one-on-one time with my instructors and our group grew very close together during those four weeks. The course itself was well-organized and very professional. The work load was reasonable and I never felt overloaded or stressed because they gave us plenty of time during class hours. The most beneficial part were the teaching hours. I had zero teaching experience prior to arriving here, so I learned a lot about how to conduct myself and execute lessons in a beneficial way for my students.
How has your TEFL training helped you in your current teaching position?
Undoubtedly, I would not have been prepared to teach students in an effective way if I had not received my certification. Being a native speaker is both an advantage and a disadvantage. The course taught me how to analyze the English language so I'm more aware of why we communicate the way we do. I also learned a lot about classroom management and lesson planning that I could not have learned on my own.
Which city and country did you decide to teach English in and why?
I decided to teach English in Istanbul, Turkey.
How long have you been teaching English in Turkey and how long do you plan to stay?
Six months and I plan to be here for another six months.
How did you secure your English teaching job in Turkey?
I'm working part-time at a language school and private tutoring the rest of the time. I found all my jobs through networking. I've never actually "applied" for a job.
What school, company, or program are you working for?
I'm teaching part-time at Kent English and private tutoring.
How did you get your work visa? If you didn't get a work visa, please elaborate on working under the table without a work visa.
Because I'm not working full-time for a company, I wasn't able to secure a work visa. I have my residence permit and although I'm not technically "legal," I haven't had any problems working under the table. It was incredibly easy to get my residence permit and they didn't ask me any questions about how I would spend my time here in Turkey, so I didn't have to lie. The best part of not having a work visa is that all my money is tax-free!
Tell us about your English teaching job in Istanbul!
Hours- My schedule changes each week, but generally I teach 20-30 hours a week. I get to choose my hours, so if I want to go on vacation or spend time with friends who are visiting, I simply reschedule my classes for another time.
Salary- I charge between 25-50 lira ($12.50-$25) per hour depending on many factors (type of lesson, travel distance, amount of lessons each week, etc.). But as I gain more experience, I can charge more for private lessons.
School- I work 10 hours per week for a private language school and the other 10-20 hours teaching private lessons around the city.
Students- I teach students between 6-60 years old, so I have a wonderful mix of kids, high school students, college students and professionals. Although I love children, I definitely prefer teaching adults because they WANT to learn English so they're dedicated and excited to learn the language.
Vacation- I have vacation time whenever I choose. I've been to Barcelona and Estern and Southern Turkey and spent a week in France. I will go to Prague/Munich for 10 days this month and will return to America for 10 days shortly after.
Other- Even though I really enjoy having a flexible schedule, that also means that my income isn't steady. When I don't work, I don't get paid. I've had many instances when my students go on extended vacations, cancel class the day of the lesson or simply want to take a month-long break. It's difficult for me to fill these spots, so sometimes money can be tight if I don't plan ahead.
How did you find somewhere to live and what is it like? Do you have roommates?
I've lived in several places around the city, and in most instances, I used craigslist.com to secure my housing situation. In my experience, the apartments aren't very modern, so you'll have to dig a bit to find something comparable to the states. I finally found a flat I love in a great part of the city. My roommate is a 31-year-old flight attendant and she's overflowing with Turkish hospitality. It's great because she's Turkish, so I help her with English and she helps me with Turkish.
Please explain the cultural aspects, public transportation, nightlife, social activities, food, expat community, dating scene, travel opportunities, etc. about your country:
Cultural aspects: I had never been to a Muslim country, but I was pleasantly surprised to find that while Islam is an important part of the culture, it's not as blatant as I expected. You'll see women in headscarves and hear the Call to Prayer five times a day, but I can still dress how I want to dress and have open conversations about religion.
Public transportation: The public transportation in Istanbul is easy to use. They have buses, subways, trams, trolleys, minibuses and taxis. I mostly use the buses and I can always get to wherever I need to be with little effort. The worst part is the traffic, but you can learn to plan around rush hours.
Nightlife: The nightlife is much different than in America -- but in a good way! Generally people don't go out until about midnight because the bars/clubs stay open until 6 a.m. You can find a wonderful mix of fancy clubs, dive bars, pub-style bars and live music events. The main difference between here and America is that it's rare to find "raunchy" dancing or excessively drunk people. If you do find those, the person is probably a foreigner. At least that's my experience.
Social activities: I think the most common social activity is drinking tea. That sounds silly, but it's true. Most people will meet at Starbucks or other coffee shops to sip on "cay" (Chai) along the Bosphorus and chat about life. I also go to the movies frequently (in English with Turkish subtitles) and venture to new parts of the city.
Food: I love Turkish food! It's more simple than American food (not many sauces or spices), but it's delicious nonetheless. My main diet is chicken, rice, meatballs, soup, nuts, vegetables and fruit. My main complaint is that it's kind of difficult to find non-Turkish food, but it does exist.
Expat community: I have a large group of friends here. Mostly Turkish, but I also have friends from Iran, Belgium, Bulgaria, Holland, England, Canada and America. I meet most people through networking and being willing to meet with anyone whose paths I cross.
Dating scene: In my experience, Turkish guys love American girls, so watch out, ladies! That being said, the Turkish guys are incredibly sweet and chivalrous. They can be a bit clingy for my liking, but it just depends what you like.
Travel opportunities: It's quite easy to travel around the country via short flights or overnight buses. Also, Istanbul is centrally located, so it's easy to book a flight to virtually anywhere for a decent price.
What are your monthly expenses?
I plan my whole life around a budget, so here you go:
-Rent+utilities: 700TL/$350 (I'm in one of the nicest areas of the city)
-Food: 400TL/$200 (I don't know how to cook, so I usually eat out)
-Social activities: 400TL/$200 (I like to always be busy, so this is a liberal amount)
-Transportation: 300TL/$150 (I travel all around the city for my lessons, so this isn't typical)
-Cell phone: 75TL/$35 (I have an iPhone with an internet plan)
TOTAL: I generally spend about 2000TL, but I make about 3000TL. This is a very liberal budget.
How would you describe your standard of living?
In general, my standard of living is about a 7/10.
In your opinion, how much does someone need to earn in order to live comfortably?
You can definitely live on about 1250-1500TL ($ 615- 735 USD) if you're more strict with your spending than I am.
What advice would you give someone planning or considering teaching abroad? Would you recommend teaching English in Turkey?
I say go with your gut. That's what I did. You're probably going to overthink everything and psych yourself out. If you are even remotely interested in teaching abroad then I think you should do it. Just remember it's not permanent. I don't know anyone who has regretted taking that leap of faith.
Without a doubt, I would recommend teaching English in Istanbul. I've had a fabulous experience here and would love to have everyone see the true colors of Turkey.
ITA alumni Ayn-Marie is from Oregon and took her TEFL course in Istanbul, Turkey. She then went on to teach English in Turkey.
Want to Learn More About Teaching English Abroad & Online?
Request a free brochure or call 773-634-9900 to speak with an expert advisor about all aspects of TEFL certification and teaching English abroad or online, including the hiring process, salaries, visas, TEFL class options, job placement assistance and more.
"The Middle East is a very fascinating and unfortunately an extremely misunderstood area by so many. In a lot of ways, it's an extremely easy place to adjust to, Western luxuries are quite accessible and almost everything is in English and Arabic."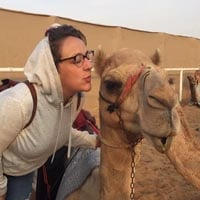 - Katie Ayers
Teaches English in the UAE