Teaching English in Ankara, Turkey: Alumni Q&A with Pouneh Eftekhari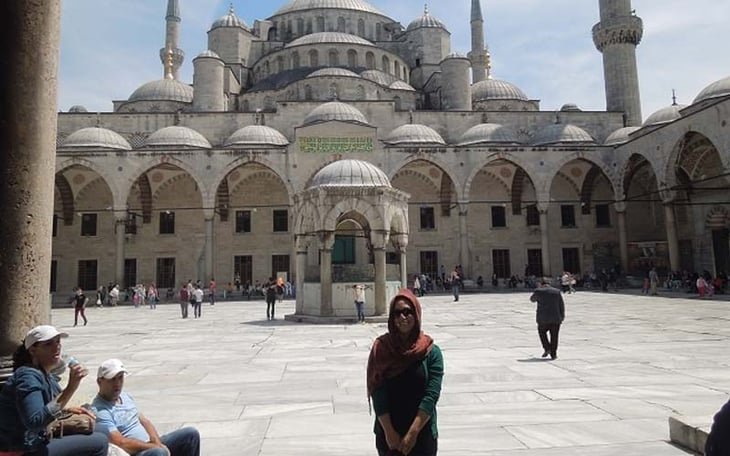 What is your citizenship?
United States
What city and state are you from?
Muskego, WI
How old are you?
29
What is your education level and background?
Master's Degree or Higher
Have you traveled abroad in the past?
Studied abroad
If you have traveled abroad in the past, where have you been?
Spain (graduate student job) & Denmark (professional job after graduation); Traveled to 23+ countries in Europe, Asia, North America and South America
If you have studied abroad in the past, where did you study?
France (Undergraduate study abroad), Spain (Undergraduate study abroad & graduate study abroad), Denmark (earned my MA from a Danish university)
What sparked your interest in going to teach English abroad?
After spending 4 of the last 10 years abroad, it was only a matter of time before I would want to head overseas again. With over 5 years of experience in adult education, it only seemed appropriate to teach adults overseas as an English teacher!
What were some of your concerns before teaching abroad?
Interrupting my current career path, saving money for my family's future.
What did your friends and family think about you moving and teaching abroad?
Everyone was (and still is) supportive; but that's not to say that there weren't many questions about the purpose of this decision and how it will impact my future.
Why did you decide to get TEFL certified and choose International TEFL Academy?
After doing extensive research online, I understood that being TEFL certified would increase my chances of being hired by a reputable company, earning a high-paying and securing a quality teaching position overseas.
So, I explored my options and found the information provided on International TEFL Academy's website the most complete and reliable (I mean seriously, there is SO much good info on their site. And I would know. I read almost all of it!).
Which TEFL certification course did you take?
Online TEFL Class
How did you like the course?
The online TEFL course itself was well-balanced between theory and practice (with a very large emphasis on practice). I enjoying this because, once I stepped into an ESL classroom for my practicum, I was immediately able to apply what I had learned in the course. In addition to the content, my instructor was very accessible, friendly and knowledgeable.
How has your TEFL training helped you in your current teaching position?
Between the online TEFL course and practicum, I implement what I learned on a daily basis. From strategies for dealing with students, to answering grammar questions, I have referred back to my notes on many occasions!
Which city and country did you decide to teach English in and why?
I wanted to teach in a country with modern luxuries and ancient roots. That's how I ended up in Ankara, Turkey!
How long have you been in this country and how long do you plan to stay?
I arrived 4 months ago and plan to stay for at least a year (if not longer!).
How did you secure your English teach
Using the resources provided by International TEFL Academy, I applied for jobs online, then interviewed via Skype.
What school, company, or program are you working for?
Wall Street English.
How did you get your work visa? If you didn't get a work visa, please elaborate on working under the table without a work visa.
My contract outlined the visa application process (i.e., what the company would help with, how much of the cost is covered by the company, etc.). So far, they have kept their word and we are more than half-way through the visa process (translation: we're not working illegally and our company is very helpful!).
Tell us about your English teaching job!
Here are the facts about my work life abroad:
WORK HOURS
- I work a maximum of 33 hours a week (including prep time). A typical day is about 7 hours (6 hours prep/teaching & 1 hour for lunch).
PAY & BENEFITS
- My salary allows me to live in the most expensive neighborhood in Ankara
- I am able to save 50% of my salary each month and still eat out twice a day, go out on the weekends and travel once a month. I could probably save more if I tried, but I'm not trying that hard and it's still possible to save 50%.
- My company provides health insurance plan, paid for my flight to Ankara from the US.
- I get lunch money from my boss! Okay, not exactly, but I do get a monthly lunch allowance in the form of a credit card (accepted in many cafes, restaurants and fast food joints--including McDonald's, Starbucks, the local ice cream shop and our local sushi restaurant!) The lunch allowance is roughly $125.00/month, which is enough for 1 meal every day (sometimes more!).
- I get a housing allowance (about $150.00/month) which covers about 25% of my monthly rent (it could cover more rent if I lived in a smaller apartment; but I wanted lots of space, to live in the best neighborhood in Ankara, have internet/cable, 3 bedrooms, a balcony, etc.).
- My company helped me apply for all my visas and covered half of the cost for everything. Not to mention, they sent someone with me since I don't have a car and can't speak Turkish!
- Upon completion of my contract, I will be paid a bonus (equal to one month's salary).
SCHOOL TYPE & STUDENTS
- I work for a language school.
- All of my students are in university or professionals (i.e., lawyers, doctors, engineers, etc.).
- I love my students so much and have even been invited over to their homes for dinner!
VACATION TIME
- My contracts allows for 4 weeks of (paid) vacation. When I add up all the national holidays, it amounts to 2 additional weeks of paid vacation. (So for all you math people, that's a total of 6 weeks of paid vacation a year!)
- Although this is a Muslim country, I am given an extra day of holiday for Christmas!
How did you find somewhere to live and what is it like? Do you have roommates?
Prior to my arrival in Ankara, my employer sent me information about housing options (i.e., Turkish real estate websites) and gave me other helpful information for deciding on where to live. Upon arrival, one of my new Turkish colleagues spent several days helping me find an apartment (since Turkish was a necessity).
I currently live with my husband and a Turkish university student in a huge apartment (3 bedrooms, 2 bathrooms, 1 balcony with an outdoor fireplace, smart TV, internet, indoor fireplace, new dishwasher, new washing machine, and a lovely drying rack for our clothes!).
Please explain the cultural aspects, public transportation, nightlife, social activities, food, expat community, dating scene, travel opportunities, etc. about your country:
It's true what they say about Turkey being a great blend of ancient traditions and modern marvels. Being able to live a modern life in such a historic place is truly a gift and pleasure. I can easily catch a cab, take the metro or bus to my favorite bars and restaurants. I can choose from various cuisines from around the world (although there's no need since Turkish food is so good!). I'm able to find the latest fashion, music and movies (in English!).
Although this is a Muslim country, you wouldn't be able to tell if it weren't for the call to prayer (which is quite beautiful). My lifestyle is as comfortable (if not more) here in Ankara. I do not have to cover myself with a veil, although you see some women who do. I see people drinking, smoking, wearing very fashionable clothing and being happy.
Meeting people is also very easy since there is a vibrant and active expat community; but the real treat is meeting Turkish people. They are extremely hospitable and friendly. Strangers are always helpful and our students have invited us into their homes for dinner. As Ankara is the capital of Turkey, there are tons of festivals and events where you can learn about Turkey, Turkish culture and meet new people.
For the traveler in me, the best thing about Ankara is its location and accessibility to the rest of Turkey. A 5 hour bus ride to Istanbul costs about $25.00. A flight from Istanbul to the world-famous Cappadocia runs you about $60.00. In general, domestic transportation is super cheap, which allows me to travel every month. It won't take you a long time to identify hundreds of places to visit (sometimes I feel like the whole country is one big UNESCO World Heritage Site!)...and luckily its easy and affordable!
Although Istanbul is amazing and famous for a reason, I'm glad I don't live there. If I did, I'm not sure I would take the time (or find the time!) to explore the rest of this beautiful country. So, although I plan to visit Istanbul often, I'm happy it's a weekend detestation rather than an everyday destination.
What are your monthly expenses?
It's so cheap to live here that I don't really track my spending. My husband and I live an exciting and inexpensive life here in Ankara. And we aren't living like college students! Let me put it this way, we are able to take one 3-5 day trip each month and still save around 50% of our salary. We stay in vacation homes (rentals), fly or take coach buses and eat/drink out for all meals. We do not, at all, try to pinch pennies when we travel...nor do we count pennies when we're at home in Ankara.
If I had to break it down, my monthly spending would look something like this:
RENT (including all utilities, internet & cable): $250.00/month
FOOD & DRINK/ENTERTAINMENT: Most of my money is spent in this category...about $500.00/month (Remember that this includes the $125.00 covered by my lunch allowance). I eat out twice a day and 'go out' about 1-2 nights a week.
PUBLIC TRANSPORTATION: less than $2.00/ride (roughly $10.00/month for us. We walk to many places near our home.)
PHONE: $5.00/month, if not less! (I don't have a smartphone)
TRAVEL: This is tricky since it depends where you go and what you do. But, it's cheap. Very cheap. A one-way flight from Istanbul to Cappadocia is about $60.00. A bus (with free refreshments!) from Ankara to Istanbul is about $25.00. A vacation rental in Istanbul's hottest neighborhood with Bosphorous views runs for $250.00/room per night. A night at a Cave Hotel will run you about $30.00.
SAVINGS: $1000.00/month
How would you describe your standard of living?
Middle class/upper-middle class
In your opinion, how much does someone need to earn in order to live comfortably?
Since we are a couple, it's a bit cheaper to live comfortably in Ankara. But earning 3000-4000TL ($1500-$2000) would be more than enough to live "the good life" here.
What advice would you give someone planning or considering teaching abroad? Would you recommend teaching in your country?
International TEFL Academy was extremely helpful in making this dream a reality for me and Turkey was a great, not-so-obvious choice, I highly recommend both.
In short, I would advise all prospective English teachers the following:
- research before you decide where you want to go;
- be patient throughout the job search process;
- keep an open mind before and during your time abroad; and most importantly,
- find the right fit for you and what you want to get out of your experience abroad!
Pouneh Eftekhari, an American turned Europhile, has traveled to over 25 countries and lived in six (USA, France, Spain, Denmark, Turkey & Sweden). She is obsessed with food and travel and enjoys exploring new places near and far. Today, Pouneh and her husband live in Sweden where her husband studies and she runs her online business, Longing to Travel.
Want to Learn More About Teaching English Abroad & Online?
Request a free brochure or call 773-634-9900 to speak with an expert advisor about all aspects of TEFL certification and teaching English abroad or online, including the hiring process, salaries, visas, TEFL class options, job placement assistance and more.
"The Middle East is a very fascinating and unfortunately an extremely misunderstood area by so many. In a lot of ways, it's an extremely easy place to adjust to, Western luxuries are quite accessible and almost everything is in English and Arabic."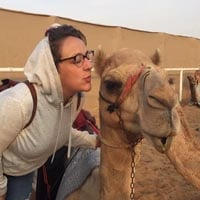 - Katie Ayers
Teaches English in the UAE