Teaching English in Sousse, Tunisia: Alumni Q&A with Erin Gold
Written By: Erin Gold | Updated: June 28, 2022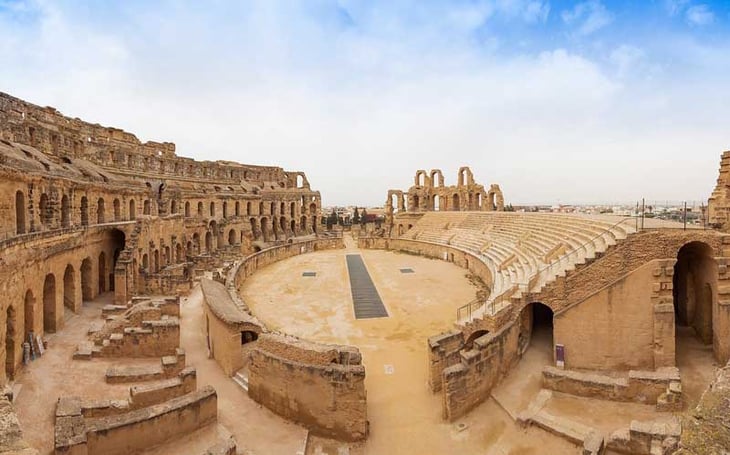 What is your citizenship?
United States
What city and state are you from?
Ann Arbor, Michigan
How old are you?
22
What is your education level and background?
Bachelor's Degree
Have you traveled abroad in the past?
I previously studied abroad
If you have traveled abroad in the past, where have you been?
Germany, Italy, England, Bosnia and Herzegovina, Ireland, Jordan, Egypt, Greece, Israel and Palestine, Turkey, Tunisia
What sparked your interest in going to teach English abroad?
As an International Studies major I knew long before graduation that I wanted to live and work abroad. However, I didn't decide on teaching English abroad until after I assisted teaching a writing course for International Students. I enjoyed the experience so much that I decided to get my TEFL certificate right after graduation. The rest is history!
Why did you decide to get TEFL certified and choose International TEFL Academy?
As I mentioned above, in the spring of my senior year I had the opportunity to assist international students improve their academic writing. I discovered that I loved interacting with people from different countries and walks of life and felt extremely rewarded when I successfully clarified grammar or stylistic point.
After doing a fair amount of research on TEFL courses, I chose to get certified with the International TEFL Academy because of all the information and feedback they will willing to provide me about their different courses and job opportunities abroad.
Which TEFL certification course did you take?
Online TEFL Class
How did you like the course?
I enjoyed the Online TEFL course because it was flexible. Even though it was taught online, I nonetheless felt that it was still extremely hands-on. This was mainly due to my instructors diligence and constant communication with my peers and me. I found most of the tasks quite informative and helpful.
I am extremely grateful that I was required to do a teaching practicum. It not only gave me the chance to practice using my newly acquired skills in the classroom, but it also gave me confidence in my abilities as a new teacher.
How has your TEFL training helped you in your current teaching position?
I believe my TEFL training fully prepared my for my current teaching position. I still refer back to some of teaching resources and ideas I came across in the course.
Which city and country did you decide to teach English in and why?
I decided to teach in Sousse, Tunisia because I wanted to teach in an Arabic speaking country.
How long have you been in this country and how long do you plan to stay?
I have been in this country for a little over 3 months. My teaching contract is for a year.
How did you secure your English teaching job?
I contacted the organization early on in my TEFL course to open a line of communication and to also gain more information about it. After I received my certificate I sent it to them in addition to my cover letter, CV.
What school, company, or program are you working for?
AMIDEAST/ Tunisia Website: https://www.amideast.org/tunisia
How did you get your work visa?
I am currently in the process of securing my permanent work visa. Upon arrival, AMIDEAST assists you with entire process.
Tell us about your English teaching job!
I get payed roughly 19.5 Tunisian Dinar an hour which is the normal rate for a new teacher. Although this amount isn't a lot if converted into US dollars, it is more than enough to live quite comfortably here in Tunisia. I would say it is a bit early to tell whether I will be able to save a large amount, but I have been told that most teachers break even. I work for a non-profit organization that specializes in offering English language classes and testing opportunities. To learn more about it I would advise visiting the AMIDEAST website. I teach children and adult classes which vary in levels. I have also had the opportunity to teach one business English class to a company that contracted with AMIDEAST. Finally, my vacation time is quite flexible as long as I work it out with my boss well in advance.
How did you find somewhere to live and what is it like? Do you have roommates?
During my first week in Tunisia, AMIDEAST assisted me in finding an apartment close to the office. I do not live with roommates, but I do live quite near to a fellow teacher. Furthermore, the area I live is well lit and safe so I have never felt uncomfortable living alone.
Please explain the cultural aspects, public transportation, nightlife, social activities, food, expat community, dating scene, travel opportunities, etc. about your country:
There are a lot of cultural differences between the US and Tunisia; however if you have lived in a Middle Eastern country before you should adjust quite quickly. Even if you have never been to the Middle East it isn't impossible to adjust, but the culture shock might be a little overwhelming at first. Knowing French or Arabic will make the adjustment easier because you won't have worry about the language barrier.
There is a lot of different types of transportation here in Sousse, but I would say taxis are the most popular. Most food here is quite cheap and you can get vegetables and fruit fresh. The biggest downside though is you can't find a lot of "American foods" like peanut butter or cheddar cheese. Also, food that is imported from Europe is quite expensive.
As for the Expat community, it is quite small in Sousse and mostly made of British Expats. I think I am one of a dozen Americans living here. However, in Tunis, the capital there are far more Americans.
In the summer the main social activity is to go to the beach. Sousse has some of the best beaches in the entire Mediterranean! As for the night life there are several clubs in Sousse and many hotels that have nice bars and restaurants. Many Tunisians like to meet and hang out at cafés as well.
What are your monthly expenses?
Rent varies depending how big your apartment is and what part of town it is in. Buying groceries are pretty cheap as long as they aren't imported. Eating out varies depending the type of restaurant you go to just like in the US. Transportation costs aren't that expensive either, but you have to be careful to get ripped off by the driver. You can also save a lot by taking a little extra time to walk. You can travel around most of Tunisia without spending an arm and a leg, but traveling outside the country can be quite expensive.
How would you describe your standard of living?
Decent for an expat.
In your opinion, how much does someone need to earn in order to live comfortably?
900-1000 Dinar a month (Approximately $560-$630 USD)
What advice would you give someone planning or considering teaching abroad? Would you recommend teaching in your country?
No matter where you are thinking of teaching my advice remains the same: go into it with as little expectations as possible. I would recommend Tunisia if you are interested in the Middle East or North Africa. However, as I mentioned before, it might be hard for someone with no prior background in the region to adjust.
As an International Studies major, Erin knew long before graduating that she wanted to live and work abroad. However, she didn't decide on teaching English abroad until after she assisted in teaching a writing course for International Students. Erin enjoyed the experience so much that she decided to get her TEFL certificate right after graduation and teach English in Sousse, Tunisia because she wanted to teach in an Arabic-speaking country!
Want to Learn More About Teaching English Abroad & Online?
Request a free brochure or call 773-634-9900 to speak with an expert advisor about all aspects of TEFL certification and teaching English abroad or online, including the hiring process, salaries, visas, TEFL class options, job placement assistance and more.