diversity abroad
Teaching English in Salaya, Thailand: Alumni Q&A with Alexander Dominguez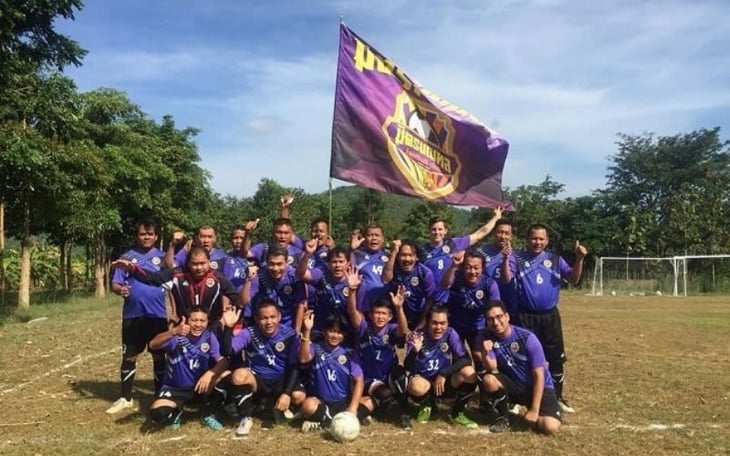 TELL US ABOUT YOURSELF
What is your citizenship?

United States

What city and state are you from?

White Plains

How old are you?

26

What is your education level and background?

Bachelor's degree
Have you traveled abroad in the past?
Studied abroad

If you have traveled abroad in the past, where have you been?
Colombia, Panama, Italy, Spain, France, Canada
If you have studied abroad in the past, where did you study?

Buenos Aires, Argentina

What sparked your interest in going to teach English abroad?

Too many road trips as a traveling salesman, too much normalcy, too much Déjà vu in my everyday life. Not to sound cynical but when I started to guess how days, weeks, and months were going to turn out and my predictions turned out to be true, I knew I needed a change. I had finished college and was working in a unrelated field as a traveling salesman; I did this for four years, waiting for my epiphany, thinking that things would change on their own. Eventually, it became brutally evident that things weren't going to change without my input, so after thanksgiving dinner that year, I sat down, opened my phone and googled my first ambition; "careers that allow you to travel," teaching English abroad was the first thing that popped up, and in only 0.86 seconds, not a second too soon.

What were some of your concerns before teaching abroad?

"Can I really make money like this? Am I just fooling myself to go on vacation? How likely am I to be held for ransom? Does polio still exist?" Those were just a few of the questions rattling in my head as I thought about teaching abroad. Money, purpose, and safety were always rattling in my mind; my concerns about all three keep me up at night more than once.

What did your friends and family think about you moving and teaching abroad?

It was 50/50. Family and friends were cautiously optimistic about my career prospects; some worried about my safety; others worried if it was financially viable; and more thought it was just a phase, but most thought this was exactly what I needed to get out of my rut. My loved ones saw how this idea of me teaching abroad reinvigorated me to life and supported me wholeheartedly after seeing how it changed me.


TEFL CLASS INFORMATION
Why did you decide to get TEFL certified and choose International TEFL Academy?

After doing a fair amount of research I realized my resume wasn't marketable enough, even with a background in education. I knew if I wanted really great positions teaching English abroad, I needed a way to stand out and any advantage I could get, so I read blogs, forums and Q&A's on the matter, and found that getting TEFL certified was the best way to move forward. When I looked online for credible organizations to be TEFL certified, I found the International TEFL Academy, which after contacting over the phone and researching, was plainly the best option available.
Which TEFL certification course did you take?

Online TEFL Course

How did you like the course?

My online TEFL course was definitely a prerequisite for the work necessary for the job ahead, but with the support of my very understanding and always available instructor, my time spent working on the course felt like a breeze. Everything from the homework to the practicum was very insightful and detail oriented; one assignment that sticks to mind was the implementation of TPR (Total Physical Response) in the classroom to engage a class which was a definite skill to learn for teaching.

How has your TEFL training helped you in your current teaching position?

My TEFL training built the foundation for my work teaching English abroad, from confronting the idea of standing in front of a class while keeping the class' attention to best preparing a lesson plan with time. Overall, my TEFL training helped prepare me for the classroom environment and the culture clash both in work and in free time.


Which city and country did you decide to teach English in and why?

I decided to teach English in Thailand in the city of Salaya. Thailand felt exciting and new, as I've never been to Asia and never to a country even remotely like Thailand. Thailand felt appropriate as a new start for me, in a new world that I knew almost nothing about, plus Thailand being one of the most adventure friendly places on the planet didn't hurt either. From the scuba to the wildlife to the geography, everything about Thailand felt like the right place to be for excitement as well as teaching.
How long have you been in this country and how long do you plan to stay?

I have been in the country for about six months, and plan on staying another six months whenever possible.

What school, company, or program are you working for?

SINE Education

During which months does your school typically hire?

October, March, April

Did you secure this position in advance of arriving?

No

How did you interview for this position?

Skype/phone interview

What kind of Visa did you enter on?

Work Visa

Please explain the visa process that you went through.

I had to contact the royal embassy via mail. I also had my personal documents and accolades notarized. All the while I had a criminal background check done and little paperwork and that was about it; when done it took about a week or two to complete.

What are the qualifications that your school requires for teachers? Please check all that apply

- TEFL Certification
- Native speaker
- Bachelor's degree

What is the best way to apply?

Email
Tell us about your English teaching job!

Hours: My English teaching job was 22 hours a week, with each class coming close to being about 50 minutes each.
Pay & savings: The pay was a monthly rate of about $1100 USD, with living costs and rent each month I had about $400-$500 left over to save.
Type of school: I worked for a government high school teaching students varying from age 14-18, obviously all teenagers.
Vacation time: In a complete school year there are three months of vacation, with two months in the spring and a month off in the fall.
Other: Overall the school was very welcoming with the staff always giving a very courteous greeting and a wide smile for any and all social interactions, nicest people you'll ever meet.

How did you find somewhere to live and what is it like? Do you have roommates?

Fortunately for me, most living spaces for expats and students alike around my assigned school where close together and very easy to compare and contrast especially since the location is a big college town with plenty of foreigners. I just spent one day going to most apartment buildings in the area, and was given a tour and price for each apartment; it didn't take much time to pick one. My apartment building came with a gym and pool, and my apartment is modern (with a TV), spacious, and made for two roommates though it was affordable enough for me to live alone, like I wanted.
COUNTRY INFORMATION - FUN!
Please explain the cultural aspects, public transportation, nightlife, social activities, food, expat community, dating scene, travel opportunities, etc...
Cultural aspects: Thailand is one of the most friendliest, welcoming, and peaceful countries in the world in my humble opinion. Culturally the people value peace the most, as seeing almost any confrontation is rare and typically is caused by a tourist.
Public transportation: The Thai rely on buses, taxis and mopeds primarily, typically depending on the part of Thailand you're in.
Nightlife: If you're in Bangkok or any other major city, the nightlife is legendary with clubs and bars running in full swing with locals and expats a plenty though full disclosure nightlife can get sketchy but not particularly hostile as you'll rarely be alone anywhere.
Social activities: If you're not near a city, activities during the day and night consist of surveying food markets with exotic foods, from fruit to insects. If you're by the coast, your life is the beach, swimming, snorkeling etc. otherwise long walks in town and in the landscape is always recommended.
Dating scene: The dating scene in Thailand is very active though you'll most likely be looking for dates through Tinder rather than meeting people off the street, as Thai women can be very shy. I can't really speak for meeting Thai guys, but it seems to be the same deal.
Travel opportunities are easy as traveling by bus, taxi, and domestic flights are cheap, quick and easy, though you'll typically have to get tickets in person rather than online. I recommend visiting Chang Mai to the north and Phuket to the south for the most interesting parts of the country to visit.
COUNTRY INFORMATION - MONEY
What are your monthly expenses?

Rent was about $250
Food: Monthly food budget was easily under $100 as long as you ate local
Social activities are usually from $100 to $150
Transportation is under $100
Phone plan was $30
Travel was about $50.

How would you describe your standard of living?

I would say my standard of living is a lot higher than I initially expected with almost all modern conveniences from home being present here in one form or another. My apartment is up to par to one I would expect in the states; TV, sink, double bed, running water, shower with warm water, desks, and available Wi-Fi. The only major change would be food available, but that's not to say it's less in quality but rather personal taste.

In your opinion, how much does someone need to earn in order to live comfortably?

A monthly income above $1000 USD will do it, though you won't be able to save much honestly.


ADVICE FOR PROSPECTIVE ENGLISH TEACHERS
What advice would you give someone planning or considering teaching abroad? Would you recommend teaching in your country?

I can't recommend teaching Thailand enough. It's a magical country with a lot to offer for just about everyone. The best advice I'd give is to pick the cheapest apartment in whatever location you choose; you'll know you're living in Thailand right when you're only in your apartment to sleep.
Alexander is from White Plains and took ITA's Online TEFL Course. He studied abroad in Argentina before taking the plunge to teach English in Thailand.
Want to Learn More About Teaching English Abroad & Online?
Request a free brochure or call 773-634-9900 to speak with an expert advisor about all aspects of TEFL certification and teaching English abroad or online, including the hiring process, salaries, visas, TEFL class options, job placement assistance and more.