teach english online
Teaching English Online from the USA - Alumni Q&A with Asha Juma
Written By: Asha Juma | Updated: July 19, 2021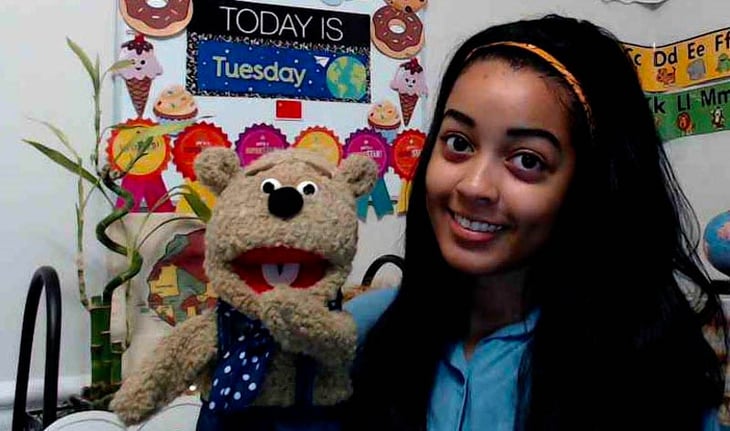 What is your citizenship?
United States
What city and state are you from?
Virginia Beach, Virginia, USA.

How old are you?
25
What is your education level and background?
Bachelor's Degree
What sparked your interest in teaching English online?
First and foremost, I absolutely adore kids and teaching! Though I originally wanted to teach abroad, teaching English online seemed like the most convenient way for me to begin using my TEFL certificate. The opportunity to work from the comfort of my own home was a difficult one to turn down! .
Why did you decide to get TEFL certified and choose International TEFL Academy?
When I was in my university's teaching program, I was leaning towards traveling after graduation and taking a "gap year" before teaching full time. However, I knew I truly did not want to remain in the United States after college, so I did some research. I found the International TEFL Academy through a quick internet search back in 2017 and immediately met with one of the amazing advisors over the phone. Thanks to ITA's helpful staff, I have been guided right where I need to be.
Which TEFL certification course did you take?
I took the 11-week online TEFL course.
How did you like the course?
I have to admit, I initially thought the online course would mean missing out on the full learning experience and personal connections. I was pleasantly surprised by how my instructor, Emily Ricklefs, made us all feel right at home throughout the entire course. Our class had weekly assignments and discussions which helped us connect, share our ideas, and share our practicum experiences with each other.
In addition, I decided to organize part of my practicum in-person, so I could get a feel of what it would have been like if I took one of the ITA courses abroad. I observed in a community college right here in my hometown and it was absolutely wonderful to participate in an adult ESL learning environment with students from so many different backgrounds. It was truly an unforgettable experience.
Overall, the best part about taking the course online was that it taught me just how much I could accomplish independently with my credentials and a pending TEFL certificate.
How has your TEFL training helped you in your current teaching position?
My training with the International TEFL Academy has been so valuable and critical in shaping me into the confident teacher I am today. Something we focused on a lot during our lesson planning was outlining how we'd teach the "learning phases." In the ITA lesson planning rubric we had to cover "presentation," "practice," and "production." It is very similar to the outline of our learning objectives at VIPKid and GoGoKid which are typically summarized as "Teach, Practice, Assess" (TPA).
The training at ITA also really helped me discover that teaching doesn't always have to be rocket science. It can be really fun, therapeutic, and there is really no limit on creativity when planning and teaching English!
What company do you teach English online with?
I currently teach with VIPKID and GoGoKid.
What qualifications are required to teach English with VIPKID and GoGoKid?
Bachelor's Degree, TEFL Certification, Native English Speaker.
Please briefly explain the application and hiring process for VIPKID and GoGoKid:
For GoGoKid - The hiring process is very simple when broken down. You will need to provide basic Information to be considered for an interview. The interview can take place live. You will teach a demo lesson with an experienced GoGoKid teacher pretending to be a student. However, due to COVID-19, there may be a shortage of live interview slots and some demos might have the recording option. After the demo lesson/interview, you will have the orientation video and quiz. Then, there will be two live training sessions (one on one and one to many). Finally, if all of these stages are passed, you will be invited to upload documents, undergo a background check, and sign the contract!
Do you teach from home or abroad?
I currently teach online from home.
How long have you been teaching English online?
I have been teaching online for just over a year now.
How many hours on average a week do you teach online and what is your time commitment outside of teaching classes?
I teach online between 10 and 15 hours a week! I spend less than 2 hours per week on planning and preparation.
How much money do you make teaching online with VIPKID and GoGoKid?
I teach part-time, so a typical work week for me is between 10 and 15 hours. At both companies, I have a set base pay. Then, each company adds in the incentives which brings me to $19 an hour at VIPKid and $21 an hour at GoGoKid meaning I'm making anywhere between $200-$300 per week.
Which age groups do you work with and what props/tools do you find most useful when teaching online?
I work with students from ages 3-16. Each student is very different, but they always love when I personalize their experience by writing their name on the whiteboard before class :). My most used props are my puppet, whiteboard, markers, and magnetic stars, ice creams, and pizza!
How do you consider cultural differences when teaching online? Does this influence your teaching style?
I have learned that you really just need to read the room and get a feel of what energy there is. Some lesson topics require us to stop and think about what differences there are between our culture and the students culture. It is important to always consider listening to the student and keeping an eye on their expressions and moods when we teach certain topics.
How does VIPKID and GoGoKid review your performance? Are there rewards for having great reviews?
VIPKid ratings are in apples and GoGoKid's are in stars. The more 5-star reviews you have, the more likely you are to have bookings from parents and an incoming influx of new students :).
How has your ITA TEFL certification helped you with teaching online?
My certification has helped me a lot in the hiring process. Most companies have their own TEFL certification requirements in place now, and having my TEFL already really expedited the hiring process for me.
What is your favorite thing about online teaching?
It's a tie between the adorable and sweet faces I get to teach everyday, and the fact that I can work in my pajama pants!

Would you recommend teaching English online to others? Why?
I highly recommend teaching English online to anyone who wants to work from home and to anyone who wants to have the freedom to travel. Teaching English online is one of the most flexible types of work that currently exists and I think it's one of the coolest and rewarding jobs I have ever had!

After taking ITA's online TEFL course, Asha started teaching English online from her hometown of Virginia Beach. She's been teaching online for over a year now and has worked with three different online schools, but currently is only teaching with VIPKID and GoGoKid. Asha loves the daily freedom this lifestyle provides her with and the joy her students bring into her life each morning.
Want to Learn More About Teaching English Abroad?
Request a free brochure or call 773-634-9900 to speak with an expert advisor about all aspects of TEFL certification and teaching English abroad or online, including the hiring process, salaries, visas, TEFL class options, job placement assistance and more.