Teaching English in Kaohsiung, Taiwan: Alumni Q&A with Derek McDunn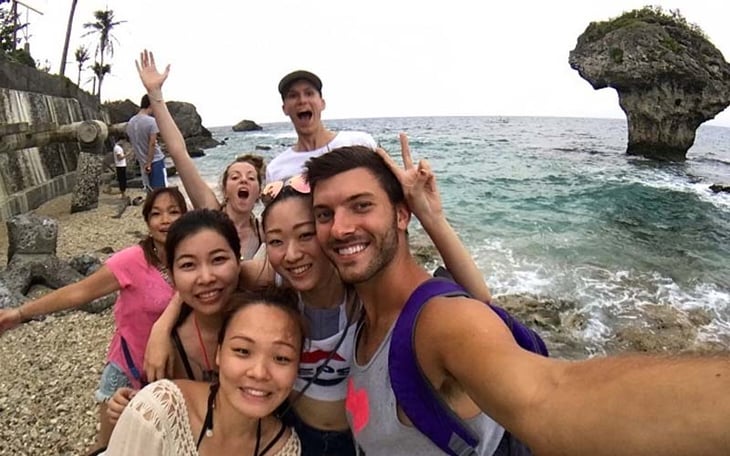 What is your citizenship?
United States
What city and state are you from?
Burleson, Texas
How old are you?
22
What is your education level and background?
Bachelor's Degree

Have you traveled abroad in the past?
Some international travel with friends, family, business, etc
If you have traveled abroad in the past, where have you been?
Bahamas, Mexico, Dominican Republic, Jamaica.
What sparked your interest in going to teach English abroad?
I was nearing the end of my college life, and I did not know what I wanted to do. All I knew was I wanted to do something extremely exciting and different. To me, it basically meant I wanted to live in another culture. I wanted to experience true culture shock and change myself through that type of experience. I was doing loads of online research to find the easiest ways new college graduates can live abroad. I kept stumbling upon teaching English, and it seemed pretty straightforward, and a large number of people have done it, are doing it, and seemed to be having amazing experiences- exactly what I wanted!
What were some of your concerns before teaching abroad?
Arriving within the country and every possible thing going wrong, my experience failing, running out of money, etc.
What did your friends and family think about you moving and teaching abroad?
My parents were really supportive through the experience. They knew I was putting in so much time and effort into setting myself up for success, so it made them realize how serious I was about it, which made them feel better.
Why did you decide to get TEFL certified and choose International TEFL Academy?
I decided to get TEFL certified because all of the research I was doing was saying it is extremely beneficial to be certified—beneficial by helping you be a better teacher and many more opportunities in finding a job. I chose International TEFL Academy because all of the online research I did about the company, plus reading people's personal experiences, made it seem to be the perfect option!
Which TEFL certification course did you take?
USA - Chicago TEFL Course.
How did you like the course?
First off, I fell in love with Chicago. I was so sad to leave - such an awesome city! The course was much more intensive than I was expecting. The instructors were insanely knowledgeable on every detail pertaining to the English Language. They were really personable and truly wanted us to be good teachers. We learned how to construct a lesson plan, and I learned so much about the English language. The practicums were really cool - there would be foreigners that would come in for free language lessons, and I would be their teacher. We would have certain grammar points to teach along with a topic for each lesson.
How has your TEFL training helped you in your current teaching position?
I walked into the TEFL course having basically zero teaching experience to standing in front of a classroom full of 18 eleven year olds. It helped a lot! I learned a different perspective—that of a foreigner learning my native language, how to construct a lesson plan, etc.

Which city and country did you decide to teach English in and why?
I chose to teach English in Taiwan in the city of Kaohsiung because it is a tropical island; the language is Mandarin Chinese (beneficial language to learn), good market for teaching (money), connected with some people via Facebook that were currently in the city, and they had nothing but great things to say.
How long have you been in this country and how long do you plan to stay?
Today marks my fourth month! I am not planning on staying longer than a year.
What school, company, or program are you working for?
Genius English School.
During which months does your school typically hire?
They hire year-round.
Did you secure this position in advance of arriving?
It was basically secured, but no contract was signed until I arrived in the country.
How did you interview for this position?
- Skype/phone interview
What kind of Visa did you enter on?
Tourist visa
Please explain the visa process that you went through.
I came here as a tourist, so I showed them my passport and proof of me leaving the country (departure ticket and date), got my passport stamped, and now I am living here! Once I signed my contract, my school had me go to a hospital within the city to do a health check (blood tests, weight, height, etc.), then I was in the process of getting my ARC (Alien Resident Card). Once I received my ARC, I became a legal working resident!
What are the qualifications that your school requires for teachers? Please check all that apply
- Bachelor's degree
- TEFL Certification
- Native English speaker
What is the best way to apply?
- Email
- In-perso
Please include any application resources (website, email, etc.) or other information here:
I found all of my resources through people on Facebook. It's the easiest way to do it in my opinion!
Tell us about your English teaching job!
I work 20.5 hours a week; I get paid 620NTD ($19.84 USD) per hour. Yes, I am able to save quite a bit (easily around $800 USD per month). My rent is a little over $200 USD per month, which is basically nothing, so lots of room to spend and save. I teach four classes (two hours per class). My students ages range from 3-12 years old. I work for a cram school, which is basically an extracurricular school that the students' parents enroll them in after their normal Taiwanese school. I have so much free time! The earliest I go into work is at 2pm and the latest is 4:50pm. I have the morning/afternoon to explore sleep in, etc.
How did you find somewhere to live and what is it like? Do you have roommates?
I relied heavily on connections I made with people prior to arriving in the country. I made a great Taiwanese English teaching friend over Facebook who was a life saver with translating and navigating me around. I found a place to live within a week of me arriving in the country. It is a studio apartment really close to the MRT station and not far from school.
On a scale of 1 - 10 please rate your experience with this school.
8
Please explain the cultural aspects, public transportation, nightlife, social activities, food, expat community, dating scene, travel opportunities, etc...
Taiwanese culture is such a drastic difference from American. The food, the streets, the people... everything is different. The weirdest and most difficult thing to cope with, here, is being a foreigner. People stare like no other sometimes. I've had people come up and ask to take pictures with me or secretly take pictures of me, children staring at me like I'm an alien, etc. However, the people here are so unbelievably kind, not because they want money, but because of the kind nature of the culture.
Public transportation here is awesome. Being from Texas, I am not used to trains and busses, etc. The MRT is in English and is extremely clean and much more modern than anything I have seen in the US, especially compared to the train in Chicago. There are plenty of bars and clubs here. The food is really good, if you like rice and noodles! There are plenty of options to have Western food and other types of Asian (Thai, Vietnamese). I have met s o many amazing expats since I have been here. It seems to be an instant connection with most people that you meet, and a specific type of personality that travels abroad, so I find it really easy to make many friends!
There's plenty of travel opportunities to small Taiwanese islands around the coast of the mainland and the surrounding countries as well. I will actually be going on a 16 day trip down the coast of Vietnam and ending in Cambodia next month!
What are your monthly expenses?
Rent: 6700NTD which is $214 USD.
Utilities: 1100NTD ($35 USD)
Food: is so cheap, you can easily eat a meal here for around 100NTD ($3.2USD)
Social Activities: This is the most expensive part of living here; if you go to bars and Western restaurants, you will find the same prices you would find back in the US.
Transportation: The MRT is really cheap (around $1 USD) per use (also dependent on how far you take it)
Phone: I pay 800NTD ($25 USD) per month and have unlimited data!
How would you describe your standard of living?
I live very freely here; I buy whatever I want and save money too.
In your opinion, how much does someone need to earn in order to live comfortably?
I would say around 40,000NTD per month ($1300 USD)
What advice would you give someone planning or considering teaching abroad? Would you recommend teaching in your country?
Do it! You won't regret it. It is a life changer in every good way possible. Do research about everything. Make as many connections as you can; join as many Facebook groups as possible that would benefit you and connect you with people who can help you. Do not be afraid! Do not be afraid of failure! Do not be afraid to put yourself out there.

As college life was coming to an end for Derek, he realized he had no idea what he wanted to do other than have it be extremely exciting and different. To him, that meant living in another culture and experiencing extreme culture shock. After doing some research, he found that getting TEFL certified and teaching English abroad was the easiest way new college grads could live abroad while making money. The rest is history. Derek moved to Kaohsiung, Taiwan to teach English.
Want to Learn More About Teaching English Abroad & Online?
Request a free brochure or call 773-634-9900 to speak with an expert advisor about all aspects of TEFL certification and teaching English abroad or online, including the hiring process, salaries, visas, TEFL class options, job placement assistance and more.