Maribor, Slovenia English Teaching Q and A with Jacqueline Dobson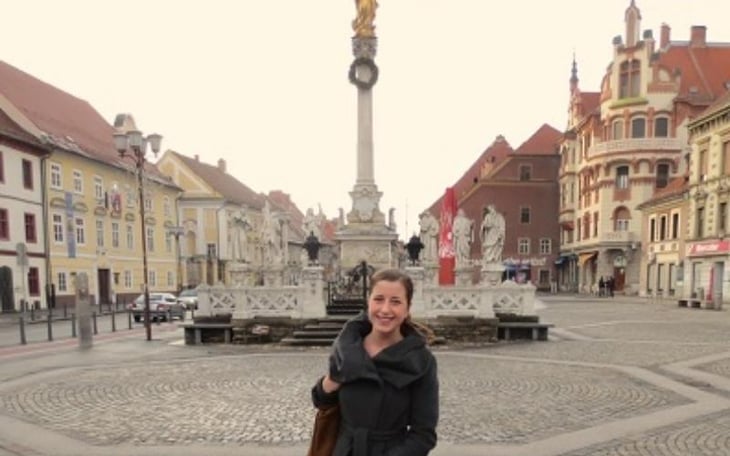 TELL US ABOUT YOURSELF
What is your citizenship?
Canada
What city and state are you from?
Toronto, Oakville
How old are you?
23
What is your education level and background?
Bachelor's Degree
Have you traveled abroad in the past?
Some International Travel with friends, family, business, etc.
If you have traveled abroad in the past, where have you been?
United Kingdom, Ireland, Slovenia, Italy, United States, Croatia, Greece
What sparked your interest in going to teach English abroad?
After travelling to Slovenia this summer, immediately upon returning to Toronto I wanted to go back as soon as I could for a long term amount of time. Teaching English by native speakers is employment that is in demand in Slovenia- so I decided to pursue my TEFL certificate to make me closer in achieving my goal of going back to Slovenia.
TEFL CLASS INFORMATION
Why did you decide to get TEFL certified and choose International TEFL Academy?
I decided to get my TEFL certificate so I was a more desirable candidate to teach English abroad.
I chose International TEFL Academy because of it's online course start date met my needs (they start every 2 weeks), and their lifetime job assistance.
Which TEFL certification course did you take?
How did you like the course?
I liked the Online TEFL course because it was really easy to work at your own pace. The instructor was quite knowledgeable and answered my questions very quickly.
How has your TEFL training helped you in your current teaching position?
Though the TEFL certificate is not required to teach at Berlitz, the experience I gained through my practicum has made me very comfortable teaching. The experience I gained from my course and practicum of creating lesson plans has been vital in helping me create very effective lesson plans.
TEACHING ABROAD IN MARIBOR, SLOVENIA
Which country did you decide to teach English in and why?
Slovenia - because of my great experience traveling here in the summer.
How long have you been in this country and how long do you plan to stay?
I have been here for 3 weeks - my visa is for 1 year, but because of my Slovenian heritage I can apply for citizenship after 1 year.
How did you secure your English teaching job?
By applying online and two successful Skype interviews.
How did you get your work visa? If you didn't get a work visa, please elaborate on working under the table without a work visa.
Because I am Canadian, I was able to secure my work visa through the Youth Mobility Program with Slovenia.
Tell us about your English teaching job!
Work hours: 18 - 30 hours/ week
Pay: Average of 1000 euros/month, which is very sufficient to live and travel
Save: After travelling, not very much. The year teaching is more about the experience, not for saving money.
Type of school: Berlitz
Students: Children, adults and business professionals
Vacation time: Because teachers at Berlitz are contract workers, we can take as much/as little vacation time as we want.
Other: I am the only Canadian teacher, and I am also the youngest teacher employed at Berlitz Maribor.
How did you find somewhere to live and what is it like? Do you have roommates?
During my first week in Maribor, I stayed in a youth hostel. After my training hours, I was actively searching for apartments via student housing websites, and contacting real estate agents.
I ended up finding my apartment from using a Re-Max real estate agent, who showed me a friends apartment so it was not actually on the Re-Max website.
I live in a 1 bedroom apartment on my own. The rent is 250 euros/month, which is considerably less than renting a one bedroom apartment in Toronto.
COUNTRY INFORMATION - FUN!
Please explain the cultural aspects, public transportation, nightlife, social activities, food, expat community, dating scene, travel opportunities, etc. about your country:
Cultural aspects: Maribor was the 2012 Europe Capital of Culture, so there are tons of cultural events around the city.
Public transportation: Ample, but I live in the City Centre so everything is within walking distance. The Slovenian trains are not good because they go slowly and take at least double the time than driving.
Nightlife: Great and within walking distance. There is everything from pubs to discos, and many cafes.
Social activities: Skiing, jogging, going to bars
Food: Pizza, pasta, gnocchi, schnitzel
Expat community: All of the English teachers are expats. There is a big university in Maribor, so there are international students.
Dating scene: Very good :) Many people are intrigued by North Americans- we are seemed as exotic! All of the other English teachers at Berlitz now live here because they have married Slovenes.
Travel opportunities: Many! I am 40 minutes from Austria, and since Slovenia is a small country you can get end to end in a very short time.
Maribor is the second largest city in Slovenia. It is an amazing city: not too small, not too big and the cost of living is quite cheap!
COUNTRY INFORMATION - MONEY
What are your monthly expenses?
Rent/utilities: 250 euros/month + costs (can be 100 euros in the winter because heating is quite expensive and less than 50 euros in summer)
Food: Most meals dining out are less than 10 euros.
Social activities: Beers at the bar are 2 euros.
Transportation: Train tickets are less than 10 euros.
Phone/communication: Cell phone is 24 euros/month, and internet and cable for my apartment is 30 euros/month
Travel: Depends on where you go
How would you describe your standard of living?
Very comfortable for the amount of hours I work
In your opinion, how much does someone need to earn in order to live comfortably?
700 Euros
ADVICE FOR PROSPECTIVE TEACHERS IN MARIBOR, SLOVENIA
What advice would you give someone planning or considering teaching abroad? Would you recommend teaching in your country?
Be open minded and leave your expectations about life in your home country. Embrace all of the differences about living in a new culture, and try to immerse yourself in local activities and learn the language!
I would 100% recommend teaching in Slovenia! It is a small country but contains the Mediterranean sea, alps and an abundance of nature. The people are friendly, and the cost of living (outside of the capital) are quite low.
Jacqueline is from Toronto and took ITA's Online TEFL Course. She took a trip to Europe and visited Slovenia and shortly after returning home realized she had to go back! She then found a job teaching English in Slovenia.
Want to Learn More About Teaching English Abroad & Online?
Request a free brochure or call 773-634-9900 to speak with an expert advisor about all aspects of TEFL certification and teaching English abroad or online, including the hiring process, salaries, visas, TEFL class options, job placement assistance and more.