Teaching English in Togliatti, Russia - Alumni Q&A with Mandy Kline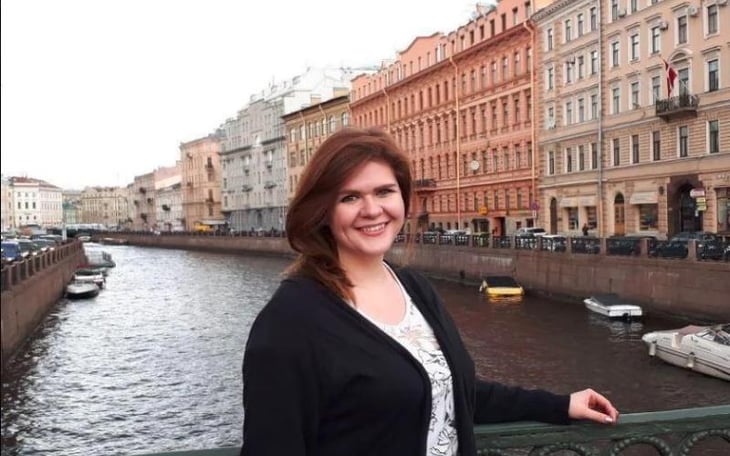 What is your citizenship?
United States
What city and state are you from?
Bellevue, NE, USA
How old are you?
29
What is your education level and background?Master's Degree.
Have you traveled abroad in the past?
Yes, I studied abroad.
Where did you study abroad?
Austria and Germany.
What sparked your interest in going to teach English abroad?
I've always wanted to teach. After I studied abroad, I knew I wanted to do more traveling. Teaching abroad combines both things that I love so much.
What were some of your concerns before teaching abroad?
I was most nervous about the practical things: where was I going to live? Would I make enough money? Could I survive with
out knowing the language, and so on. I was also concerned about the culture shock and what my family would think.
What did your friends and family think about you moving and teaching abroad?
The vast majority of my family was incredibly excited for me. They knew about my passion for teaching. When I told them that I had chosen Russia, they were apprehensive. At the time, the news wasn't so favorable towards Russia. Eventually, they understood that it was something I really wanted and could see my determination and gave me their blessings.
TEFL CLASS INFORMATION
Why did you decide to get TEFL certified and choose International TEFL Academy?
I understood if I wanted to teach overseas, a certification would make it easier to find good and stable employment. I chose ITA after a lot of research. The testimonials and articles they provided on the website were extremely beneficial. My adviser was awesome and helped me so much.
Which TEFL certification course did you take?
Online TEFL Certification.
How did you like the course?
It was incredibly convenient for me. Looking back, I wish I had taken the in-person class, but only because that's how I learn best. The instructor was very kind and helpful. I was able to find a school for my practicum through ITA's resources.
How has your TEFL training helped you in your current teaching position?
It definitely helped me with some time-management issues. It also gave me good ideas for planning and executing a lesson that meets the needs of all of my students.
How long have you been in Russia and how long do you plan to stay?
I have been living in Togliatti, Russia, since 2017, so for two years, and I just signed a contract to stay another year. I have no clue how long I intend to stay in Russia, but I could definitely see myself living and working here for awhile!
Why did you decide to teach English in this location?
The school I work for is actually the first place I interviewed at. The interview went well and I really enjoyed the demeanor of the woman who interviewed me (my now boss) so I decided it was the best choice.
What school, company, or program are you working for?
I teach at Windsor.
During which months does your school typically hire?
I believe anywhere from late January through the summer.
Did you secure this position in advance of arriving?
Yes.

How did you interview for this position?
I had a Skype/Phone interview.
What kind of Visa did you enter on?
Work visa.
Please explain the visa process that you went through.
The process was fairly simple. The school provided me with an invitation letter (which is necessary for any type of visa in Russia). Russia requires an HIV test in order to get the visa. The application is somewhat lengthy, but not too bad. It takes about 3-5 weeks once you send in the application for the visa to be approved and mailed back.
What are the qualifications that your school requires for teachers?
Bachelor's Degree
TEFL Certification
Native English Speaker
What is the best way to apply?
Email.
Tell us about your English teaching job!
The school I work for caters to students of all ages, from 2 years and older. I generally only work with teenagers and adults, but last year I did work with some children. I teach mostly general English classes but have a few exam prep individuals as well.
The teaching hours vary. Technically the contract says that working hours are from 10 am-9 pm M-F, but that can change and I don't ever work that entire time. There are a couple of times a week that I have an adult group or individual in the morning, but then I usually have a break where I can do whatever I want. I usually take this time to eat, walk around, or plan my other lessons. The most stable lesson times are from 4:30 pm - 9 pm. During this time, the school has classes for teenagers (12-18) and then adults.
On Saturdays, I have some individuals and a speaking club. Speaking club is an hour-long presentation on a various theme. We have four levels: from beginner to advanced. Depending on students schedules, I work anywhere from 25-40 academic hours a week (1 academic hour= 40 minutes).
COUNTRY INFORMATION
Please explain the cultural aspects, public transportation, nightlife, social activities, food, expat community, dating scene, travel opportunities, etc...
I believed all the negative stereotypes about Russians before moving here. I've found that, while it is true that Russians don't smile on the street, they are very kind and warm once indoors.
Public transport is plentiful here. The most popular modes of transport are buses and marshrutkas (mini-buses). Taxis are usually pretty inexpensive and can be ordered through an app.
There are a few clubs and bars in this city, but that really isn't my thing, so I don't visit them.
There are a lot more woman than men, so for women, the dating scene isn't good.
I've had a few opportunities to travel in these two years. While Togliatti isn't near many big cities, plane tickets aren't too expensive.
What are your monthly expenses?
Rent: free (paid for by the school)
Utilities: $55
Transportation: $10-$20
Phone: $5
Groceries: $45-60
Typical meal at a restaurant: $4-$8
How did you find somewhere to live?
My school provides an apartment for us. I live with the other Native English teachers.
How would you describe your standard of living?
Comfortable.
In your opinion, how much does someone need to earn in order to live comfortably?
40,000 rubles ($600) a month.
ADVICE FOR PROSPECTIVE ENGLISH TEACHERS
What advice would you give someone planning or considering teaching abroad? Would you recommend teaching in your country?
Do research! I think that it is very important to know what you are getting yourself into before you get to the country. Russia is a very culturally rich country. If you are looking for a great experience and don't mind a cold winter, I definitely recommend Russia. If you are looking to get rich, it is not the right place for you.
Founded in 2010, International TEFL Academy is a world leader in TEFL certification for teaching English abroad & teaching English online. ITA offers accredited TEFL certification courses online & in 20+ locations worldwide and has received multiple awards & widespread recognition as one of the best TEFL schools in the world. ITA provides all students and graduates with lifetime job search guidance. ITA has certified more than 40,000 English teachers and our graduates are currently teaching in 80 countries worldwide.
Want to Learn More About Teaching English Abroad & Online?
Request a free brochure or call 773-634-9900 to speak with an expert advisor about all aspects of TEFL certification and teaching English abroad or online, including the hiring process, salaries, visas, TEFL class options, job placement assistance and more.