Teaching English in St. Petersburg, Russia: Q&A with Joshua Schiefelbein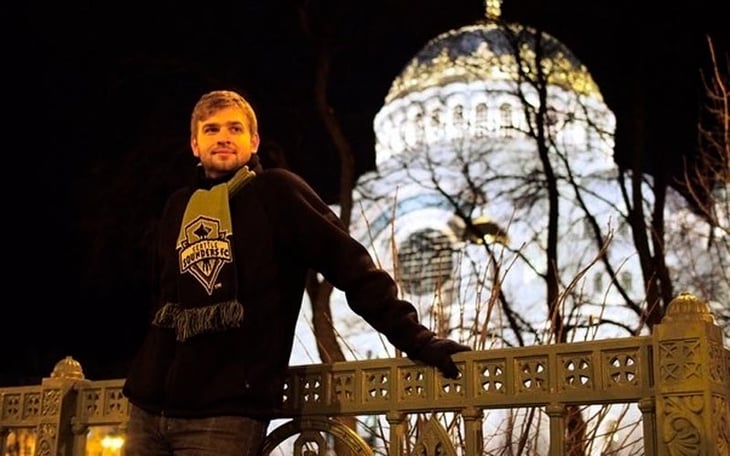 What is your citizenship?
United States
What city and state are you from?
Seattle, Washington
How old are you?
23
What is your education level and background?
Bachelor's Degree
Have you traveled abroad in the past?
Studied abroad
If you have traveled abroad in the past, where have you been?
Canada, Mexico, Most of Europe, Russia
If you have studied abroad in the past, where did you study?
St. Petersburg State University, Russia
What sparked your interest in going to teach English abroad?
I'll be honest when I say that before last year, I never imagined that I would be teaching English in a foreign country. In high school and most of university, I was always interested in sports and politics, so most of my career prep went towards those areas. While the subject matter is different, I can say I use some of the skills I learned while working in those areas. Both areas are very writing intensive and require command of the language, as part of being a successful TEFL teacher is to be able to teach writing.
But it wasn't until I was already teaching English that I became interested in teaching English. It was during a study-abroad program in Saint Petersburg that I decided to volunteer and help teach English at a foreign language center. In the beginning, it was simple a way for me to spend my free time and stave off boredom while possibly making some friends. I succeeded on all counts, but I also developed an interest in English. It helped that my students were enthusiastic at being able to practice English with me.
What were some of your concerns before teaching abroad?
The only one I can think of was how much my life would be affected by the sanctions and situation in Ukraine.
What did your friends and family think about you moving and teaching abroad?
On the whole, they were all pretty excited for me and supportive. My parents' biggest concern was whether I'd be safe from any anti-American sentiments. So far, I've escaped such problems. I also haven't heard of others experiencing such problems.
Why did you decide to get TEFL certified and choose International TEFL Academy?
After I had such a positive experience volunteering at the language center, I wanted to try and return to Saint Petersburg and teach in a more official capacity as a certified teacher. To do that, I needed a TEFL or CELTA certification. After some searching around, the International TEFL Academy felt like the best fit, both in terms of time, money and educational value.
Which TEFL certification course did you take?
Online TEFL Clas
How did you like the course?
The course went pretty well. The biggest thing I appreciated was the flexibility the online course offered as I could do the assignments outside of work when I had the time to do so. As I stated before, I already had over a month's worth of TEFL teaching experience before taking the course, but it was nice to be reintroduced to important teaching philosophies as well as learn new ideas I hadn't seen in the English book we used. I would recommend the online course to other students who can't afford the overseas programs but would still like to complete a TEFL certification course.
How has your TEFL training helped you in your current teaching position?
Once again, it's a little difficult for me to distinguish what my TEFL has helped with compared to what my previous teaching experience taught me. What has helped certainly was how my TEFL training taught me to structure and develop a complete lesson. Previously, I had mostly relied on the conversational, or communicative, method of teaching. TEFL helped introduce some other styles of teaching, such as a more grammar intensive style for those who are more interested in passing national exams or university entrance exams.
Which city and country did you decide to teach English in and why?
St. Petersburg, Russia. I enjoyed my first stay in St. Petersburg and I wanted to relive that experience as well as try new things
How long have you been in this country and how long do you plan to stay?
Overall, I've been in Russia ten months. I'm planning to stay a minimum of three years.
How did you secure your English teaching job?
I found an advertisement for the spot, sent an email with my resume and CV and waited. After two interviews via skype, I was offered the position.
What school, company, or program are you working for?
Gorchakov Memorial Schoo
How did you get your work visa?
The school did all the necessary paperwork for me. All I needed to do was fill out the application form for a teacher's visa and send in my passport with the invitation to Russia that's required for all Russian visas.
Tell us about your English teaching job!
I work a minimum of 50 hours a week. Any additional time I spend is my choice. My pay is dependent on the number of hours I work (there's one bracket for 45-hours and one bracket for 50-hours).
I'm able to save most of what I earn outside of paying my apartment rent. Part of my job involves eating meals with the students so I eat for free. It just depends on what I do during the weekends. In my case, I like to frequent coffee shops, especially Starbucks near the Ploschad Vosstaniya Metro Station.
Gorchakov is a private boarding school for males between ages 10 and 17. I also receive holidays and summers off
How did you find somewhere to live and what is it like?
The school provided me with a pre-furnished apartment to live. I personally love it. I don't have any roommates and my neighbors are my fellow teachers. I have one bedroom and a living room/kitchen area. I expected something similar to what I had when I was studying in Russia as a student, which was a single room and a shared kitchen, but what I received was even better.
Please explain the cultural aspects, public transportation, nightlife, social activities, food, expat community, dating scene, travel opportunities, etc...
CULTURAL ASPECTS: Despite the sanctions and political situations involving Russia, I've really not had much of an adjustment problem. In some ways, when I'm walking through the city streets, especially along Nevsky Prospect, I almost feel like I'm back in America. However, in a working environment, Russians only greet you once each day whereas I feel many Americans greet each other many times a day. Also, if Russians look at you with a very serious face, it doesn't mean they don't like you.
MAKING FRIENDS: Friendships are important to Russians. It's not uncommon for some Russians who have lived in the city all their life to have friendships that started back in elementary school.
PERSONAL SPACE: In the metro, excluding summer, you will be so packed into the metro that you can barely move. People just want to get home as soon as possible, and they're willing to sacrifice their personal space to get there. Just don't get uncomfortable if a person's right next to you and is invading your space.
PUBLIC TRANSPORTATION: The easiest way to get around the city is by metro. Currently, it costs 31 rubles to ride the metro. However, I recommend you get an electronic card that you can load. Not only due you avoid lines for tokens, but the more you ride the metro, the cheaper it costs. The next easiest way of getting around is by "marshrutkas," also known as mini-buses. The price depends on the marshrutka and where you want to go. Most go to at least one metro which means it's more convenient to ride a marshrutka to the metro if you live 20 minutes away from the metro. Unless you want the exercise, of course…
NIGHTLIFE: I can't say much on this question because I'm not very big on going out. I do know that the few times I've gone out, the nightlife has been busy, even during the winter. It just depends on which weekend you go out. Dumskaya Street next to the Gostiny Dvor metro station tends to be a popular place for foreigners.
SOCIAL ACTIVITIES: It's pretty easy to be social in Saint Petersburg. There are a lot of parks and museums that are free or very cheap. You can even just walk around the city and view the different types of architecture from the Winter Palace to Peter-Paul's fortress. I personally prefer going for walks in the park with friends followed by a trip to a cafe to drink coffee or hot chocolate (I always choose coffee). You learn quick that the big coffee cafe chains like Coffee House, Schokoladnitsa and Starbucks are pretty expensive. However, the best value place is Starbucks as you can get a venti size for less than you get at Schokoladnitsa for a tall. I am probably biased though about Starbucks considering I come from Seattle.
FOOD: There's your popular American chains such as McDonalds, Burger King, KFC and Subway. There are more Russian brands like Teremok and Chaynaya Lozhka (Teremok is much better). From what I've heard from some vegetarians, it's difficult to be a vegetarian in Russia but there are some vegetarian cafes and vegetarians options at more expensive restaurants. With sanctions though, I have seen prices at many places go up a little. For people on a budget, buying the inexpensive 'blins' (crepes) from Teremok or Chaynaya Lozhka is pretty effective. There's also Shaverma (doner-kebabs), but the danger with Shaverma is the types of meat that may be used. You should ask your Russian friends for any good Shaverma places they know. And on a small note, ordering a cup of water at restaurants isn't free like it is in the US.
EXPAT COMMUNITY: I haven't interacted with the expat community at all. Living in Pavlovsk and having friends I meet often limits those opportunities.
DATING SCENE: It's difficult to talk about the dating scene mainly because I've learned there are many different types of relationships that can happen. For many younger Russians, the traditional relationship is preferable but that doesn't stop many others from embracing the hook-up culture. As my Russian friends have that, if you're interested in dating, just be careful who you're choosing to date as there are still some who may solely be interested in the visa or money offered by a foreigner. That doesn't mean you shouldn't date. It just means you should be careful. If you do go on a date with a girl, small signs such as paying for the whole dinner can be taken as an indication of interest. Don't start immediately with a bouquet of flowers as it might be a bit too forward or aggressive. Instead, after a few dates, then you might give a small gift of three flowers (three is an additional sign of interest).
TRAVEL OPPORTUNITIES: I haven't experienced travel opportunities much as I've been more busy exploring the city. However, I have done research on it and there are plenty of travel opportunities. Flying to Berlin or Turkey can be 10,000 rubles (about $180 - $200 depending on the current exchange rates). Some things to know, if you travel outside the country, you must have a double or multi-entry visa otherwise you won't be able to get back in. Also, if you want to go to places like Abkhazia or South Ossetia, you should go through Georgia instead of Russia. If you go through Russia, Georgia likely won't let you into its borders. But with the two-week winter break, May holidays and many other national holidays that occur on weekends, travel opportunities are plentiful, more so with Helsinki, Finland just a two-hour plane ride away.
What are your monthly expenses?
RENT/UTILITIES: 10,000 rubles.
FOOD: Aside from Starbucks, I spend maybe 3000 rubles on food and drink per month. A third of that money goes towards buying kvass, which is a fermented bread drink that contains very little alcohol.
SOCIAL ACTIVITIES: My biggest expense because I like to go to Zenit St. Petersburg soccer matches (~1500 per match) and SKA hockey matches (~600 per match). Then there's my numerous visits to Starbucks....
TRANSPORTATION: Depends on how often I go to the city. Let's say around 2,000 rubles on average.
PHONE/COMMUNICATION: 300 rubles per month with 500 mb 3G
TRAVEL: Currently 0 though I am considering traveling to Turkey for a week. One ticket on Aeroflot is 26,000 rubles round trip. To go to Helsinki or Moscow, it's usually around 10,000 from what I've seen.
OTHER: Maybe 500 if I'm buying a gift for a friend or co-worker I'm close to. I don't have very many expenses.
How would you describe your standard of living?
Very good. Even better than how I lived in University.
In your opinion, how much does someone need to earn in order to live comfortably?
In the Pavlovsk/Pushkin suburb area, probably around 35,000. In Saint Petersburg proper, probably 45,000 if you rent your own apartment like me.
What advice would you give someone planning or considering teaching abroad? Would you recommend teaching in your country?
Don't be surprised if students don't want to learn grammar from you. Students tend to prefer having English-speaking Russians explain the grammar because they had to learn it the same way as well. Instead, students prefer native-English speakers more for conversation practice and learning the differences between formal and informal ways of speaking.
Also, most students learn the British form of English, so you might way to familiarize yourself with some of the biggest differences between American English and British English.
As for teaching English in Russia, I would recommend it even though the currency is weak and the visa requirements are tough.

An ITA grad who currently works in Russia as an English teacher, Josh hails from Seattle where he has lived since 2004 when his dad was stationed at Fort Lewis (now Joint Base Lewis-McChord). Josh graduated from Dartmouth College with a BA in Russian Area Studies in Fall 2013 before he moved to St. Petersburg, Russia in August 2014. While at Dartmouth, he worked just over three years for the Nelson A. Rockefeller Center in multiple roles including program coordinator, communications assistant, and public policy researcher.
Want to Learn More About Teaching English Abroad & Online?
Request a free brochure or call 773-634-9900 to speak with an expert advisor about all aspects of TEFL certification and teaching English abroad or online, including the hiring process, salaries, visas, TEFL class options, job placement assistance and more.