no degree
Teaching English in Sochi, Russia: Alumni Q&A with Gloria Luhman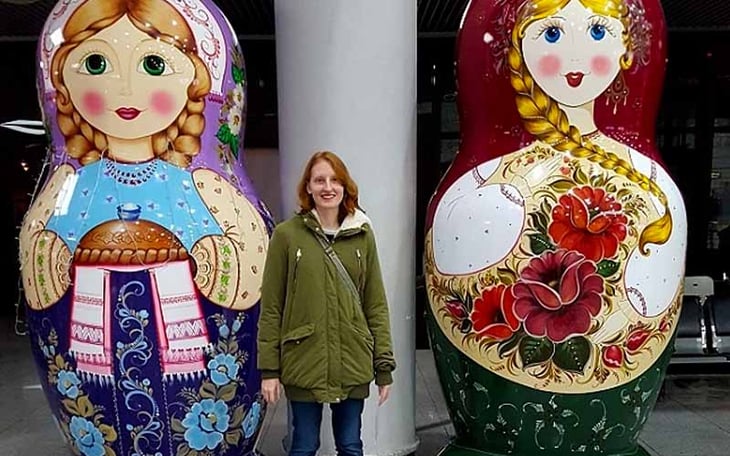 What is your citizenship?
United States
What city and state are you from?
New Mexico
How old are you?
20
What is your education level and background?
Some college.
Have you traveled abroad in the past?
Taught English abroad previously.
If you have traveled abroad in the past, where have you been?
Sochi, Russia.
What sparked your interest in going to teach English abroad?
I am studying to be an Anthropologist. Other cultures and countries are extremely fascinating. I wanted to travel the world while studying the different cultures that I encounter. What better way to do that than teaching English and becoming part of a community!
What were some of your concerns before teaching abroad?
Assimilating to the culture.
What did your friends and family think about you moving and teachingEND abroad?
They were supportive but concerned as well.

Why did you decide to get TEFL certified and choose International TEFL Academy?
I choose International TEFL because it had the most supportive staff. Being new to the whole concept of teaching abroad, I choose it to ensure that I would have support. Not only that but the certificate itself was of a high degree. I had read many positive reviews of it as well and was not disappointed in the least!
Which TEFL certification course did you take?
Online TEFL Course.
How did you like the course?
The course was challenging, but I felt very well equipped theoretically. The instructors were easy to get in touch with and the material was easy to understand and follow. There were helpful videos, as well as readings, that reinforced what was being learned.
How has your TEFL training helped you in your current teaching position?
I am very well equipped to create my own lesson plans as well as tailoring it to the students' needs. The training has helped a lot to be flexible in teaching and communicating with fellow coworkers.

Which city and country did you decide to teach English in and why?
I chose to teach English in Russia in the city of Sochi for the culture and the climate!
How long have you been in this country and how long do you plan to stay?
About three months; I plan to stay for a few years.
During which months does your school typically hire?
It depends on whether staff is needed; it is a private school.

Did you secure this position in advance of arriving?
Yes I did.
How did you interview for this position?
Skype/phone interview.
What kind of Visa did you enter on?
Working holiday visa.
Please explain the visa process that you went through.
I obtained a private visa because the company was unable to provide me with a working visa. Russian visas are very difficult to obtain. My friend in Russia had to send me an invitation, and then I filled out the necessary Russian visa paperwork. Then I sent it all to a visa service company and they took it to the consulate.
What are the qualifications that your school requires for teachers? Please check all that apply
- TEFL Certification
- Native English speaker
What is the best way to apply?
In-person.
Tell us about your English teaching job!
I work about four hours per week right now, I get paid 92 dollars every week. I am able to save a little but I live with my fiancé so I save a lot of money personally. I am working for a private school, and I primarily work with children, including pre-teens and teenagers. I occasionally have private adult students. My boss is very flexible with my schedule and willing to work with me whenever I would like a vacation. I love and enjoy my job! I am only working part time as well!
How did you find somewhere to live and what is it like? Do you have roommates?
I live with my fiancé; he is primarily in charge of finding a place for us to live.
Please explain the cultural aspects, public transportation, nightlife, social activities, food, expat community, dating scene, travel opportunities, etc...
Culture: The cultural aspects are different from what we are used to. For example: in Russia men always pay for the meal, they will always hold the door open and they will ask you if you need help carrying any heavy things. Women are expected to look nice every time they set foot out the door. The hair is done, nails are taken care of and light makeup applied. Most women wear nothing but heels.
Public Transportation: Very good, and in Sochi there are translations in English which make it easier to read and understand.
Nightlife: In the summer there is always something to do at night but it slows down during the winter as it gets cold.
Social activities: There are many social activities that one can participate in, such as taking dance classes, being apart of an English club etc.
Food: The food is very good and reasonably priced as well. When shopping it is sometimes difficult to find everything that you want and need. However you can substitute many things!
Expat community: I have not met many people who are native English speakers, therefore I am unsure about the expat community.
Dating scene: I met my Fiancé before I moved to Russia, the dating scene (from what I have observed) is alright and men are very chivalrous.
Transportation: You are able to hop on a train or plane and travel anywhere in Russia that you want! You need to make sure that you have your passport when you travel!
What are your monthly expenses?
I am fortunate enough that I can walk to work, so I have little to no transportation costs. Most of my money is spent on food; I spend about 100 dollars on food every two weeks. As far as cell phone is concerned, you can add minutes for about 25 dollars per month and that satisfies that pretty well. For traveling it really depends on where you are going. Social activities are about 50 dollars and up depending on what the activity is. I would suggest saving up as much as possible before going abroad to ensure financial security and in case of emergencies.
How would you describe your standard of living?
I am very well-off.
In your opinion, how much does someone need to earn in order to live comfortably?
Working full time would satisfy all needs.
What advice would you give someone planning or considering teaching abroad? Would you recommend teaching in your country?
My advice is to save as much money as possible before leaving. There are definitely start up costs and it is amazing to have that financial security! I would recommend teaching English in Russia, the people are so kind and very supportive!


Gloria is studying to be an Anthropologist and as a result, other cultures and countries are extremely fascinating to her. She wanted to travel the world while studying the different cultures that she encountered. She took ITA's Online TEFL Course and headed out to Sochi, Russia to teach English to children at a private school.
Want to Learn More About Teaching English Abroad & Online?
Request a free brochure or call 773-634-9900 to speak with an expert advisor about all aspects of TEFL certification and teaching English abroad or online, including the hiring process, salaries, visas, TEFL class options, job placement assistance and more.