40+ teachers
Moscow, Russia English Teaching Q&A with Chad Bearden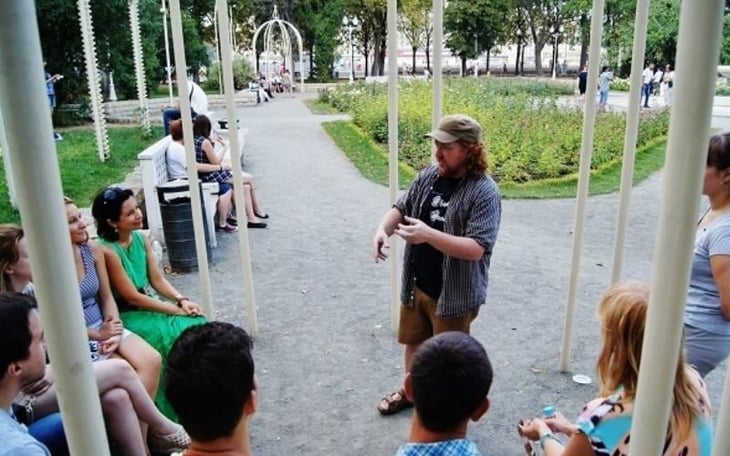 TELL US ABOUT YOURSELF
What is your citizenship?

United States

What city and state are you from?

Cincinnati, Ohio

How old are you?

38

What is your education level and background?

Master's Degree or Higher
Have you traveled abroad in the past?
Some international travel with friends, family, business, etc.

If you have traveled abroad in the past, where have you been?

France (Paris), Germany (Frankfort, Heidelburg), Russia (Moscow, Samara), The United Kingdom (Scotland, London) Brazil(Rio de Janeiro), Spain (Tenerife, Barcelona), Ireland
What sparked your interest in going to teach English abroad?

I was a public school teacher tired of public schools, but still passionate about teaching. Teaching abroad allowed me an adventurous new means to fulfill my life's calling.

What were some of your concerns before teaching abroad?

I was concerned about the language barrier (I'm terrible at foreign languages).

What did your friends and family think about you moving and teaching abroad?

They were curious, excited, and a little scared.


TEFL CLASS INFORMATION
Why did you decide to get TEFL certified and choose International TEFL Academy?

The International TEFL Academy TEFL certification was relatively inexpensive and the online course was very convenient. After a bit of research, I learned that while not as flashy as the much more expensive and time-consuming CELTA certification, the TEFL certification was still respected and would open doors to plenty of interesting job opportunities.
Which TEFL certification course did you take?

Online TEFL Course

How did you like the course?

The course was thorough but not exhausting, and the online seminars were direct and never felt like a waste of my time.

How has your TEFL training helped you in your current teaching position?

Fortunately, I had 11 years experience as a public school teacher prior to getting my TEFL certification, but the International TEFL Academy training laid down a great foundation for how to approach language learning specifically.

Which city and country did you decide to teach English in and why?

I decided to teach English in Russia in the city of Moscow because there are ample job opportunities in Moscow, and the Russian schools were willing to conduct their job interviews via SKYPE.

How long have you been in this country and how long do you plan to stay?

I'm just finishing my fourth year, and have signed a contract for a fifth year. Having recently married, we're now looking at new possibilities beyond the next school year

What school, company, or program are you working for?

I work for BKC, the Russian branch of International House.

During which months does your school typically hire?

They generally hire during the summer (for classes beginning in September) and in December (for classes beginning in January).

Did you secure this position in advance of arriving?

Yes

How did you interview for this position?

-Skype/phone interview

What kind of visa did you enter on?

Work visa

Please explain the visa process that you went through.

Getting into Russia is a little weird, as you need an official invitation from the Russian government before you can apply for a visa, but BKC holds your hand through this process. The school handles the entire visa process. I merely had to scan my passport (as well as some other documents they provided) and wait for everything to arrive in the mail.

What are the qualifications that your school requires for teachers? Please check all that apply

-TEFL Certification

What is the best way to apply?

Online

Tell us about your English teaching job!

I generally work a 30 hour week, with classes ranging from Very Young Learners (5 and 6) all the way up to adults. I regularly teach classes (usually between 5 and 12 students) and teach a lot of 1-on-1 lessons.

With 4 years of TEFL experience, next year, I'll make 48,000 rubles a month. Who knows what that is in dollars, as the exchange rate has been fluctuating a lot lately. It's probably not terribly much in dollars, but it is sufficient to live in Moscow. As BKC provides you with housing, there aren't too many big expenses to cover, so it's not too difficult to save up money. The only problem is the volatile exchange rate, which hasn't been too kind to the dollar in recent years. Although it has been pretty stable over the last year or so.

I get 21 (or so) days of paid vacation, but seldom use them. Instead, I collect pay for all the days I didn't use at the end of my contract in a lump sum, which is pretty nice.

How did you find somewhere to live and what is it like? Do you have roommates?

BKC provided me with a flat and a roommate. Over my 4 years here, I've had 3 different roommates, and I got along famously with all of them.


Please explain the cultural aspects, public transportation, nightlife, social activities, food, expat community, dating scene, travel opportunities, etc...

Russia is a country full of contradictions. The people can seem cold and stern, but are very friendly once you know them. The food isn't to my taste, but I'm not a very adventurous eater. They love meat, vegetables, and sweets. Buses and an incredibly beautiful Metro system will get you just about everywhere you need to go. There are lots of pubs, karaoke bars, and clubs to keep you excited on the weekends. There are also dozens of lovely parks and boulevards scattered around the city. Moscow is a beautiful city filled with interesting neighborhoods and a festive atmosphere.

I dated a few women in Moscow, mostly whom I met visiting English Speaking Clubs, where native speakers are always the most popular people in the room. Through some contacts I made there, I was actually able to start an English language Theater Group, and we've staged three productions in really cool venues scattered around the city center. Through these performance projects, I met the woman who recently became my wife.

Traveling around Europe is pretty easy and relatively cheap from Moscow.


style="font-size: 36px;">COUNTRY INFORMATION - MONEY
What are your monthly expenses?

As the school provides you with a flat, you'll have no expenses for rent or utilities aside from Wi-Fi in your flat (about 400 rubles a month). Food is pretty cheap (a few thousand rubles a month) and there are lots of low-cost social activities. If you get a Troika card (a special public transit card), Metro and Bus rides are pretty cheap (32 rubles). I'd recommend bringing along a mobile phone of some kind (I use my iPhone), and buying a Russian sim card upon arrival (about 400 rubles a month). Most of my spending money goes towards cafes and an occasional trip to the movies (there are a few good English language cinemas) or book store (where English language books are pretty readily found).

How would you describe your standard of living?

The standard of living is pretty nice. The flats are generally smaller than the average flat in the U.S., and maybe a bit older in some cases, but our place is clean and comfortable.

In your opinion, how much does someone need to earn in order to live comfortably?

I've been fine my entire time here, and the least I've made was 40,000 rubles a month.


ADVICE FOR PROSPECTIVE ENGLISH TEACHERS
What advice would you give someone planning or considering teaching abroad? Would you recommend teaching in your country?

Russia isn't for everyone, but if you don't mind cold winters and the generally stern demeanor or the Russian people and their architecture, it's a nice place to live. I'm now going into my fifth year here and have very few complaints.
An Ohio native, Chad Bearden is a passionate teacher who needed a mid-career break from public schools, so at age 38 he earned his TEFL certification from International TEFL Academy and headed off to Moscow to teach English. Having been there for 5 years, Chad not only founded an English language theatre group, but he also got married and is looking to make long term plans.
Want to Learn More About Teaching English Abroad & Online?
Request a free brochure or call 773-634-9900 to speak with an expert advisor about all aspects of TEFL certification and teaching English abroad or online, including the hiring process, salaries, visas, TEFL class options, job placement assistance and more.