no degree
Teaching English Online from Iași Romania: Alumni Q&A with Lucia Carro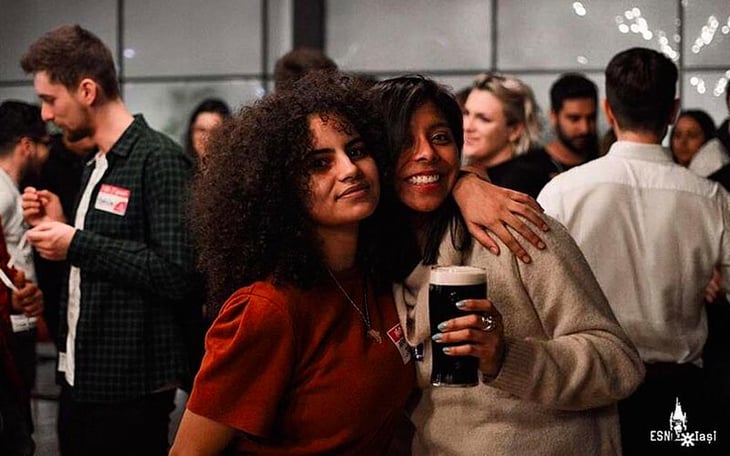 What is your citizenship?
Costa Rican
What city and state are you from?
San Jose, Costa Rica
How old are you?
24
What is your education level and background?
Some college - currently attending college in Romania.
Have you traveled abroad in the past, if so, where?
Yes - Colombia, Mexico, Spain, France, Belgium, The Netherlands, Germany, Czech Republic, Hungary, and Bulgaria.
What sparked your interest in going to teach English abroad?
Learning about a new culture through teaching.
What were some of your concerns before teaching abroad?
Whether it would be hard to fit in.
What did your friends and family think about you moving and teaching abroad?
They were supportive but at the same time concerned since they didn't have much information on Romania.
Why did you decide to get TEFL certified and choose International TEFL Academy?
I had been teaching English for two years when I decided that I wanted to take the next step and learn even more about teaching English as a foreign language.
Which TEFL certification course did you take?
The In-Person Heredia, Costa Rica TEFL Course.
How did you like the course?
It was amazing, I learned easier and better ways to explain certain grammar points and I was also able to use my creativity to create a lesson. Melanie and Luke were and still are great mentors and trainers.
How has your TEFL training helped you in your current teaching position?
I've used everything I learned to improve my teaching and lesson plans
Which city and country did you decide to teach English in and why?
I teach English online from Iași, the northeastern part of Romania. I have been living here for almost two years now and plan to stay here for another year or so. I was accepted at the University of Alexandru Ioan Cuza to study Romanian and other foreign languages, and since I teach online, it was easy to keep working and move abroad.
What school, company, or program are you working for?
I teach English online with Latin Hire.
During which months does your school typically hire?
They hire year-round.
Did you secure this position in advance of arriving?
Yes.
How did you interview for this position?
Skype.
What kind of Visa did you enter on?
Since I am a student in Romania, I entered on a student visa.
Please explain the visa process that you went through.
I had to travel to Mexico to submit all my documents and was given my visa two weeks after I submitted my documents.
What are the qualifications that your school requires for teachers? Please check all that apply
TEFL certification, Bachelor's Degree, 2 years of teaching experience.

What is the best way to apply?
Online via this form.
Tell us about your online English teaching job!
It's great! I work with adults from all over Latin America, group classes are 45 minutes long and private classes are 20 minutes long. I usually work 10 hours per week but I have an availability of 18 hours per week. The pay differs, it all depends on your level, you start off at level one and get paid about $10/hr. I usually save around 150 euros per month.
How did you find somewhere to live and what is it like? Do you have roommates?
I started off at the student residencies but I met many international students living in Iasi and found two people who were looking for a flatmate. There are also many agencies that help students and foreigners to find housing.
Please explain the cultural aspects, public transportation, nightlife, social activities, food, expat community, dating scene, travel opportunities, etc...
Romania is a country that was under the communist regimen, so there are still a few traces of that in the culture. Romanians are very welcoming and warm with foreigners, they are usually very helpful and kind. The older generation doesn't really speak English, the younger generations are more open-minded and easy to get along with.
The transportation in my city is pretty straightforward, there's a tram with about 13 lines and there are also many bus lines, with taxis and uber also an option.
The nightlife is similar to many of the countries I've visited, people usually frequent the same bars and clubs. There aren't many options here since it's a small city but the atmosphere is always great. I've met many French expats and students that come mostly from Asia, Northern Africa and Western Europe.
I'm in a long distance relationship so I'm not really involved in the dating scene but it seems to be like anywhere else, people use dating apps and usually go for a coffee, dinner or a drink to get to know each other better. It's very easy to travel from Romania to other Eastern European countries, you can either take a flight, flixbus or the train.
What are your monthly expenses?
Rent is around $150 if you're sharing an apartment.
Utilities are around $50 if you share an apartment.
I usually spend $80 on food per month, I try to buy local and everything that is in season.
During a night out I spend around $10 for drinks and an uber or taxi back home.
I normally spend around $30 per month on transportation.
My phone plan is $8 per month.
As for traveling expenses, it all depends on where I'm going and whether I have a friend in that city or not, also as a student of a Romanian University, the train tickets from one city to another (in Romania) are free.
I also pay around $30 per month for my gym membership.
How would you describe your standard of living?
I live a comfortable life.
In your opinion, how much does someone need to earn in order to live comfortably?
I'd say around $500 - $600 per month.
What advice would you give to someone looking to teach English abroad?
I enjoy living in Romania, it's a different and interesting country to live in. I do recommend learning some Romanian if you're planning to live here, not everyone speaks English.
An avid traveler and citizen of the world, Lucia was raised between two different countries and cultures, Costa Rica and the United States. She completed her TEFL certification through ITA in 2016 and has since taught English both in-person and online. She's also published various articles related to living in Costa Rica on the ITA Costa Rica website. Currently, she resides in Romania and hopes to continue learning more about the different countries and languages that surround her.
Want to Learn More About Teaching English Abroad & Online?
Request a free brochure or call 773-634-9900 to speak with an expert advisor about all aspects of TEFL certification and teaching English abroad or online, including the hiring process, salaries, visas, TEFL class options, job placement assistance and more.