Teaching English in Panama City, Panama: Q&A with Mitch Broughton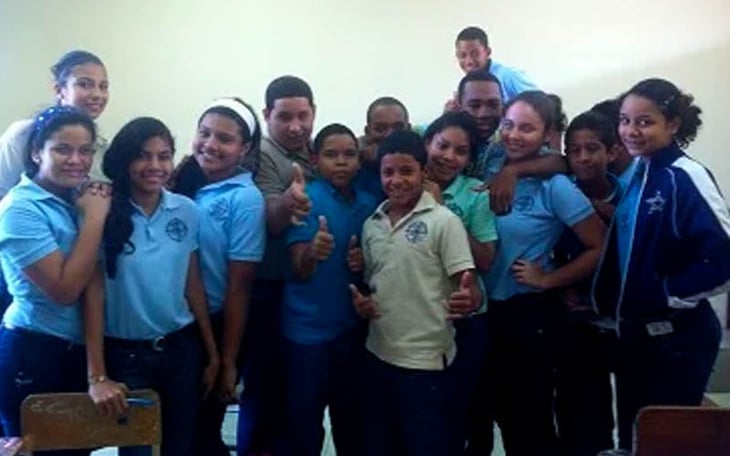 What is your citizenship?
Canada
What city and state are you from?
Victoria, BC
How old are you?
23
What is your education level and background?
Bachelor's Degree
Have you traveled abroad in the past?
Some international travel with friends, family, business, etc.
If you have traveled abroad in the past, where have you been?
America, Puerto Rico, Germany, Italy, Spain, France, Switzerland.
What sparked your interest in going to teach English abroad?
I really wanted to learn a new language and explore a culture distinct from my own.
What were some of your concerns before teaching abroad?
Not finding a community in the new country.
What did your friends and family think about you moving and teaching abroad?
Many were supportive but when I told them I did not have a job lined up for when I arrived many became concerned.
Why did you decide to get TEFL certified and choose International TEFL Academy?
I became TEFL certified because I wanted to be prepared as possible to teach English. I speak French as a second language and had studied basic Spanish so I understood what an intimidating thing learning a new language was. I chose International TEFL Academy due to the plethora of excellent reviews I read online. What really clinched it was their offer of lifetime support and information for their alumni.
Which TEFL certification course did you take?
Online TEFL Class
How did you like the course?
I found the course very straightforward and comprehensive. The readings were interesting and I liked that they focused on the celebration of other cultures rather then the imposition of a new one. The tasks really helped me refine my lesson plans. I spent my practicum volunteering at a library in Ottawa facilitating and ESL conversation group for recent immigrants. I met people from all over the world and got to hear about their fascinating stories.
How has your TEFL training helped you in your current teaching position?
A TEFL certification from ITA is very well respected and helped me land my job in Panama as well as my current position at a private language school in Victoria, BC.
Which city and country did you decide to teach English in and why?
I taught English in Panama City, Panama and am currently teaching in Victoria, BC, Canada.
How long have you been in this country and how long do you plan to stay?
I lived in Panama for 5 months and I have been teaching in Victoria since October.
How did you secure your English teaching job?
For Panama I hopped on a plane and applied to as many schools as I could after arriving. I did the same thing in Victoria.
What school, company, or program are you working for?
I worked for Future Business Learning in Panama. I am currently working for Inlingua Victoria.
How did you get your work visa? If you didn't get a work visa, please elaborate on working under the table without a work visa.
I did not receive a work visa in Panama. They are very uncommon in Latin America. As a Canadian I was able to stay in the country for 180 days with a tourist visa. The other teachers (many who had been there for years) would simply do what they called "visa runs" every 3-6 months taking a trip to Costa Rica, Guatemala or any of the other nearby countries. It seemed like a great excuse to travel.
Tell us about your English teaching job!
I started off working in Panama in January during Carnival so my hours were low at about 10 hours a week. The pay was decent at $15 American an hour. After the holiday were over my hours picked up a lot and after about a month I was working between 25-30 hours a week. I also did a bit of private tutoring on the side. I was making good money and found a great apartment with some other internationals but I had to much fun to save much cash. I didn't come back with less then I left with though which was nice.
Future Business Learning was a fantastic organization filled with very kind people. We were contracted out to businesses around the city and taught adults exclusively. I really got to know the city jumping from place to place. It was wild. Like Panama City, my students were very diverse.
How did you find somewhere to live and what is it like? Do you have roommates?
I had to hop around for the first 2 months until I found a place I was happy with. I did a homestay through a Spanish course I was taking with two Colombians. I then found the number of an Expat who rented apartments to internationals and ended up living with 3 awesome people. A man from Colombia, a musician from Italy and a Finnish lady working for the UN.
Please explain the cultural aspects, public transportation, nightlife, social activities, food, expat community, dating scene, travel opportunities, etc. about your country:
Don't fear the Fondas! The fondas are little cafeteria style restaurants all throughout the country. It is were the locals eat and they serve rice, beans, plantains, beef and chicken in huge portions for $3-4. I never once got sick. Check out the public markets as well. Marcado Neri is a great one just outside of Casco Viejo. Giant pineapples, bags of fresh mangos, guavas, and more all for about $1 each. I think I miss the fruit most of all.
The public transportation is changing a lot in Panama. They are fazing out the Diablo Rojos which I find quite sad. The Diablo Rojos are buses covered in graffiti and blasting reagaton. They have no routes and no schedules and are all run independently. Many of the upper class will tell you they are dangerous but this isn't really true. The rule of thumb is this... "If there is no one on the bus, don't get on that bus unless you feel like getting robbed that day". The new buses are nice air conditioned metros much like you'd find in North America.
There is a strong Expat community. Most hang out around Casco Viejo and Via Argentina. Both have fun bars. I personally fell in with the punk/alternative scene. Hangar 18 and El Apartemento were my favourite bars but I am likely an oddity.
If you get the chance travel to Bocas del Torro, Boquette and the San Blas Islands. Bocas del Torro is a fantastic little surf town. Boquette is the valley of eternal spring and you can hike up Volcan Baru, which is the highest peak in Canada. The San Blas Islands were my favourite. It is indigenous territory autonomously run by the Kuna. The Kuna have a wonderfully adoptive culture and a fascinating history. Make sure you speak a bit of Spanish though as they only speak Kuna and Spanish.
What are your monthly expenses?
Rent: 300 - 500/ month
Food is very cheap.
Beer is usually 1-2 SS Dollars
The bus costs a quarter and a taxi is usually 2-5 dollars. Negotiate the price first or they will think you are a tourist and overcharge you.
Travel: You can bus anywhere in the country for $20 or less.
How would you describe your standard of living?
For the last three months it was quite decent.
In your opinion, how much does someone need to earn in order to live comfortably?
1200 USD a month
What advice would you give someone planning or considering teaching abroad? Would you recommend teaching in your country?
Dive into the culture. Learn the language. See things you never dreamed you'd see. I would definitely recommend teaching in Panama. The people are friendly, the surfing is excellent and the weather is fantastically hot.
After living in Victoria, BC, Canada for all of his life, Mitch really wanted to learn a new language and explore a culture distinct from his own. After getting TEFL certified, he flew down to Panama City, Panama where he taught Business English for five months before returning back to Canada and continuing to teach English there at Inlingua College of Languages.
Want to Learn More About Teaching English Abroad & Online?
Request a free brochure or call 773-634-9900 to speak with an expert advisor about all aspects of TEFL certification and teaching English abroad or online, including the hiring process, salaries, visas, TEFL class options, job placement assistance and more.