Teaching English in Puerto Vallarta, Mexico - Alumni Q&A with Marisa DeCesare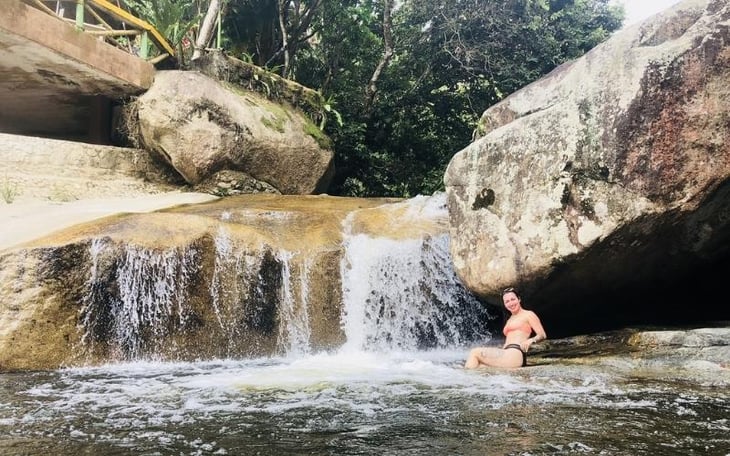 What is your citizenship?
United States
What city and state are you from?
Pennsylvania, USA
How old are you?
24
What is your education level and background?
Bachelor's Degree.
Have you traveled abroad in the past?
Never left the country!
What sparked your interest in going to teach English abroad?
I didn't know what I wanted to do after graduation. I had a cousin and my younger sister both studied abroad and I never got that opportunity. I saw how much they changed and how happy they seemed upon their return and I wanted that experience, too.
What were some of your concerns before teaching abroad?
I was so nervous about leaving home and not having my family and friends to be there for me. I had never left the country before and since I chose Mexico, people were telling me very negative things. Once I got to Mexico to take the TEFL course (I took mine in Puerto Vallarta) I made friends and a stable support group, and ended up staying there to teach.
What did your friends and family think about you moving and teaching abroad?
They were very concerned because of the country that I chose. Once my family came to visit and saw the town that I lived in their views changed and now they are planning another trip to visit!
TEFL CLASS INFORMATION
Why did you decide to get TEFL certified and choose International TEFL Academy?
Well having the TEFL certificate is necessary to teach in most places in Mexico and online. I chose ITA because they made me feel the most comfortable during the process and they answered all of my questions (I had so many). I also really liked that they had options to take the TEFL courses abroad which is what I wanted to do.
Which TEFL certification course did you take?
I took the in-person TEFL Certification class in Puerto Vallarta, Mexico.
How did you like the course?
I loved the course, it changed my life in the most positive way. I made life-long friends during my time there and some of them still live in Mexico and we get together every so often still. The instructor was wonderful, he really explained everything so well and we had a lot of fun learning.
We learned how to design our own lessons and we had a few essays to write. Our practicum was either teaching at the TEFL the school to local adults or in an orphanage with children. I really enjoyed teaching in the orphanage with the kids. I did an Instagram Takeover for ITA while I was teaching there, you can watch it here.
How has your TEFL training helped you in your current teaching position?
The practicum helped prepare me for teaching in an environment with minimal supplies. It also helped me come up with lessons plans that were fun for kids while continuing to educate them. Games are really important for the age group I teach so it was important that we learned how to incorporate them into teaching.
How long have you been in Mexico and how long do you plan to stay?
I only planned to stay in Puerto Vallarta, Mexico, for a year, but I'm going back for another year and I plan to move there permanently!
Why did you decide to teach English in this location?
I wanted to learn more about the culture and work on my Spanish. Mexico is also close enough for family to visit and cheap. Also the food!!!
What school, company, or program are you working for?
Right now I am only teaching English online but in the past I worked at a private primary school called Colegio Vancuver. This upcoming school year I will be volunteering to teach 2hrs a day in exchange for housing.
During which months does your school typically hire?
Pretty much all year but the peak hiring seasons are summer since school starts in mid to late August.
Did you secure this position in advance of arriving?
No.

How did you interview for this position?
I had an in-person interview.
What kind of Visa did you enter on?
Tourist Visa.

Please explain the visa process that you went through.
The tourist visa is given to you upon arrival in Mexico so you do not need to do anything in advance for this. The visa is for 180 days so I know some people who just leave the country every 180 days and come back.
What are the qualifications that your school requires for teachers?
A TEFL certification.
What is the best way to apply?
In-person.
Tell us about your English teaching job!
I was paid roughly $630 USD every month. I worked 40 hours a week in a primary school teaching 2nd and 3rd grade. They have half of their day in English and the other half in Spanish. So I had 3rd grade in the morning and 2nd in the afternoon. I got vacation time during major holidays which are very similar to ours in the USA. I broke even most months. My rent was about $300 (which is considered to be expensive) the rest went to food and travel.
COUNTRY INFORMATION
Please explain the cultural aspects, public transportation, nightlife, social activities, food, expat community, dating scene, travel opportunities, etc...
Puerto Vallarta is a beautiful beach town. We have great surfing, snorkeling, paddle boarding, etc. There are so many outdoor activities since PV has both the mountain jungles for hiking and ATV rides and the ocean. It has a lively night life and clubs are open pretty much all night.
We are a very friendly LGBTQ community and you can find LGTBQ bars, beach clubs, etc here. PV also has a very large expat community but you can always get away from the tourists and expats by living in a more local neighborhood of PV.
The expat community is very active and organize a lot of groups and things you can do to meet new people.
Public transportation is awesome, we have buses that run almost everywhere and to get to more private beaches you can take a water taxi. PV has Uber which I use a lot when I don't want to use the bus. Usually if I am traveling with my dog I'll try and stay away from the bus and either take a water taxi or Uber. Most places are walkable though.
Travel is very easy from PV. Plane tickets are very cheap to other cities in MX. I know there are buses that go to Mexico City and Guadalajara as well and these buses have WIFI and AC and larger seats.
Mexican culture is so rich and filled with wonderful music food and people. The media really only focuses on the bad. Of course you will fall in love with the street tacos and the traditional breakfast of chilaquiles. Banda music and dancing is also a great way to spend the weekends!
How did you find a place to live?
I found my place on Craigslist but there is a local paper that is much better to use and has cheaper listings. Yes I did have a roommate and we paid $300 each. Now, I will be living in a hotel by myself in exchange for teaching which I found on workaway.
What are your monthly expenses?
Rent - $300
Utilities - $20
Food - $100
Transportation - $30
Activities - $50-100
How would you describe your standard of living?
I'm considered middle-class for Puerto Vallarta standards.
In your opinion, how much does someone need to earn in order to live comfortably?
I can live off $600 comfortably but since I've started teaching online I'll be able to save and do more traveling.
ADVICE FOR PROSPECTIVE ENGLISH TEACHERS
What advice would you give someone planning or considering teaching abroad? Would you recommend teaching in your country?
Don't listen to people who have never been there telling you negative things. They wouldn't know. I definitely recommend teaching in Mexico.
Marisa is from Pennsylvania and took one of ITA's in-person TEFL courses in Mexico. She had never left the country before taking the plunge to teach English in Puerto Vallarta.
Want to Learn More About Teaching English Abroad & Online?
Request a free brochure or call 773-634-9900 to speak with an expert advisor about all aspects of TEFL certification and teaching English abroad or online, including the hiring process, salaries, visas, TEFL class options, job placement assistance and more.