diversity abroad
Teaching English in Incheon, South Korea: Q&A with Michele Lee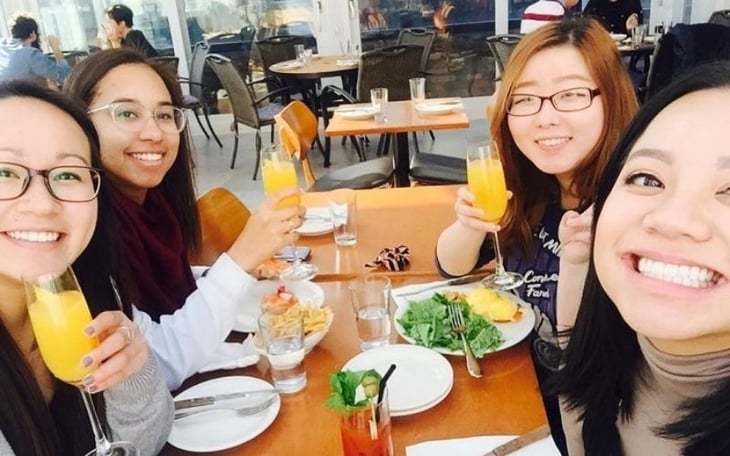 TELL US ABOUT YOURSELF

What is your citizenship?

United States

What city and state are you from?

Chicago, IL

How old are you?

23

What is your education level and background?

Bachelor's Degree
Have you traveled abroad in the past?
Some international travel with friends, family, business, etc.

If you have traveled abroad in the past, where have you been?

Iceland, London, Canada, Mexico, Bahamas

What sparked your interest in going to teach English abroad?

I'm half Korean but grew up in the United States and never learned the language or much of the culture. I knew one day I wanted to discover my Korean "roots"; when I graduated from college, it just seemed like the perfect time to go. I did some research and found out that a lot of people had great experiences living in South Korea so I gave it a shot!

What were some of your concerns before teaching abroad?

Not being accepted because I'm half Korean, not speaking the language, making friends.

What did your friends and family think about you moving and teaching abroad?

Most of them were excited. I would say my Korean family was a bit apprehensive because I'm half Korean.
TEFL CLASS INFORMATION
Why did you decide to get TEFL certified and choose International TEFL Academy?

I read SO many positive reviews about International TEFL Academy and quickly understood why. I even went to a presentation that they had in Chicago which got me talking to lots of the advisors about their experiences teaching abroad in South Korea.

Which TEFL certification course did you take?

Online TEFL Class

How did you like the course?

The course was great. I took an online course, so it was very flexible in terms of when I could do my course work on top of working a full time job. The instructor was great and I enjoyed the depth of his comments when I turned in my work.

How has your TEFL training helped you in your current teaching position?

International TEFL Academy helped give me experience in teaching! Although I did have some experience teaching, I had never taught English learners. Therefore, the practicum component was the best part of International TEFL Academy's program. I felt more prepared than others who had no teaching experience with English learners.

Which city and country did you decide to teach English in and why?

I chose to teach English in Incheon, South Korea. I liked that it was a clean and developed city! I also liked that it was a city and not a rural area of South Korea.
How long have you been in this country and how long do you plan to stay?

I have been here four months, and I plan to stay for at least a year!

What school, company, or program are you working for?

English Bay Academy

During which months does your school typically hire?

I'm not sure.

Did you secure this position in advance of arriving?

Yes

How did you interview for this position?

Skype/phone interview

What kind of Visa did you enter on?

Work visa

Please explain the visa process that you went through.

So my visa process was a bit different. I could not get an F4 visa (which is the visa that most Korean Americans get). Therefore, my best option was for me to apply for a Korean Passport and that is what I did. So technically I'm a Korean citizen!

What are the qualifications that your school requires for teachers? Please check all that apply

- Bachelor's degree
- TEFL Certification
- Native English speaker

What is the best way to apply?

Recruiter

Tell us about your English teaching job!

I work 40 hours a week, and my pay is 2.1 million won a month. Depending on what activities I do that month, I can save more/less. I usually am able to comfortably save 1,000,000 (about $900 USD) won a month! I'm working for a very small hagwon (private language school) where we teach children and older kids up to about 6th grade. My hagwon closes for 10 days a year (5 days in winter and 5 days in summer), and those are our vacation days. I also get all of the national Korean holidays off.


How did you find somewhere to live and what is it like? Do you have roommates?

My school supplied me with housing and it is wonderful. I live by myself in an Officetel which means that there are a bunch of services on the first floor of the building (restaurants, grocery stores, doctors office, and pharmacy). Additionally, I have a gym in my building. I also am a one minute walk from the nearest subway and bus!

On a scale of 1 - 10 please rate your experience with this school.

9
COUNTRY INFORMATION - FUN!
Please explain the cultural aspects, public transportation, nightlife, social activities, food, expat community, dating scene, travel opportunities, etc...

The biggest cultural aspect of Korea which took me the longest to get use to is the fact that Koreans always care about how they look. You will see this everywhere. Vanity is very important to this culture both males and females. With that being said, you should always look presentable (no tank tops, no cleavage). Another aspect of Korean culture is the work ethic of Koreans. Koreans work very hard and see that as normal. I have learned a lot from my Korean friends and bosses.

The public transportation in this country is the best. The train is the easiest to use and very affordable. The public transportation is also clean and they have bathrooms in the subway!

Nightlife is another great aspect of living in South Korea. It is very fun and affordable to go out! My favorite place to go out is Hongdae where lots of university students go out in.

Generally speaking, Korean food is very healthy and affordable. Being Korean, I thought Korean food would be what I was traditionally use to eating in the states. However, I was in surprised when I came here! Korean food has adapted over the years. First, lots of Korean food has sugar in it! Koreans love sweets. So I promise you will get no shortage of sweets here :) Second, Koreans have tried to adopt other styles of food to make it their own. For example, Koreans have tried to make deep dish pizza! However, coming from Chicago.... its just not the same. With that being said, it is very easy to find American food in South Korea!

There is a very large expat community in Korea, especially in Seoul. When you are in the city, it is very common you hear English! Teaching English in Incheon, I was very lucky to find two friends that live in the same city. Also, my city in Incheon is developing to be friendly to foreigners; they have a foreign help center which offers free Korean classes and cultural excursions!
COUNTRY INFORMATION - MONEY
What are your monthly expenses?

My rent is paid by my employer.

I pay about 100,000 won ($90 USD) for utilities. This is pricey because I live in a very convenient Officetel. However, I don't mind it because the convenience is wonderful.

My wifi is super fast and that costs me around 20,000 won ($18 USD) a month.
For food I pay around 60,000 ($54 USD) won a month.

Depending on what I do that weekend, I can save money! For example, if I do a weekend trip to Busan its going to add up between the guesthouse, eating out at every meal, and taking the KTX. So, in general I say I spend around 100,000 won ($90 USD) a weekend and that is living very comfortably.

My phone plan is very cheap. I don't have a "plan". I pay about 10,000 won ($9 USD) every two months for phone service (which I don't use often) and 15,000 won ($13.50 USD) every month for 1 GB of data. The majority of Korea especially cities have Wifi everywhere, so I never go over my data or need to buy more of it.

How would you describe your standard of living?

Great!

In your opinion, how much does someone need to earn in order to live comfortably?

2.0 million won
ADVICE FOR PROSPECTIVE ENGLISH TEACHERS
What advice would you give someone planning or considering teaching abroad? Would you recommend teaching in your country?

I would definitely tell someone to do their research especially with working in Hagwons, and do your research about the area you live in!

I would also recommend making actual Korean friends because they can show you the local spots in Korea which in my opinion are the best.
Michele is originally from Chicago and took ITA's Online TEFL Course. She is half Korean and wanted to reconnect with her roots, so she decided to move to South Korea to teach English.
Want to Learn More About Teaching English Abroad & Online?
Request a free brochure or call 773-634-9900 to speak with an expert advisor about all aspects of TEFL certification and teaching English abroad or online, including the hiring process, salaries, visas, TEFL class options, job placement assistance and more.