Teaching English in Cheongju, South Korea: Q&A with Samantha DiVito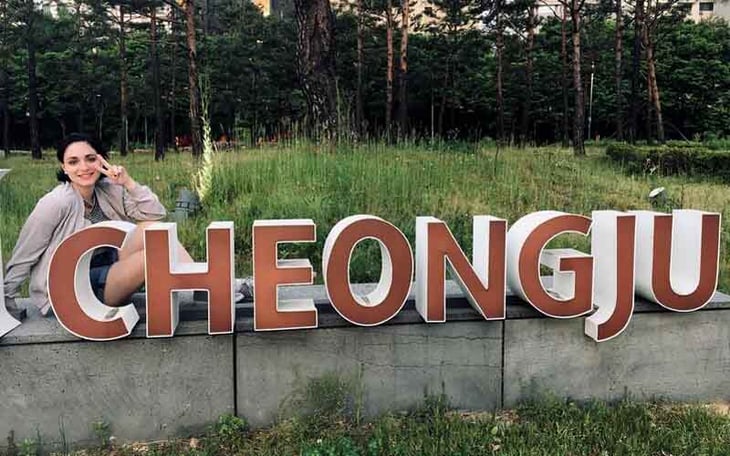 What is your citizenship?
United States
What city and state are you from?
Boston, Massachusetts, USA
How old are you?
30
What is your education level and background?
Master's Degree.
Have you traveled abroad in the past?
Yes, I've traveled to the UK, Portugal, Denmark, Italy, France, Canada, Mexico, and Honduras.
What sparked your interest in going to teach English abroad?
I was a teacher already in America, and traveling is my favorite thing, so I wanted to combine the two. Also, a few years ago I met an American English teacher who lived in Brazil and she inspired me to go for it.
What were some of your concerns before teaching abroad?
I was afraid of the judgment of others for making such a bold life choice at age 30, and also I was afraid that it would be nothing like the amazing experience that I imagined it to be.
What did your friends and family think about you moving and teaching abroad?
Most family and friends were very supportive, even if they (read: mom and dad) didn't want me to leave for a country so far away. Everyone knew that it was my dream and I was very serious about it.
Why did you decide to get TEFL certified and choose International TEFL Academy?
I didn't need to get the certification technically because I am a licensed teacher with a MA in Special Education, but I wanted to be as confident as possible on day one in Korea. I chose ITA because it came recommended to me from my recruiter and the reviews online were reassuring.
Which TEFL certification course did you take?
I took the Online TEFL class.
How did you like the course?
I enjoyed the course. Some lessons were actually a lot more challenging than I expected them to be, but I appreciated that challenge.
How has your TEFL training helped you in your current teaching position?
It helped me a lot, especially at the beginning, to be confident in the classroom. I learned a lot about how crazy English is!!!
How long have you been in South Korea and how long do you plan to stay?
I moved to Cheongju, South Korea in 2018. I've been here for almost a year and I will be renewing my contract for at least another year.
Why did you decide to teach English in this location?
Korea is one of the best opportunities out there for English teachers, and it is a very safe country, more so than some of the other countries I initially looked into. Also I love K-pop!
What school, company, or program are you working for?
Public schools (the Chungcheongbuk-do Office of Education) - EPIK
During which months does your school typically hire?
Applications for EPIK are typically released in March for August start dates.
Did you secure this position in advance of arriving?
Yes.
How did you interview for this position?
I had a Skype/Phone interview.
What kind of Visa did you enter on?
I entered Korea on an E-2 work visa.
Please explain the visa process that you went through.
The EPIK application process included gathering so many documents (it was intense), so the actual visa process later wasn't so bad. I did make a visit to the Korean Consulate in the Boston area.
What are the qualifications that your school requires for teachers?
Bachelor's Degree
Native English Speaker
TEFL Certification
What is the best way to apply?
Through a recruiter.
Tell us about your English teaching jobs!
I work 40 hours per week, 22 of which are teaching hours and the rest are for planning, meetings, etc. With my American teaching licensure, I am slightly higher on the pay scale than most first-year English teachers in Korea. I make about 2,500,000 won per month (which is about $2,082 American dollars) after they take out health insurance and pension contribution. I pay no income tax!
I work at 3 public elementary schools in the city of Cheongju. I teach grades 3-6. I have a main school and 2 country schools that I visit once per week each.
We don't get a ton of vacation time compared to teaching in America but I use all of it for international travel! In February I went abroad for 16 days and this summer I will be visiting America for 12 days.
Please explain the cultural aspects, public transportation, nightlife, social activities, food, expat community, dating scene, travel opportunities, etc...
Korea has the best public transportation system (and it's cheap) of any country I've ever traveled in, especially when it comes to traveling from city to city. The KTX (high-speed train) is awesome!
Socially, there is an active expat community in basically every city, although if you live in the countryside you could be the only foreigner in your town. It's fun to make friends with Koreans who are learning English though! I found almost all of my Korean friends through language exchange apps like HelloTalk and Tandem.
The dating scene is a bit harder because of the language barrier and the cultural differences, but in Seoul I imagine it might be different than where I live (in a much smaller city).
My friends and I travel around the country all the time on weekends. I have been to Seoul more times than I can count, as well as Jeonju, Daejeon, Busan, Gwangju, Danyang, and Chungju.
What are your monthly expenses?
I pay no rent, but I pay about 100,000 won (~$95) for utilities. The cost goes up in the dead of winter and the dead of summer to make it a comfortable temperature in the apartment.
Cell phone service is a lot cheaper here than in America, as well as transportation. I can take a taxi downtown for the equivalent of 7 American dollars! Hotels and AirBnBs are cheaper here than in western countries, although Seoul is slightly more expensive than the rest of Korea.
How did you find somewhere to live?
The school finds a single-occupant apartment in advance of arrival, and the school pays the monthly rent. Most apartments in Korea are studios (like mine) with a washing machine and air conditioning. I live on the 11th floor in a high-rise "officetel" building.
How would you describe your standard of living?
Very high! I love the way I live here. Similar to in Boston, USA. The best difference though is that I feel a lot safer walking alone here than in western countries.
In your opinion, how much does someone need to earn in order to live comfortably?
2,000,000 won per month ($1,725 USD per month).
What advice would you give someone planning or considering teaching abroad? Would you recommend teaching in your country?
I absolutely recommend teaching in my country, although I would also recommend studying the Korean language before coming here. In general, I recommend taking the plunge to live and teach abroad because it will absolutely change your life for the better. I am a different person - in every good way - because of this experience. That's why I'm renewing my contract!
Samantha was already a teacher at home in the US and had a love for travel. She wanted to combine the two to create the perfect career. With that as her goal, she took her Online TEFL Certification through International TEFL Academy and moved to Cheongju, South Korea to teach children through EPIK.
Want to Learn More About Teaching English Abroad & Online?
Request a free brochure or call 773-634-9900 to speak with an expert advisor about all aspects of TEFL certification and teaching English abroad or online, including the hiring process, salaries, visas, TEFL class options, job placement assistance and more.