40+ teachers
Almaty, Kazakhstan English Teaching Q and A with Jeffrey Stier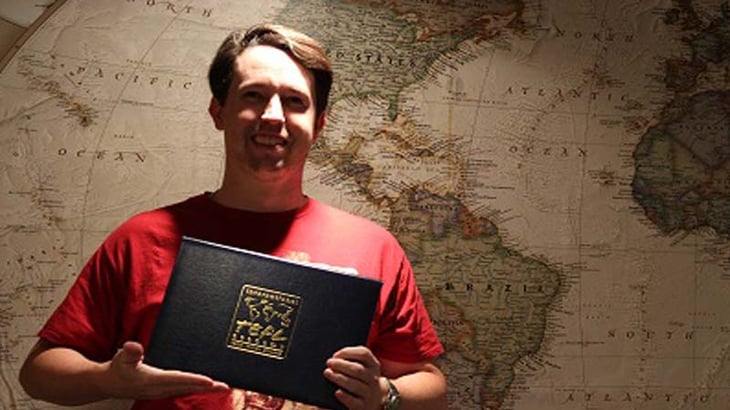 TELL US ABOUT YOURSELF!
What is your citizenship?
United States
What city and state are you from?
Baltimore, Maryland
How old are you?
41
What is your education level and background?
Bachelor's Degree
Have you traveled abroad in the past?
Some International Travel with friends, family, business, etc.
If you have traveled abroad in the past, where have you been?
Thailand, Japan, Turkey, Kyrgyzstan
What sparked your interest in going to teach English abroad?
My travels but specifically my trip to Kyrgyzstan. It opened my eyes to living and working abroad.
TEFL CLASS INFORMATION
Why did you decide to get TEFL certified and choose International TEFL Academy?
From my research they seemed the most reputable and had a large amount of information online. The locations were interesting as well but I settled on the Chicago location.
Which TEFL certification course did you take?
How did you like the course?
The class was amazing, very intense and complete. Gosia and Jan are both excellent teachers with very different styles. It made the class much more interesting and for me at least aided me in learning the large amounts of material included in the course. The course is very intensive and I learned just about everything I have needed in my job as a TEFL teacher abroad. The practicum was especially helpful as it gave me hands in experience with real students and immediate feedback.
How has your TEFL training helped you in your current teaching position?
Completely, I had no experience as a teacher when I attended International TEFL Academy. Everything I know about teaching came from them and none if what I learned has steered me wrong. In my conversations with more experienced teachers abroad I have seen how the methods we learned are working in classrooms and they have been universally impressed with my knowledge level for so new of a teacher. I know this stems from the through program I took at International TEFL Academy.
TEACHING ABROAD IN ALMATY, KAZAKHSTAN
Which city and country did you decide to teach English in and why?
I decided to teach abroad in Kazakhstan.
How long have you been in this country and how long do you plan to stay?
Four months and I want to stay for at least two years.
How did you secure your English teaching job?
I applied through an online site.
How did you get your work visa? If you didn't get a work visa, please elaborate on working under the table without a work visa.
I received my visa with the school's aid. Working and teaching English in Kazakhstan with no visa is not possible. My company is very good in their support on visa issues.
Tell us about your English teaching job!
Classes: The Number of classes here are high but the classes are forty minutes, so it is easier.
Salary: The pay with my company is about double the average worker here.
Savings: I am able to save a couple of hundred dollars a month.
School Type: I work in a private school.
Students: My students are children. But my company also has adult students.
Vacation Time: Twenty four days of leave plus the national holidays.
The teaching market here is just starting to grow.
How did you find somewhere to live and what is it like? Do you have roommates?
My company provides us with housing. It is a nice flat and I live with one other teacher. Rent and all utilities are paid for by my company. That is a very good thing as housing prices here are very high.
COUNTRY INFORMATION - FUN!
Please explain the cultural aspects, public transportation, nightlife, social activities, food, expat community, dating scene, travel opportunities, etc. about your country:
Kazakhstan is a mixture of Asian and Russian cultures. The people are mostly friendly but very direct. Public transport include trams, buses, metro and taxis. All prices are pretty low but you can expect to pay more for taxis as a foreigner. The nightlife scene here is very active and has a good mix of local and expat clubs. You better like karaoke though. If you want to travel Kazakhstan is a good location, getting to all of Central Asia, south east Asia and the Middle East is cheap and easy.
COUNTRY INFORMATION -MONEY
What are your monthly expenses?
Housing is expensive. Food rises and falls with the seasons. Restaurants vary from very affordable to excessively expensive just like every other city. Getting around town is not very difficult and not overly expensive. The bus system is very affordable but extremely crowded. The taxis are everywhere and not overly expensive, though they do try to over charge expats.
How would you describe your standard of living?
Very comfortable.
In your opinion, how much does someone need to earn in order to live comfortably?
At least one thousand USD a month if rent is covered.
ADVICE FOR PROSPECTIVE TEACHERS IN ALMATY, KAZAKHSTAN
What advice would you give someone planning or considering teaching abroad? Would you recommend teaching in your country?
Kazakhstan is a great country and I would recommend everyone to consider it. I have not heard any of the normal stories of difficult schools like I did in other countries. I can only speak for my company but they are super supportive and live up to the contract. We get reimbursed and paid when they say they will.
Founded in 2010, International TEFL Academy is a world leader in TEFL certification for teaching English abroad & teaching English online. ITA offers accredited TEFL certification courses online & in 20+ locations worldwide and has received multiple awards & widespread recognition as one of the best TEFL schools in the world. ITA provides all students and graduates with lifetime job search guidance. ITA has certified more than 40,000 English teachers and our graduates are currently teaching in 80 countries worldwide.
Want to Learn More About Teaching English Abroad & Online?
Request a free brochure or call 773-634-9900 to speak with an expert advisor about all aspects of TEFL certification and teaching English abroad or online, including the hiring process, salaries, visas, TEFL class options, job placement assistance and more.