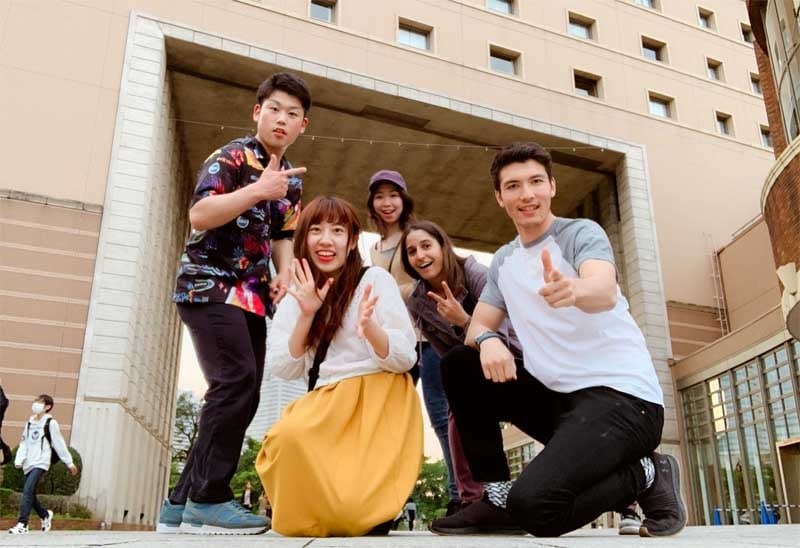 Teaching English in Tokyo, Japan: Alumni Q&A with Emily Feldman
What is your citizenship?
United States
What city and state are you from?
San Francisco, CA, USA
How old are you?
32
What is your education level and background?
Master's Degree.
Have you traveled abroad in the past?
Some international travel with family and friends.
Where did you travel to?
Before deciding to teach English abroad I took almost a year off work to travel alone. I went to many countries in Europe, Southeast Asia, and East Asia. I have also been to Australia, Israel, and Turkey on trips with friends, family, and sports teams.
What sparked your interest in going to teach English abroad?
While traveling alone I volunteered teaching at two English schools, in Cambodia and South Korea. I really enjoyed my experiences teaching and also came to realize just how useful it is to speak English. Not only does it make the world more accessible as a traveler, but it also opens up numerous opportunities to study and work abroad. I liked the idea of teaching a language that could open up opportunities for others, while also broadening my horizons as a traveler.
What were some of your concerns before teaching abroad?
Some of my biggest concerns were making friends, living so far away from my family and friends back home, and making significantly less money than my prior job. Of course I miss home but the challenges of making friends in a new country have been exciting and character-building. I do my best to stay in touch with friends and family at home but not so much that it takes away from living in the present. So far the excitement of living abroad and doing something I want to do have outweighed any feelings of homesickness!
What did your friends and family think about you moving and teaching abroad?
Of course my family is constantly concerned about my well- being but they have been incredibly supportive and excited for me from the beginning. They enjoy hearing about my small victories and my friends love to hear about life in Japan.
Why did you decide to get TEFL certified and choose International TEFL Academy?
I wanted to get TEFL certified because the countries I was interested in teaching at generally required a certification. I also had no formal experience teaching English (or any subject) and I wanted to get some training. I chose TEFL Academy because it had a good reputation. Prior to signing up I even had the opportunity to meet with some alum in Korea and Japan and talk to them about their experience.
Which TEFL certification course did you take?
Online TEFL Certification.
How did you like the course?
I enjoyed the course for the most part. I knew I was leaning towards more of a small group/one-on-one teaching environment so it wasn't always entirely applicable but there was generally something to pull from the material. I especially enjoyed learning about some of the history of English teaching methods and learning styles.
How has your TEFL training helped you in your current teaching position?
Yes and no. My current school has a specific way they teach which is pretty different from class structure taught in the program. We have a strong focus on speaking above all else. Nevertheless there is always some flexibility in delivery and every student has a different learning style which I feel more prepared for given the TEFL training. I also have a few kids classes and the methods and strategies for young learners has really helped in that area!
How long have you been in Japan and how long do you plan to stay?
I have been living in Tokyo, Japan for 3 months now (2019) and intend to stay for several years.
Why did you decide to teach English in this location?
I visited Tokyo the previous year and knew it was where I wanted to live. It's a huge city with a lot to do, beautiful scenery, great public transportation, it's safe, the people are friendly, and the food is delicious!
What school, company, or program are you working for?
I work for Freecom English School.
During which months does your school typically hire?
My school hires year-round/as needed.
Did you secure this position in advance of arriving?
Yes, I interviewed for and accepted the position beforehand.
How did you interview for this position?
I had a Skype/Phone interview.
What kind of Visa did you enter on?
I entered on a tourist visa.
Please explain the visa process that you went through.
Before arriving I sent documentation to the company and they applied for a Certificate of Employment for me. This process took about six weeks. I entered Japan on a tourist visa and with the CoE from the Company I went to immigration to upgrade to a work visa, which took about three weeks from the initial visit to immigration.
What are the qualifications that your school requires for teachers?
Bachelor's Degree.
What is the best way to apply?
Online - I found and applied for the job on the Gaijin job board.
Tell us about your English teaching job!
I work Tuesday - Saturday and my hours vary day to day, as do locations as we have many contracts we travel to. Teaching hours are typically eight hours plus one hour of preparation so roughly 9 hours a day. I typically teach from 6-8 40 minute classes a day. My pay is 250,000 yen per month ($2,270 USD).
I mostly teach one-on-one or two person classes, and occasionally up to five in a group class. It's a private school so I teach a large variety of students including business professionals, high school and university students, kids, athletes, executives, housewives, etc.
I get three one week vacations a year, which are pre-determined based on country-wide holidays (spring, summer, winter). This is pretty good for a private school, however public schools would generally get more because there are many public holidays throughout the year which we don't get. We do have the ability to take unpaid vacations with advance notice as well.
With this pay I am able to save a little, it really depends how much I choose to travel, as travel in Japan is expensive! If you are conservative with your spending and eating/drinking you can certainly save a few hundred dollars a month.

Please explain the cultural aspects, public transportation, nightlife, social activities, food, expat community, dating scene, travel opportunities, etc...
Japan is a crazy country - you can feel like you're in the most modern place in the world, turn the corner, and feel like you're back in the Edo Period.
Public transportation can get you to just about every corner of the country though the bullet trains are not cheap.
Tokyo has a very active nightlife and you can easily find a place to party all night, if that's your thing.
There are plenty of expats around but you can also easily find places where you're the only foreigner around.
The food is unbelievable - Japanese food is always good and they've managed to improve on most other types of food as well.
There are a million places within Japan I'd like to travel, and there are plenty of opportunities to go abroad without traveling too far - China, Taiwan, and South Korea, to name a few. The people are generally very kind and helpful, and learning Japanese is a fun and interesting challenge!
What are your monthly expenses?
My main monthly expenses are about:
Rent (including utilities) $850
Food: $500
Cell phone: $40
Transportation: $100
Travel/Entertainment/Misc.: $300
How did you find somewhere to live?
My company provided an apartment for me, though I pay the rent myself (it is deducted from my paycheck). The apartment itself is really nice but it is quite far from work - a little over an hour from our school and about 1.5 hours from our contracts. As such I am currently looking to move to a new place closer to central Tokyo. If you are willing to have roommates in Tokyo it can be quite affordable and easy to find a place. I am trying to find a place of my own which is a bit more challenging! It was a huge help to have a place ready for me when I arrived, and has given me a good opportunity to explore different neighborhoods to decide where I want to live next.
How would you describe your standard of living?
I worked for 7 years in finance before deciding to teach English abroad so I have a fair amount of savings. Therefore, I'm not too concerned about saving money, but I would like to break even. I don't find myself saying no to anything I want to do - trips, snowboarding, eating out, shows, etc. I'm not saving a lot (maybe $200-300/month) but I find my standard of living very comfortable. If you want to save more there are definitely ways to cut back.
In your opinion, how much does someone need to earn in order to live comfortably?
In Tokyo, I think 230,000 yen per month minimum would be acceptable to live comfortably. Most teaching jobs in Tokyo are minimum 250,000/month ($2,270 USD).
What advice would you give someone planning or considering teaching abroad? Would you recommend teaching in your country?
Just do it! The worst that can happen is you don't like it and go back home, but you'll never know unless you try! I won't say there haven't been hard times, and there will continue to be, but the pros far outweigh the cons so far. I've been overwhelmed by the kindness of my students, surprised by how rewarding teaching has been, and constantly amazed by the beauty of Japan. I'll admit that it's not the cheapest or best country to go if you are trying to save money. However, if you want to go to a modern country and totally immerse yourself in the challenge of a foreign culture, I think Japan is the perfect place.
On a solo trip to Cambodia and South Korea, Emily volunteered to teach English at a few schools during her travels. She loved her experience so much, that when she returned home to the USA, she took ITA's Online TEFL Course. She found herself a job teaching English at a private school in Tokyo, Japan, where her students range from high school students to adults learning Business English.
Want to Learn More About Teaching English Abroad?
Request a free brochure or call 773-634-9900 to speak with an expert advisor about all aspects of TEFL certification and teaching English abroad or online, including the hiring process, salaries, visas, TEFL class options, job placement assistance and more.