Rome, Italy English Teaching Q and A with Erin Lucas
TELL US ABOUT YOURSELF!
What is your citizenship?
United States
What city and state are you from?
Katy, TX
How old are you?
27
What is your education level and background?
Bachelor's Degree
Have you traveled abroad in the past?
Some international travel with friends, family, business, etc.
If you have traveled abroad in the past, where have you been?
England, France, and Spain
What sparked your interest in going to teach English in Italy?
I've always been interested in living and working abroad. Last winter I was living in DC and felt like it was time for a change. That's when I came across the International TEFL academy and decided that I would move to Rome in September 2012.
What were some of your concerns before teaching English in Italy?
I was concerned about going to a country were I didn't speak the language however, it turned out to be okay. You can pick up enough to get by pretty easy.
What did your friends and family think about you moving and teaching English in Italy?
They were supportive and very excited!
TEFL CLASS INFORMATION
Why did you decide to get TEFL certified and choose International TEFL Academy?
I knew that in order to teach English, a TEFL certificate or something similar was pretty much mandatory. I chose the International TEFL Academy because I was working full time while taking the online TEFL class. It was really convenient because with the course being online and part time, it was really flexible and I could fit my coursework in around my work schedule.
Which TEFL certification course did you take?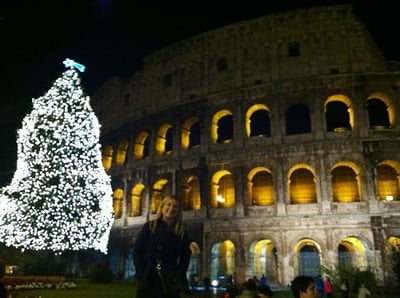 How did you like the course?
The online TEFL course International TEFL Academy offered was wonderful. I hadn't had a grammar course in years, so I had forgotten many of the grammar rules. So, it was a great refresher in that way. It also gave me a better idea of what I would be doing while teaching English in class and it made me feel more prepared. My instructor's name was Julie Prugh and she was great. She responded to any emails pretty quickly and gave good feedback on my assignments.
The practicum (student teaching and observation) part of the course was really helpful too because it gave me a good idea of what a real class would be like. I did mine at a language school in Glover Park in the DC area called Lado International College. It was an adult night class with about 8 students from all over the world. I really enjoyed meeting all of the students, and I ended up observing a teacher who gave me lots of good teaching advice too. She also let me lead the class a couple times and then gave me feedback after, which was really helpful.
How has your TEFL training helped you in your current teaching position?
I just got back from 10 months in Rome, Italy. It was a wonderful experience that I will remember forever. I would not have been as confident in my teaching or as prepared for what to expect if I did not have my TEFL training. It is definitely a must if you are going to teach English abroad.
TEACHING ENGLISH ABROAD IN ROME, ITALY
Which city and country did you decide to teach English in and why?
I taught English in Rome, Italy. I always wanted to see several cities in Italy, so I thought Rome would be a good choice.
How long have you been teaching English in Italy and how long do you plan to stay?
I was there for about 9 1/2 months.
How did you secure your English teaching job in Italy?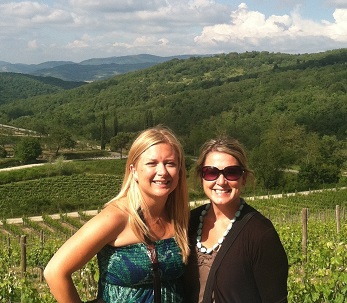 I got a list of schools in Rome from the International TEFL Academy and started contacting them a few weeks before I left. Then about a week before I left I had a Skype interview with the school I ended up working for.
What school, company, or program are you working for?
How did you get your work visa? If you didn't get a work visa, please elaborate on working under the table without a work visa.
I did not get a work visa. The school paid me in cash every month. I never had any problems.
Tell us about your English teaching job in Italy!
I taught English for The Darby School of Languages in Rome, Italy. I taught some private classes at the school, but mostly went to other locations were The Darby school had contracts. I taught at several of the high schools, middle schools, and businesses around Rome. I traveled to different locations to teach classes during the day. Most of the classes I taught were exam based and the students were studying for either the Cambridge English Exams or the Trinity English Exams. My students ranged in age from 8 to probably mid 40s.
I usually taught between 22 to 26 hours per week and made 18 euros an hour. I was not able to save money, but could live comfortably and had a little money to travel. At the Darby school we had about 2 weeks of vacation time at Christmas and then all of the major holidays off. They were also pretty flexible about getting someone to cover your classes if you ever needed to take a couple days off. I would definitely recommend working for them!
How did you find somewhere to live and what is it like? Do you have roommates?
I found somewhere to live through a website called Friends in Rome. For the first three months I rented a room in an Italian woman's condo. The living conditions were completely fine, but then I ended up moving into a different apartment with one of my friends. I lived there for the remainder of my time in Rome. The apartment was pretty small - it had 1 little bedroom and then a common area where there was a couch where my roommate slept. It was in a good area called Garbatella and was easily accessible by metro. It was also a pretty good deal - 750 euros a month.
COUNTRY INFORMATION - FUN!
Please explain the following cultural aspects, public transportation, nightlife, social activities, food, expat community, dating scene, travel opportunities, etc. about your country:
Culture: Living in Italy was a wonderful experience. It is interesting because even though it's part of Europe, parts of it feel very separate from the rest of Europe. The people are very friendly, and while many speak at least a little English, especially in the northern parts, they are very appreciative when you at least try to speak some of their language.
Public Transportation: The public transportation in Rome isn't great, but it's manageable. If you are going to live in Rome, I definitely recommend living relatively close to where you work. There are a lot of transportation strikes, and the buses can be pretty irregular, so life is much easier if you just live near your job.
Expats: In Rome there are a few different expat groups that you can join to help you become acclimated to the area. Ex-pats in Rome actually offers pretty cheap Italian classes which I took and recommend to anyone who is moving there and needs a little help. They also have social activities every week which I went to a few times and had fun.
Social Activities: While I met most of my friends through teaching, there are plenty of areas to go out in around Rome and meet people. There are a ton of great restaurants to go to (obviously - It's Italy). There is one blog called Parla food that has a ton of great restaurants, gelato, and bar recommendations that I followed...I definitely recommend visiting it.
Travel: I had the opportunity to travel to several places in Italy including, Milan, Lake Como, Cinque Terre, Venice, Florence, Siena, Sorrento, Positano, and Capri. It was really easily to get around Italy by train. I definitely recommend the Italo train to Train Italia. The Italo train is safer and nicer, and for some reason, usually cheaper than Train Italia. I also rented a car with one of my friends that visited over Christmas. It was a great way to see the countryside! Just be careful because those Italian roads can be pretty narrow! Being able to travel through Italy definitely made the experience, so I highly recommend saving enough money before you go so you are able to do some traveling.
I also traveled to Barcelona and Budapest. I flew Ryanair to both places which was great and pretty inexpensive. I recommend both places! Barcelona was so full of energy and absolutely beautiful - and the tapas were amazing. Budapest was full of history and also really pretty.
COUNTRY INFORMATION - MONEY
What are your monthly expenses?
Rent - 375 euros a month
Utilities - around 75 euros a month including internet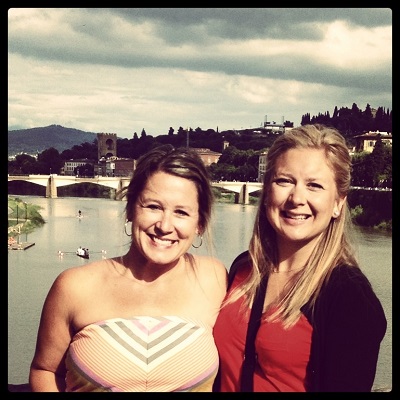 Food - I would spend around 30 euros a week on some basic things at the grocery store. I usually went out to eat a couple times a week. And I often got pizza from the Pizza al taglio places a couples times a week for a very cheap meal ( about 5 euros for a slice of pizza and a drink). While living there, pizza becomes a staple in your diet :).
Social Activities - 25 - 30 euros a week
Transportation - I bought a monthly metro and bus pass which was 35 euros
Phone - I used Skype and email to talk to people at home and then for my local cell phone I put about 20 euros on it every month and a half.
How would you describe your standard of living?
I lived comfortably but I didn't really have money for any "extra" things. I was able to travel with money I saved up before I moved there.
In your opinion, how much does someone need to earn in order to live comfortably?
I made about 1,200 euros each month and that was enough.
ADVICE FOR PROSPECTIVE ENGLISH TEACHERS IN ROME, ITALY
What advice would you give someone planning or considering teaching abroad? Would you recommend teaching English in Italy?
I think you should go somewhere that is centrally located so that if you want to travel you can do so pretty easily. I would also recommend brushing up on the language of your country before you go, even if most of the citizens speak basic English. It's nice to be able to understand them in there own language. Definitely don't let not knowing the language scare you off though - you will pick up a lot when you get there!
I would definitely recommend teaching English in Italy - the people are wonderful, the food is amazing, and there are a ton of wonderful towns to visit.
Founded in 2010, International TEFL Academy is a world leader in TEFL certification for teaching English abroad & teaching English online. ITA offers accredited TEFL certification classes online & in 25 locations worldwide and has received multiple awards & widespread recognition as one of the best TEFL schools in the world. ITA provides all students and graduates with lifetime job search guidance. ITA has certified more than 25,000 English teachers and our graduates are currently teaching in 80 countries worldwide.
Want to Learn More About Teaching English Abroad?
Request a free brochure or call 773-634-9900 to speak with an expert advisor about all aspects of TEFL certification and teaching English abroad or online, including the hiring process, salaries, visas, TEFL class options, job placement assistance and more.