Teaching English in Milan, Italy: Alumni Q&A with Kayla Maneen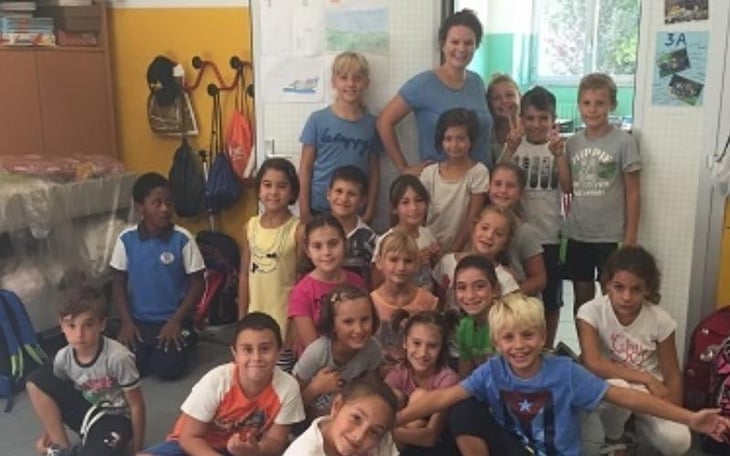 TELL US ABOUT YOURSELF
What is your citizenship?

United States

What city and state are you from?

Saluda, North Carolina

How old are you?

22

What is your education level and background?

Bachelor's degree
Have you traveled abroad in the past?
Taught English abroad previously

If you have traveled abroad in the past, where have you been?
Ireland, Portugal, Switzerland, Italy, Bahamas
What sparked your interest in going to teach English abroad?

I wanted to truly emerge myself in another culture and another language while doing something productive and helpful to the community. I majored in Creative Writing and am a good speaker, so I thought teaching English would be just the thing to do. I wasn't wrong!

What were some of your concerns before teaching abroad?

More than anything, I was concerned about how the food situation would work (and I was going to Italy!). I was living with a host family, so I took my meals with them, and I worried about how everything would be structured. I also wanted to make sure I came across as knowledgeable and not a "clueless American"-- I wanted to represent my country well! Finally, I didn't know much Italian, so I started studying it on my own.

What did your friends and family think about you moving and teaching abroad?

My friends thought I was so brave and carefree and must have buckets of money stowed away somewhere. They couldn't believe people actually could do what I was doing. My parents and grandparents were a little concerned, but mostly excited that I was following my dreams (I also didn't tell them that I would be backpacking solo across Europe in my spare time, so there's that)!


TEFL CLASS INFORMATION
Why did you decide to get TEFL certified and choose International TEFL Academy?

I knew that if I wanted to teach somewhere more permanently (and make better money), being TEFL certified was the way to go. I chose ITA after reading countless reviews of various programs, and came to the conclusion that it was the best fit for me, in terms of value, price, and experience.
Which TEFL certification course did you take?

Online TEFL Course

How did you like the course?

I enjoyed the course. Taking it online of course put me at a distance from my classmates and instructor, but the enthusiasm expressed by everyone in it was palpable and helped fuel my own passion for teaching. The lessons included fun topics like learning about cultural differences and how to avoid a faux pas (which, to be honest, will happen anyway, but you just have to laugh it off), how to plan a lesson, and how to relate to students who are wildly different from you. I thoroughly enjoyed the course and learned a lot of great pointers I've been able to use.

How has your TEFL training helped you in your current teaching position?

Knowing that I have the background experience in lesson planning is a great help. At the times when you start to doubt yourself and your ability as a teacher, you can look back on everything you did and know that you CAN do it, because you've done it before.


Which city and country did you decide to teach English in and why?

I decided to teach English in Italy in the city of Milan. I always wanted to go to Italy because it is the land of my ancestors. To become fully immersed in the culture while teaching Italians English was a kind of beautiful irony.
How long have you been in this country and how long do you plan to stay?

I was in Italy for exactly three months, and because I was volunteer teaching, I was on a 90-day tourist visa (so I had to leave after my three months).

During which months does your school typically hire?

Any

Did you secure this position in advance of arriving?

Yes

How did you interview for this position?

Skype/Phone Interview

What kind of Visa did you enter on?

Tourist Visa

Please explain the visa process that you went through.

I didn't have to do anything specific, as I could go simply on a tourist visa. I was volunteer teaching, so this was acceptable.

What are the qualifications that your school requires for teachers? Please check all that apply

Native English speaker

What is the best way to apply?

Recruiter
Tell us about your English teaching job!

I technically was scheduled to work 15 hours a week with the host family I was staying with, officially sitting them down to tutor them and give them English lessons, including grammar and conversational skills. However, I ended up speaking English most of the time, and because I spent most of my waking hours with them, this added up to a lot longer than 15 hours a week.

The family I lived with had two daughters, aged six and thirteen, and the two parents, a mother and a father. I wasn't paid any money, but I did go with them everywhere they went, such as on their three week vacation in August. Also, my housing and food was all free. I didn't spend much money at all the whole three months I was there, although I did take the occasional weekend trip to various cities.

I spent a day teaching in the local elementary school to the students in a third grade class there, and it was lovely. Classroom teaching makes you so energized, especially if the kids are excited to be there! My lessons with my host family were more casual, although I would sit down my youngest host sister for some more formal lessons a few times a week.

How did you find somewhere to live and what is it like? Do you have roommates?

I went through a program that helped place me and provided basic support while I was abroad, so they were in charge of matching me with my host family (they did a wonderful job!). I had my own room in my host family's house. It worked out incredibly well. By the end, I truly felt like I was a part of the family.
COUNTRY INFORMATION - FUN!
Please explain the cultural aspects, public transportation, nightlife, social activities, food, expat community, dating scene, travel opportunities, etc...

Cultural aspects: Who isn't familiar with the culture of Italy? It's just as layered and rich as it seems. I was based in the north, where things felt a bit more "European" and less "super-Italian," like I imagine southern Italy would feel. Milan is an international city, so most people spoke English, along with a host of other languages.

Public transportation: The public transport was amazing. I took trains everywhere. Sometimes, however, the trains were late (up to two hours, once!). The trains in Italy are notorious for not running on time, and that cliche turned out to be quite true. However, usually they were on time, and they were always clean and cool.

Food: Ah, the food! What's there to say that people don't already know? The food in Italy is as fresh and decadent as you would imagine. And mealtimes really do last for an extended period of time. (Also, you must eat wild boar's meat from Umbria. Divine.)

Social activities: Italians are very social and take their friendships very seriously. If they're not hanging out with their friends in person, they're talking on the phone with them (yes, actually talking, not texting). It made me appreciate my own friends more, and realize thy communication really is key to keeping friendships alive.

Dating scene: I spent most of my time with my host family, so I didn't date anyone or go out much.

Travel opportunities: I did travel on the weekends (either by myself or with my oldest host sister), and the family and I all traveled around for three weeks all up and down Italy. It was amazing traveling Italy with Italians, and getting a true inside perspective into their world. It was an incredibly unique experience and I wouldn't trade it for the world.
COUNTRY INFORMATION - MONEY
What are your monthly expenses?

All I paid for was the occasional weekend trip, occasional dinner out, and any souvenirs I might want. Of my three months there, I spent roughly $1,750 USD. Which was me literally not depriving myself of any experience I wanted to have. If I had chosen I could have spent much less--around $800-$1,000.

How would you describe your standard of living?

Fantastic. My host family had their own house (not so common in Italy, the land of apartments), and it was air-conditioned (also not so common in Italy). We were located in a nice, family-packed small town right outside of the city of Milan.

In your opinion, how much does someone need to earn in order to live comfortably?

I don't feel comfortable answering this, as I was volunteering and living expense-free with a family.


ADVICE FOR PROSPECTIVE ENGLISH TEACHERS
What advice would you give someone planning or considering teaching abroad? Would you recommend teaching in your country?

Definitely teach English in Italy! It's an experience you will cherish forever. The people are the backbone of the culture, which is so diverse and rich in history. I learned more from the Italians than I ever taught them! I say to bite the bucket and be brave. If you're reading this, something inside you is telling you to go. If you're searching for adventure, teaching in a foreign country is the way to go (as long as you're prepared for it). If you want the security of a structured job while you travel, enjoy helping people, and are adaptable, teaching English as a foreign language in another country is a fantastic opportunity that you should most definitely act upon.


With her outgoing personality and love of the English language, teaching English is a natural fit for Kayla Maneen. So at age 22 after graduating from college, volunteering as an English teacher for 3 months in Milan, Italy, was a perfect way for her to immerse herself in Italian culture and to travel throughout Europe.
Want to Learn More About Teaching English Abroad & Online?
Request a free brochure or call 773-634-9900 to speak with an expert advisor about all aspects of TEFL certification and teaching English abroad or online, including the hiring process, salaries, visas, TEFL class options, job placement assistance and more.