Teaching English in Budapest, Hungary: Alumni Q&A with Talene Kelegian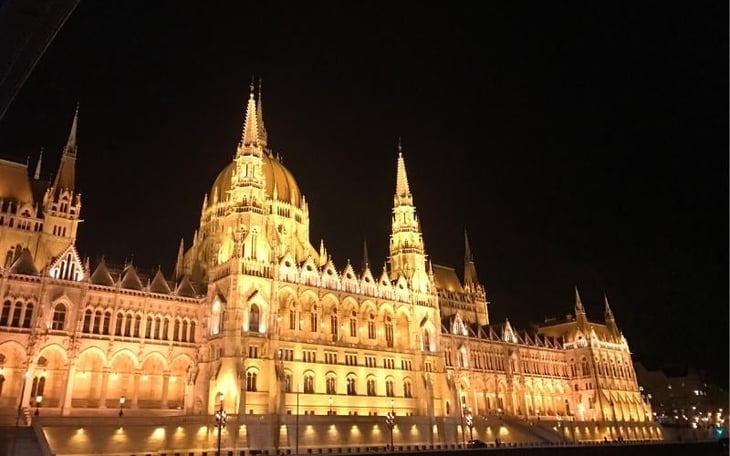 Where do you teach English abroad
Budapest, Hungary
What is your citizenship?
United States

What city and state are you from?
Boston, MA

How old are you?
35

What is your education level and background?
Master's Degree or Higher
Have you traveled abroad in the past?
Some international travel with friends, family, business, etc.
If you have traveled abroad in the past, where have you been?
I went backpacking all over Europe when I was 25, visited Israel once, and worked with Habitat for Humanity in Armenia twice.
What sparked your interest in going to teach English abroad?
I knew I would be moving and had no idea what kind of job I'd be able to have in a foreign country. Teaching English seemed logical and not too difficult.


What were some of your concerns before teaching abroad?
How will I find a job? How will I teach if I don't know the students' own language? How will I make friends?

What did your friends and family think about you moving and teaching abroad?
Most of my family members thought it was absolutely nuts and were against it. Most of my friends thought it was really exciting and interesting.
TEFL CLASS INFORMATION
Why did you decide to get TEFL certified and choose International TEFL Academy?
I researched a couple certifications, and TEFL offered a schedule that worked well for me.
Which TEFL certification course did you take?
In-person TEFL Course

How did you like the course?
Loved it. Our instructor was awesome; he has a lot of experience and was able to bring things to life for us, as well as give excellent tips for teaching abroad. The course itself was geared not only towards teaching English, but also understanding students from different cultures. My classmates were great- we still keep in touch a bit. There were 5 of us, all from different backgrounds and levels of experience in the "real world" and I learned a lot from my fellow students as well. We had guest instructors to add more perspectives to what we were learning.

How has your TEFL training helped you in your current teaching position?
I have a lot more confidence in how to teach grammar. Grammar has never been fun for me, and I really didn't have a great understanding of it prior to the TEFL training. Now, I can confidently maneuver through a grammar lesson pretty well.

Which city and country did you decide to teach English in and why?
I chose to teach English in Hungary in the city of Budapest. During my backpacking trip (ten years prior to this decision!), Budapest was my favorite city. When my boyfriend was asked to move to Europe for work, I requested that he go to the Budapest branch of the company. He had never been here before, but he loves it now.
How long have you been in this country and how long do you plan to stay?
I've been here for a year and 8 months. I will probably stay another year or so. I could also see myself working in the USA for a while and then coming back here later.

What school, company, or program are you working for?
I work for a private language school, and I also have a couple of private students.

During which months does your school typically hire?
Anytime

Did you secure this position in advance of arriving?
No
How did you interview for this position?
In-person interview.

What kind of Visa did you enter on?
I started with a tourist visa and within three months obtained a residency permit "for other purposes."

Please explain the visa process that you went through.
As an American citizen, I could stay in Hungary (or in the Schengen Area) for three months with no paperwork needed. That was the easy part. After three months, I had to have a residency permit. I don't want to discourage anyone, but getting a residency permit has been the most frustrating, agonizing, time-consuming process of my entire life. If you do it, make sure you have someone who knows the system help guide you through.

What are the qualifications that your school requires for teachers?
Bachelor's degree. I'm not sure, to be honest. I did have to submit proof of graduation (scanned copies of diplomas).

What is the best way to apply?
In-person
Tell us about your English teaching job!
Hours/Pay: At Berlitz, teachers can work as many hours as they want, as long as the school has enough students! Many teachers work up to 40 hours a week, but I've chosen to work only part time because I want to enjoy my time in a new country. The pay is average (maybe on the low side) for Hungary, about $7/hour. I'm not able to save money on this salary but if I worked full time, I probably could. With private students (not associated with Berlitz) you can charge more like $15/hour.

Students: Students sign up with Berlitz, and then Berlitz calls me to ask me if I want a new student. There are both individual and group classes, though no more than 10 in a class and usually closer to 4. There are classes at the Berlitz building and also at various companies around the city. I teach only adults, but there are kids, too. In the summer, there are some all-day session for kids.

Vacation time: I'm an independent contractor, not a Berlitz employee. I can take a vacation or day off whenever I want, but I am obviously not paid for that time.

Lesson planning: With private students, there is a lot of lesson planning involved. With Berlitz, you use their materials and there is maybe 5 minutes of planning while you look over the next chapter. They are really strict about using only their materials. They also make new teachers to through a one-week training period so you can learn the "Berlitz way."

How did you find somewhere to live and what is it like? Do you have roommates?
My boyfriend and I found a place online before we came. There are a lot of websites that cater to Americans and Brits who want to live in Budapest. However, we have my boyfriend's salary to help out. If you are living only on a teacher's salary, it's better to get here and then find a place with a Hungarian helping you. They know where to find the good deals in the city. We probably pay twice as much as a regular Hungarian would.

On a scale of 1 - 10 please rate your experience with this school.
7
COUNTRY INFORMATION -
Please explain the cultural aspects, public transportation, nightlife, social activities, food, expat community, dating scene, travel opportunities, etc...
The official language is Hungarian, but if you are in Budapest, most people under the age of 35 speak at least a little bit of English. I've met plenty of Brits who have lived here for 10+ years and never bothered to learn Hungarian. People here are very nice and polite. They love it when I speak Hungarian, even when I make mistakes. Public transportation in Budapest is AWESOME. Don't get a car.

Nightlife? There's something for everyone. Ruin pubs are the trendy thing here, but there are all types of concerts, restaurants, pubs, wine bars, etc. There are many, many festivals. From the beginning of spring until the end of fall, there's something going on in the city almost every weekend. From wine festivals to cake festivals (yes, it's usually based on food!), there are fun activities all the time, all over the city. And at Christmas, there are multiple Christmas fairs. All of them are very pretty and festive. I've gained 10 pounds because Hungarian food is wonderful. You can avoid the weight gain if that's a priority for you, but you can also go nuts and enjoy everything all of the time.

Not sure about expat communities or dating. I meet people all of the time at language class, the gym, the pub, etc., and had no problem finding friends. Hungary is located in central Europe which makes it easy and inexpensive to travel all over the place. I've been to Croatia, Romania, Poland, Austria, Spain, and England.
COUNTRY INFORMATION - MONEY
What are your monthly expenses?
What? I'm an English teacher, I don't look at numbers! Rent in Budapest is anywhere between $400/month to $1200 a month, depending on what part of the city, how nice the place is, and whether or not you have roommate. Sometimes this includes utilities. A 3-month metro pass is about $90 and well worth it. My phone bill is maybe $10-15/month. Internet is more, but we pay for premium service because my boyfriend works from home. Food is less expensive here than it is in Boston (where I lived) but maybe about the same price as Wisconsin.

How would you describe your standard of living?
Fantastic. Again, I'm from Boston, which is crazy expensive. My two-bedroom, two-bathroom loft with a roof-top patio in Budapest is the same price as my basement studio was in Boston.

In your opinion, how much does someone need to earn in order to live comfortably?
Don't quote me on this because I don't really talk to friends about money. I'm going to guess about $800.


ADVICE FOR PROSPECTIVE ENGLISH TEACHERS
What advice would you give someone planning or considering teaching abroad? Would you recommend teaching in your country?
Try it! Also, try to learn the language of the country in which you are living. People appreciate it, and it gives you an idea of what your students are going through. Yes, I recommend Hungary. Budapest is the best city in Europe, by far.
Talene is 35-years-old and from Boston, MA. She went backpacking all over Europe when she was 25 and did a little bit of international travel here and there before taking the plunge to teach English in Hungary.
Want to Learn More About Teaching English Abroad & Online?
Request a free brochure or call 773-634-9900 to speak with an expert advisor about all aspects of TEFL certification and teaching English abroad or online, including the hiring process, salaries, visas, TEFL class options, job placement assistance and more.